Acne Defense Solution Gel
User Reviews

A great product to get rid of nasty pimples yet it is gentle to the skin. Before this product, I used to use Tea Tree Oil. After a few uses my skin gets a dry patch around the pimpled area. Tea Tree Oil itself is too harsh on my skin but when I switched to this product, it does not...
Write your own review
Product Description
100% Natural | Clinically-tested
Nix your skin troubles the natural way – without the collateral damage.
A potent blend of tea tree oil and pimple-fighting actives penetrate the skin to help fight pimple-causing bacteria without burning, redness, drying and peeling.
Safe and non-irritating, Human Nature's Acne Defense Solution Gel helps crack down on breakouts, dry out blemishes, and give you clearer-looking skin without the harmful side effects of chemical treatments – so you can face the world flawlessly.
Clinically tested* to:
- effectively dry out pimples and help prevent pimple breakouts
- help reduce oiliness and the appearance of redness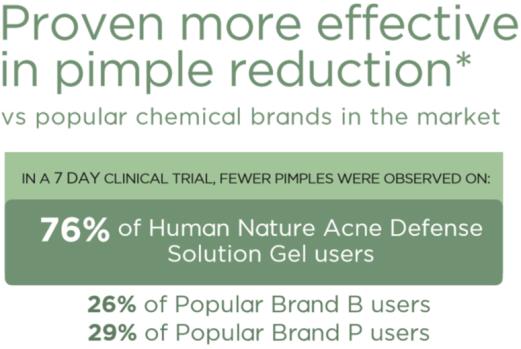 Recommended for those with mild to moderate pimples.
*Independent clinical study on users with mild to moderate pimples, August 2014
Did you know: Antibacterial tea tree oil is known to be as effective as benzoyl peroxide in reducing pimples without side effects such as irritation or peeling (Source: The Medical Journal of Australia, 1990 Oct 15;153(8):455-8)

Make sure skin is dry. Dab (don't rub!) a thin layer of the gel on the affected area using clean fingers. Use as often as needed. Carry it around in your purse or store it in your medicine cabinet as a quick, handy first aid solution for pimple emergencies.
aqua (water), Melaleuca alternifolia (tea tree) oil, levulinic acid (rice/corn-derived), glyceryl caprylate (coconut oil, palm oil and glycerin-derived), glycerin, dehydroxanthan gum, zinc lactate, Aloe barbadensis (aloe vera) leaf juice, p-anisic acid (anise seed-derived), phytic acid (rice-derived)
To learn more about our natural ingredients, click here
You May Also Like...