User Reviews

This is so good! Superb! I bought it for my kids and used it for myself too. We feast on this lotion every night before going to bed and it does wonders for us! Like with my feet, it was always dry and rough. After three consecutive use, my feet feel so smooth and hydrated. It's pinkish and the cracked...


I love this lotion not only to moisturize my baby skin and also makes his skin so soft and flawless....


I tried this product for the first time, non greasy lotion and smells really good, my baby and I will surely love this product, hope you can add baby powder in your product line. baby powder that is because most of the baby powder in the market has talc ingredient which is not good for the baby... ...


The lotion is a must-have for adults too! The scent is so heavenly and it does moisturize well!...


I super love the scent, it's heavenly! I can't help but always kiss my 3yo baby. Even myself, I am hooked, as I can't resist the softness and baby like smell of it. I hope you could come up with a cologne of the same kind ;-)...


I love, love, love this product! I am an adult, and the subtle scent brings back warm childhood memories! I can't get enough of it's scent! Quite addicting if you ask me :)...


this was one of my very first product from HHN way back then.. My kids loved the powdery scent but me being a trial and error mom tried the adult lotions for my kids especially the vanilla which they love as well.. and now i intend to use this for my kids again but if i may just say this,i...

Larissa Leen (06/19/2013)


My kids and I love this lotion! Not only that it smells good and relaxing, it also makes your skin very smooth. ...

DemographicTarget (03/23/2013)


Perfect for keeping myself moisturized even during Philippine summers. No greasy afterfeel, effective moisturization, no lotion-y smell. I'm usually too lazy to apply lotion everyday but this is a gamechanger!!! I wish I had this product when I was still in my teens and twenties. Siyempre pag tapos na ang summer, switch na ako sa Vanilla Delight!!! :D Good Job...


my three year old has sensitve skin. i am using only hhn products for her from lotion, oil to kids wash. i am also using this as i love that the lotion feels so light and it smells good. my baby's skin now is smooth without the rashes from commercially made products claiming that they are hypo allergenic. thank you...


Since I have a very sensitive skin I couldn't use store bought lotions because it only makes my skin red and itchy. I was using the sunflower oil as my over all body moisturizer and I still am but recently I ran out of sunflower oil (my family uses it too kase) and I didn't have any alternative whatsoever. I...


After I emptied my Berry Bliss and Vanilla lotion bottles, I just decided to try this one out. I just super love the smell! and it leaves my skin feeling baby smooth! I'm 23 btw ;)...


I have a 3 month old baby. I found this product very helpful in keeping her body moisturized and soft. I also tried it on myself and it worked wonders! Plus the powdery natural scent is perfect! It is very subtle and does not overpower my cologne. I only wish that you would make a bigger size so as to...


This lotion has the most wonderful, relaxing scent! I tried it before giving to my little nephews :)...


Since I've been using the baby oil variant of this line, I decided to try this lotion as well. I've been using this lotion to moisturize and massage my hands at the office (usually after washing my hands so often) for almost a month now. I love the scent since I'm a fan of avocado-based lotions. I just think that...


For so long a time, imported scented lotion has been on top of my favorite lists..not until HHN came up with this Baby Lotion. I just love how the feeling of getting moisturized and nourished without feeling greasy. By the way, I share this lotion with my 9 month old daughter. :)...


I love how it isn't greasy, has a mild powdery scent, and is absorbed quickly by the skin. I put this on before I slept, and 10 hours later as I washed my faced, I really felt the difference in my hands! they were softer and more succulent. Sad that I bought the smallest version first to try. Now that I...


I've tried using the sunflower oil as my body moisturizer but with the humid weather here it is just not advisable. I've very sensitive skin that I get irritated with my own sweat. I'm like a baby who suffers from skin rashes on my skin folds. Im so happy & more than satisfied with this lotion. Consistency is just perfect...


My beef with HHN lotions are the scents. I can't get behind the strawberry/fruity/candy sweet scents of HHN lotions. But this lotions smells heavenly! From the bottle it smells somewhat like the classic Jergens (which I don't like) but once you put it on, wow it smells so good! Where has this lotion been all my life?! Sometimes I use...


I used this product with the baby oil for after bath moisturizer fr my toddler. I like that it is non-greasy and smells wonderful. However, i found the product too light that i don't feel its moisturizing effect on my toddler's skin. I wish it were creamier in consistency....


The baby lotion smells really great- soft, gentle and almost therapeutic. It leaves you feel good. I love the fact that, since the product is made for babies, the raw materials and ingredients are lighter and safer. It leaves your body really moisturized, with its avocado and aloe vera, and glowing with its sunflower oil. Their advocasies and beliefs proved...
Write your own review
Product Description
100% Natural | Hypoallergenic
After nine months of being safely nestled in their mother's womb, when babies are born, their skin is suddenly exposed to harsher conditions. Keep your baby's skin nourished and moisturized with our 100% Natural Baby Lotion. It keeps baby's delicate skin soft and supple using a medley of avocado oil, sunflower oil, and aloe vera as natural glycerin that gently seals in the moisture. Experience skin that's baby-soft and supple with every cuddle!
Our natural formulations incorporate an Eco-Cert certified all natural baby fragrance that is 100% phthalate-free!
Our Baby Lotion is Step 2 in our 3-step baby care from bath to bed routine:
Step 1: Cleanse and Calm – Baby Wash
Step 2: Moisturize and Nourish – Baby Lotion
Step 3: Protect and Nurture – Baby Oil
Did you know: A baby's skin is more porous than an adult's skin, and therefore absorbs chemicals more easily. Make sure that any leave-on product you apply on your baby contains only the purest and safest ingredients!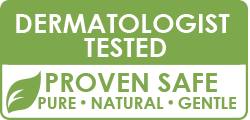 USE TIPS
INGREDIENTS
AS SEEN IN
Most of us apply baby lotion after baths when you've towel dried your little ones. But did you know that to lock in the moisture more effectively, it's best to apply the lotion right after bathing, while baby's skin is still a little wet? Doing this trick will make the skin absorb moisture better thus keeping it soft, smooth and oh-so-cuddly. Gently pat dry your baby after lotion application.
water, glyceryl stearate (vegetable derived), dicaprylyl ether (vegetable derived), caprylic/capric triglyceride (coconut derived), glycerine, stearyl alcohol, tapioca starch,
Aloe barbadensis
(aloe vera) leaf juice, glyceryl caprylate,
Persea americana
(avocado) seed oil,
Helianthus annuus
(sunflower) seed oil, xanthan gum, fragrance (all natural), anisic-acid (anise seed derived)
To learn more about our natural ingredients, click here
You May Also Like...