User Reviews

I love using this product from new born to date (my baby is now 1 year old), I used this every diaper change and no rashes was noticed. I also applied this on her hair and I noticed that her hair is smooth, manageable and kumapal pa ang hair nya. I even recommended this to my sisters son...


My baby and I truly love this product. We've been using it since her newborn stage and now that she's a year older, we love it even more. It keeps her skin soft and subtle and doubles as my makeup remover if I ran out of it. Thanks to your company for making quality yet affordable products that's safe for...


I use this oil as a body moisturizer. It has kept my skin thoroughly moisturized without the greasy after feel the past few weeks that the air has been a little chilly and dry. and surprisingly it has also kept my back smooth and pimple-free =) ...


I bought the entire baby line of HNN even before my baby was born. I then gave this oil to the Yaya and instructed her to use it on his diaper area instead of whatever creams or powders being sold in drugstores. My baby is now a chubby boy of 3 months, and he has yet to develop any redness...


We super love this product! My baby had rashes all over his face and body when he was 3months old. We were advised to use a very pricey lotion, cream and soap by his pedia but it did nothing to heal the rashes. I searched the internet for organic baby products and thank God i found human nature. We used...


I used this product on my daughter after every bath but to my dismay, she got allergic reactions/rashes ;-( [EDITOR'S NOTE: Hi Anabel! We're sorry to hear about your daughter's experience. Our Natural Baby Care line offers the purest, mildest, and safest genuinely natural care available. It's also dermatologist-tested and proven safe for babies - so it's very rare...

Nathalie Joy (08/19/2013)


It works and my daughter loves its scent! Full review here: http://blackshirt13.wordpress.com/2013/08/15/human-nature-natural-wonder-baby-oil/ [EDITOR'S NOTE: Thank you so much for this fantastic review, Nathalie! We're so thrilled that Francine loves our Baby Wonder Oil as much as you do! We hope you two get to try our Baby Wash and Lotion as well :) Thanks again!] ...


so love this product! i use it as an after shower bath oil :p and as a hair moisturizer. love how it keeps my curls. just a suggestion on the packaging though --- wish the new packaging will come in a flip-top cap instead of a screw-type cap just like the other products cause i always drop the...


Product expired too fast, noticed that the lid was turning yellow and it turns out it was already expired :( [EDITOR'S NOTE: Hi Eileen, we're sorry to hear you got an expired product from somewhere. We've checked our records and it doesn't seem you bought this from us - perhaps from a supermarket somewhere? Nevertheless, we always are committed to...


I used this on my little one on her body and she had an allergic reaction. It took a week for the rash to fully heal. I wont be using this again on her. I wonder if the lotion would have the same reaction to her? [EDITOR'S NOTE: Hi Beverly! We're sorry to hear about your experience. While our Natural...


Hi. I love this. I've been using this one since my baby was a month old and she's eight months now. I use this on her after i put on the HN baby lotion and when i change her nappy's. Very useful when there are rashes or insect bites on my baby and my 6 year old son. Sometimes use...


this is definitely the best baby oil i've used for my little one. it's all natural and very effective on my baby's cradle cap :) ...


This product helped massively during my baby's meconium phase! Not only did it keep diaper rash at bay, it helped greatly with the diaper change clean ups!...


This is one of my favorite products! I use this as a body moisturizer instead of lotion. I love the smell and how light it feels despite that it's oil. My son loves it too. Human Nature, you definitely nailed this product!...


been using this product on my baby before and after bath, also whenever she gets insect bites and rashes. the smell is nice, not overwhelming at all. I hope you will soon have this on larger bottles, like 200 or 500 ml similar to the other baby products? :) thanks HHN!...


my three year old has sensitve skin i am using only hhn products for her from lotion, oil to kids wash. i also use this for her curly hair. she smells so good. my baby's skin now is smooth without the rashes from commercially made products claiming that they are hypo allergenic. thank you hhn!...


smells good. my baby and i are using this for our hair. the smell lasts long. i also use this for my back - kontra lamig. :)...


I've been using this oil instead of lotion for almost three months already. It does a great job of moisturizing my skin plus i love the scent....


I was a bit apprehensive when I used this on my baby. But when I tried it a lot of times...I am hooked! I use this oil before and after my baby takes a bath. I also use it in her bum everytime I change her nappy and she has not had any episodes of skin rashes since! ...


My daughter and I love this product so much! We use this as our after bath oil. I hope you would change the bottle cap though, so it would become more user friendly. I think a pump bottle would be better or even lids like the ones on your shampoos. It tends to become messy when opening/closing the cap. ...


This product is simply amazing. Not only it prevents diaper rash it also heals my son's insect bites and skin allergies. For me, it works well as a hand and cuticle moisturizer! ...


My mom always told me to put oil on my baby's skin... and I'm not worried if my baby's skin will react as I know that this is 100% natural! This also helped sooth my baby's scalp as he used to have cradle cap. I also love how soft my hands feel after applying oil on my baby! :-D...


My toddler has very sensitive and dry skin. She has occasional attacks of eczema, too. I keep her skin moisturized to control her eczema and so to avoid having to use steroid creams in her. This product is really good in keeping the skin moisturized. I apply this on my toddler 3x a day and it really helped control eczema...


i would say its a miracle...just after 2 days my daughter insect bites was really healed...unlike before it end up like nangingitim then scar agad..but with this nawawala agad...thank you hhn...5 star for this......


I love this product. I use this right after taking a bath, before drying my skin. It leaves my skin soft and supple all day long. Plus, I really like the scent. ...


It really works well on diaper rashes and i also applied it on my daughter's dried prickly heat rashes on the back and in just two days the rashes disappeared and my daughter's skin is better than ever! You can't feel the roughness on her back after using the HN baby oil! It's really a great product. You can use...


i was the first one to use this wc i bought for my 2 kids :) i have mosquito bites on my legs wc really was so itchy..so when my package arrives i immediately (well after checking if my orders were complete)put oil over my insect bites..it relieved d itchiness i was feeling so i guess it works hehehe :)...


I love this this product. It really works on my baby's diaper rash :) ...


I have been using the Sunflower Seed Beauty Oil on my baby whenever he got insect bites and it heals and lightens the bite marks fast so I am quite hesitant to try this new product. But anyway, I tried it because I'm so loving the baby powdery scent. I have been using it for 3 days as my...
Write your own review
Product Description
100% Natural | Hypoallergenic
When it comes to your newborn, just how important is a mother's special touch? As the first form of communication, this interaction deepens the loving bond between mother and baby. Show your love and affection in the most intimate way without exposing them to harmful chemicals. Our 100% Natural Baby Oil uses pure, premium-grade sunflower oil, that's perfectly safe and mild to use for your baby, especially during infant massage.
Studies show that massaging your baby with sunflower oil lessens the risk of developing skin infections by 41%*. As nature's wonder oil, it also helps soothe itchiness, irritation and little boo-boos. It's dermatologist tested, so you can be sure to keep your little angel's skin soft and supple with every gentle rub.
*Source: Dr. Leslie Baumann, Cosmoceutical Critique: Sunflower Oil
www.skinandallergynews.com
Our natural formulations incorporate an Eco-Cert certified all natural baby fragrance that is 100% phthalate-free!
Our Baby Oil is Step 3 in our 3-step baby care from bath to bed routine:
Step 1: Cleanse and Calm – Baby Wash
Step 2: Moisturize and Nourish – Baby Lotion
Step 3: Protect and Nurture – Baby Oil
Did you know: Infant massage is crucial for the baby's development and is just as important as eating and sleeping. Infant massage stimulates the brain nerves to improve your baby's food absorption thereby supporting a healthy weight gain. It also lowers the baby's stress level to promote a stronger, healthier immune system.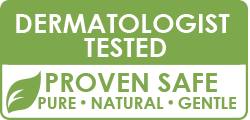 USE TIPS
INGREDIENTS
AS SEEN IN
Have you tried the "I Love U" massage on your baby? This technique can comfort your baby and help ease symptoms of colic. Trace the letter I down your baby's left side. Then trace an inverted L, stroking across the belly along the base of her ribs from her right side to her left and down. Trace an inverted U, stroking from low on the baby's right side, up and around the navel, and down the left side.
Source: How to Massage a Baby, www.parents.com
Helianthus annuus
(sunflower) seed oil, caprylic/capric triglyceride (coconut derived), glyceryl caprylate (coconut, palm and glycerine derived), natural fragrance
To learn more about our natural ingredients, click here
You May Also Like...