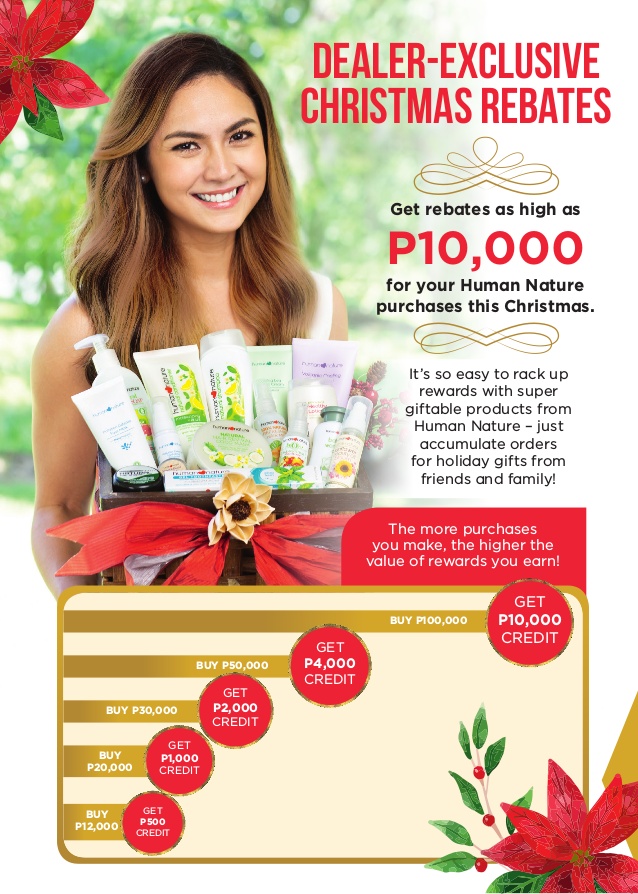 Get as much as P10,000 worth of rebates for your Human Nature purchases this Christmas. It's so easy to rack up rewards with super giftable products from Human Nature and our partner social enterprises – just accumulate orders for holiday gifts from friends and family! The more purchases you make, the higher the value of rewards you earn!
You will receive the following rebates when you reach the purchase requirements below:
| | |
| --- | --- |
| Accumulated Purchases | Credit Value You Will Receive |
| PhP 100,000 | PhP 10,000 |
| PhP 50,000 | PhP 4,000 |
| PhP 30,000 | PhP 2,000 |
| PhP 20,000 | PhP 1,000 |
| PhP 12,000 | PhP 500 |
Christmas Rebates Mechanics
1. Applicable rebates shall be based on purchases net of discounts made from November 10 to December 29, 2018, and net of returns made from November 10, 2018 to January 31, 2019.
2. The credit on account will be released on February 28, 2019.
3. Redemption of credits is valid from your Human Nature home branch only by the registered advocate or an authorized representative.
4. Rebates are not convertible to cash, and are non-transferable.
5. Human Nature reserves the right to investigate and void claims of rebates due to system error or fraudulent transactions.
6. Only purchases of Human Nature branded items are eligible. Purchases of Social Enterprise products, Gift Certificates and other service fees are excluded.
7. Credits will be subject to government-mandated taxes.
8 Ways to Earn this Christmas and reach new clients for 2019!
1. Sell online
Promote your online dealer shop and we'll take care of delivering your customers' orders straight to their homes or offices. No online shop yet? Login to your dashboard to sign up, or create one at https://humanheartnature.com/reg
2. Sell convenient bundles
Pre-selected gifts in elegant packaging for a wide range of recipients and price ranges make selling easy.
3. Earn from bulk gifts
Collect bulk orders from officemates or colleagues and earn extra when you sell Christmas gifts in large quantities.
4. Office penetration
Propose Human Nature products as gifts in private and government offices and leave magalogues with your contact details.
5. Offer gift shopping services
Ask for customers' Christmas lists and budget and be a personal gift shopper of Human Nature products. Then order online and have it shipped directly to them.
6. Pasalubong for balikbayans
Suggest high quality, proudly Philippine made Human Nature products as take home gifts to friends and family who will visit for the holidays.
7. Gifts of charity
Offer Human Nature products to friends and family who give gifts to charitable institutions during the holidays - presents that also uplift workers and farmers.
8. Annual reminders
Offer Human Nature as a token of gratitude to clients and business contacts. We have several new products and bundles each year, so you'll always have something fresh to give!
To learn more about how much you can save on Christmas Gifts and Bulk Buys, please click here!
This post was posted in Bulletin