Tough Love 100% Natural Liquid Detergent
User Reviews

I love the smell! I use this alongside Tough Love detergent since it is fragrance-free. I just tried what's written on the magalogue and it worked! I really recommend this because it really is easy to rinse and effectively cleans and removes dirt. Thank you HHN! :) ...


Sana you can make refill foil packs like the ones at the supermarket of other liquid detergent. Im one who likes to recycle and matipid talaga ako sa gamit. Kaya nanghihinayang ako sa itatapon kong container.. sana you can make refills para refills na lang bibilhin ko which will be cheaper na rin and tipid sa gastos.. Thanks! [EDITOR'S NOTE:...


what i love about this soap was that i noticed last night after soaking my laundry for 3 days it didn't smell bad compared to the usual detergent soaps that we get from the grocers. tipid sa tubig pagbanlaw kasi di mabula and so soft to the hands after washing. and soft to iron the clothes after washing. sometimes...


For modern cloth diaper users like myself, this is an amazing product! I am normally unable to hang my baby's nappies under the sun but even when air-dried, the nappies are soft, fluffy, and smell so good! A definite household favourite....


It does work really well on stubborn stains like food, oil, and blood. Rinses off easily and doesn't leave residue on the clothes. I also found out that it works just as well in removing mildew in toilet bowls, shower curtains, and other frequently-damp corners in the bathroom. Love this detergent!...


Despite the commercial fabric softeners & detergents in the market, none have compared to this. The citrus smell is just a bonus. My beddings & towels have never been happier....


I've been very much into buying environment friendly products recently, as my personal initiative in helping to preserve what's left of mother earth. HHN has been part of my first preference in the list since last year and I have included this item into my regular purchases way back from its initial release. I loved its citrus scent while washing and so...


Gentle on skin and no awful odor. It's really perfect for my baby's cloth diapers! Highly recommended!...

Amandas Purplebox (04/28/2013)


The soap is gentle on skin and has no irritating smell. It's the perfect soap for my baby's cloth diapers. All natural and eco friendly! ...


I love how this detergent cleans. It doesn't smell too strong and I love the calamansi scent it has. I use it mainly for my baby's garb and cloth diapers. It also isn't too sudsy which is good because you don't have to use a lot of water to rinse it off. I just wish it would come in bigger...


I love this product! I use it mainly for my baby's clothes and cloth diapers. Smells so nice and clean. It isn't too sudsy too so you don't have to use a lot of water to rinse the detergent off. The only drawback I have with this product is that the size is small. I wish you will produce it...


This works well as a cleaning agent and does not dry your hands. The subtle scent is refreshing, and comes in a package that is equally pleasing. This is mild enough yet effective to use on menstrual cloth pads and other sensitive items. We line dry our clothes which stay under the sun for a few hours. The scent is...


Like this product, no dry feeling after washing clothes and rinse off easily...saves me water and time...I agree that this should have refill...2 thumbs up HHN!!!...


I tried this on my hand washable wool items such as beanie and next-to-skin baselayers. Wool is very sensitive with "detergents" that a wrong detergent could make it shrink. So far, it has done NO HARM to my sensitive garments. You saved me from dry cleaning and detergent specialized for wool ordered from US. Thanks a lot. The bottle is...


I can finally say goodbye to fabric conditioners! This liquid detergent makes our clothes soft and fresh-smelling without the harmful chemicals! Galing!...


I don't do laundry coz my hands get super dry or flaky. but after using this (hand wash) I didn't get the usual side effect of doing the chore. <3 it. Hope you sell this in Refill packs so we can reuse the containers!!! (we're supposed to rate it a 5 star but rate it a four star coz we want the refill...


Whenever I use the usual commercial brands, my hands get very dry and flaky, and peels off dead skin the following day. With this, I haven't had any of those nasty effects on my hands and of course, I trust I won't have them anymore. It's gentle to my hands...and the environment....

Allyn Batungbacal (01/22/2013)


I am crazy in love with this product, it solves my laundry problems, saves me time as it rinses off easily and money for I never need to use a fabric softener as it leaves clothes soft and now I don't need to have several brands and different kind of detergents (1 regular commercial brand and baby detergent for baby...


I recommend this product because its is very gentle on the hands and tough on removing dirt and bad odor of clothes. Nice refreshing scent....


I use this on my delicates (underwear, socks, ties, etc) since it cleans well without fading color. It is quite expensive but I highly recommend it for clothes you want preserved. I also recommend it for baby clothes since you don't have to use fabric conditioner after using this. It smells so good even if I hang my clothes under...


I use this on my kids clothes and cloth diapers. I love that it has no harmful chemicals. Clothes smells good and I'm glad that I no longer have to use fabric conditioners. Will definitely use this product from now on....

Allyn Batungbacal (01/18/2013)


Love, love, love the grapefruit fresh scent that removes the most awful odor and leaves fresh clean scent especially from my baby's washable diapers. helping me save on time, water and effort as it washes off stubborn dirt, rinses off easily with lesser water consumed without leaving any soap residue. Making my laundry day light and easy!...
Write your own review
Product Description
Laundry detergents are notorious for the poisonous effects they have on aquatic life. This doesn't mean that you have to go soft on dirty laundry. No way!
Our all-natural liquid detergent makes sure your family's clothes smell clean & citrusy fresh with no harsh chemical residue leftover leaving the fabric kinder to their skin. It's non-drying on your hands, non-toxic , biodegradable and 100% free from harmful chemicals, keeping you, Mother Earth and her waters happy. Tough on dirt, gentle on the earth!
No bleach. No chlorine. No enzymes. No synthetic fragrance. No optical brighteners. No petroleum. No chlorine. No phosphates that may harm aquatic life. Biodegradable.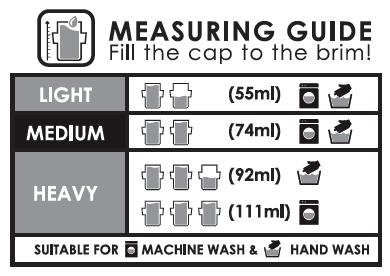 Did you know:
Addicted to keeping things nice and white? From fresh, white linens to crisp, white shirts; these simple joys in life are any cleaning diva's dream. But did you know that the bleach you've been using to get that "insta-white" effect can actually harm you and the environment?
Bleach, a chlorine-based chemical solution, is a highly toxic substance that has been involved in more household poisonings than any other chemical. It's found in the majority of household cleaning products, disinfectants as well as laundry detergents. According to the Environmental Working Group (EWG), frequent users of chlorine bleach are at increased risk of developing asthma and other respiratory problems. The West Virginia University Extension also links chlorine-based compounds, like dioxins, with low sperm count, testicular cancer and breast cancer due to their ability to mimic human hormones.
Optical brighteners, an alternative to bleach, make fabrics appear brighter but can often cause skin irritation. As they can accumulate in the environment, they too become toxic to aquatic life.
So, in the race to have the softest, whitest, most fragrant clothes, detergent manufacturers use a chemical to address a problem that causes another problem that needs yet another chemical to fix. You want nice-smelling clothes, put fragrance. Fragrance might cause discoloration, so put a whitener. Whitener makes clothes stiffer, so put a fabric conditioner to soften clothes. That's a lot of chemicals left on the fabric that your skin is exposed to. No wonder people get skin allergies nowadays! Perhaps the only solution is to switch to a natural, harmful chemical-free detergent!
Dermatologist-tested as non-irritating and safe

Washing Guide: Sort your laundry into lights, darks, and whites to keep those colors from mixing. Our handy-dandy measuring guide will determine just the right amount of tough lovin' your laundry needs. For spot treatments, pour a small amount directly onto the stain, rub gently, and soak before washing. No laundry's too tough for our love!
aqua (water), sodium coco fatty alcohol sulfate (coconut-derived), potassium cocoate (coconut-derived), ethanol (sugarcane-derived), sodium lactate, decyl glucoside (vegetable-derived), sodium carbonate, Citrus sinensis (orange) essential oil, glycerin (vegetable-derived), citric acid, fragrance (all-natural), phytic acid (rice bran-derived)
To learn more about our natural ingredients, click here
You May Also Like...