100% Natural Bug Shield DEET-Free Lotion
User Reviews

My baby started using this at 8months after trying several other products. Mosquitoes and other insects are really that annoying esp when they leave dark spots on my baby's skin. And ever since we shifted to HN bug repellent lotion, insect bites are rare. ...


I have a strong and passionate hatred for mosquitoes and the bites the enjoy peppering me with so this product is a godsend. Only reason why I can't give it a 5 is the size. I bought my first bottle and it only lasted a week. I need more ASAP since the mosquitoes are very active this season. I really...


I am a big fan of HHN and I believe you are a blessing to every woman like me who have very sensitive skin and same thing with our kids. I used and tried almost all of your products and recommend them to everyone. I made it a point to avail your original bugshield lotion everytime I order...


Hi. I have been a user & dealer of HHN products for several years now. I am a fan, too, of the Bug Shield as I am confident that it protects my kids not just from mosquitoes but also from toxic chemicals (my kids have allergies). However, my sister wishes the previous Bug Shield to return. It's the one without...

Maria Genova (09/02/2013)


I would like to extend my gratitude to HHN for formulating this product. :) Sobrang kagatin kasi ako ng lamok and when I woke up every morning di pwedeng wala akong pantal. When I started using this product, I was surprised na walang kahit anong pantal early in the morning. I also bring this with me in my kikay kit....


I am happy to say that my 1-year old has not had a single bug bite ever since I started using the product. I bought two bottles, both of which are almost empty now. It would be nice if they have larger bottles so I won't have to keep buying the 50 ml ones. I apply the lotion mostly on...


i shared this product with a friend and when she was with her kid in manila, she had an almost empty bug shield lotion with her. she tried other products but it all did not work as effective as this product. i had to order on line just to get one. we sent it to her immediately and she became...


I am using this product for my toddlers and it is very effective. They do not have bites from mosquitoes. This month, I gave it to my officemate who is a Singaporean. She said that she has tried insect repellants and it did not work. When she started using this, she said that she never have one mosquito bite. This...


My mom got this as a prized during her seminar. I sniffed it and my mom told me that it smells citrus-y and I disagreed. We rarely have nights where mosquitoes attack our house. So when they attack, I then grabbed this lotion and applied it to my arms and legs to give it a try. It worked. But the...


I really love this product. So natural yet very effective...


I have been using this product for a week now and I am just so happy with my purchase! My 3 year old boy usually have ant bites since toodlers leave trails of food everywhere (right mommies? hehe) I tried OFF and all other insect repellant lotion but this product is just soo effective! Plus, doesn't feel greasy on the skin...


Bug Shield is effective but since you need to re-apply it every two hours, ubos agad. I hope that you will produce bigger sizes like 250 ml or 500 ml....


I've tried the citronella bug spray and the lotion and have observed that the lotion is more effective. For once, the kids had no bites. Until we ran out! :) will be keeping a stock in our shelf from now on :) ...


hello!! i have been using different kinds of mosquito repellent for my daughter and still get's mosquito bites but this product super talaga kahit ant bites or bug bites walang wala.. love this product!! highly recommended......


I have been using this bug lotion for 3 days yet for my whole family of 5, including my 4-month old baby. Yes, I trust the company and the product so much that I have no qualms using it on my baby. So far, I have observed that it does keep pesky mosquitoes away for 2 to 4...


Pros: for a good cause, all natural, scent is a bit more subdued than the bug spray version Cons: i sometimes still get mosquito bites :( [EDITOR'S NOTE - sorry to hear that Jho! With all mosquito repellents, chemical and natural, please be careful to completely cover every square inch of skin. Mosquitoes will usually find bits which are not protected, even...


hi, like this better than the bug spray- spreads on so smoothly and evenly and parang scent is milder than the spray too. I hope you can make this avail in bigger volume like 100 ml or more coz' mas madaling maubos than the spray though. [EDITOR'S NOTE: Yes, we are coming up with a bigger...


I bought the Bug Shield for my 4-year old nephew who has very sensitive skin and is prone to get bug bites. He has been using all sorts of bug repellant lotions for years and though the bites would lessen he would still get bitten. When we tried Bug Shield, ZERO BUG BITES! I highly recommend this product. It's safe...


I love how the lotion is smooth on the skin yet performs its task to protect the skin against insects. Is it because of the coconut virgin oil as one of the ingredient? Regardless, this is one of my fave HM Product. i suggest you create lotions using the base ingredients of this bug shield but without the bug shield effect...
Write your own review
Product Description
Ban dengue and DEET the safe and natural way!
Your trusted citronella insect repellant now packs an even more powerful punch against pesky mosquitoes with our improved non-sticky Bug Shield DEET-Free Lotion. Now infused with soy bean oil and eucalyptus oil for an added boost of protection and an even better scent!
Did you know: DEET which is used in many insect repellents was developed for military warfare and not for daily, long-term use. Studies have shown that long-term exposure to DEET kills brain neurons and affects the central nervous system.
Source: Organic Consumers Association
Dermatologist-tested as non-irritating and safe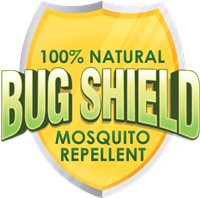 Be a part of our Farmer's Fund Drive! Combat dengue while battling poverty. 100% of the profits from every Bug Shield Oil and Bug Shield Lotion sold will fund the development of sustainable livelihood for our partner farming communities in the province of Bukidnon, located in the southern region of the Philippines.
Our goal is to sell 50,000 bottles which will fund the citronella oil processing facilities in the villages of Imbayao and San Jose in Bukidnon. Join us as we show the farmers our commitment to help end poverty for them!

USE TIPS
INGREDIENTS
AS SEEN IN
Keep a small bottle of the 100% Natural Bug Shield DEET-Free Lotion on hand when on the go – when camping, hiking, or on picnics. You can be sure of having a safe trip without leaving behind any toxic chemicals!

Reapply every 2-4 hours, depending on physical activity and sweating.
aqua (water), stearyl alcohol (coconut-derived), Cymbopogon winterianus (citronella) essential oil, Glycine soja (soybean) oil, Citrus sinensis (orange) essential oil, cetearyl glucoside (plant-derived), cetearyl alcohol (plant-derived), dicaprylyl ether (vegetable-derived), Eucalyptus globulus (eucalyptus) essential oil, xanthan gum, glyceryl caprylate (coconut, palm and glycerin-derived)
To learn more about our natural ingredients, click here
You May Also Like...