100% Natural Bug Shield DEET-Free Oil
User Reviews

First of all, I love human nature products. I've used so many and they're very effective. So I bought two bottles of these, and gave them a try for a while now... But no they are just not effective. Just a while ago I applied four pumps to my legs, and after about 10 minutes, I saw a mosquito biting...


product is really helpful in preventing mosquito bites... and have a very nice aroma that very refreshing and calming too...


I applied about an hour, I got two bites of mosquitoes. I hope this will help to improve your products. Also, the scent fades easily. [EDITOR'S NOTE: Hi Maureen! We're sorry to hear about your experience. Our 100% Natural Bug Shield Oil has been found to work very well especially in mosquito-populated areas, but we understand that its effectiveness may...


Both my sons are mosquito magnets, but my 2-yr-old is worse. We have several brands of bug repellent lotion but none of them work very well. I bought this to try, both as a dealer (I test products first before recommending them to others) and as a Mom looking for a safe and economical alternative to commercial brands. Unfortunately, although...


I have been meaning to purchase this product. And I wasn't disappointed! It's really light on the skin compared to a regular lotion so I only use minimal amount but it's still just as effective. I used it both on my 4 month old and 2 year old daughters. I even use it for myself! Plus, I didn't realize it...


Picked up this product as it was recommended by a friend plus I trust the brand... unfortunately this is no longer the case as within less than an hour of application, I was bitten by two mosquitoes. Needless to say, I'm extremely disappointed and I feel scammed. Not recommended. [EDITOR'S NOTE: Hi Pauline! We're sorry to hear that. We're quite...


I really love using this product, considering the fact that it is not harmful to skin of any age. It is very effective as well, and oh... the best part, I love the smell! I am happy with this product because you are not just protecting your family from mosquitoes, you are also helping the environment, the poor, and the...


mas gusto ko yung dati, this one is not as effective compared to the old one. when i used the old citronella spray, mosquitoes hates me, pero this bottle parang d man ako nag-apply, :( pinapak ako ng bongga.. hope you bring back the old bug spray.. thank you [EDITOR'S NOTE: Hi Zhang! Thank you for your feedback. We're sorry...


This product is the very reason why I decided to be a dealer. I was looking for an insect repellant that is safe yet effective. And this product meet my expectations. Also, matipid gamitin cause it's oil based. Thank you HHN....


My 9 months old baby is a mosquito magnet. Weve tried a bunch of repellent (off lotion, citronella patch, citronella pellets, citronella over oil burner etc) which unfortunately didn't deliver well. I came across this product in a supermarket and gave it a try. It has a strong smell of citronella which doesn't fade easily. Light on skin although...

Adrian Val Olonan (10/08/2013)


The Bug Shield Oil transcends your skin. This can be Nature's answer to deadly (got it right!) pesticides! How? Get a spray bottle, fill it with 2/5 Bug Shield Oil and 3/5 tap water. Just always shake before using for the pump to atomize the suspension. What's next? The mozzies and roaches go away. They slow down. That gives me...


I bought two bottles of this but was really disappointed since I still get bitten by mosquitoes within an hour of application. Tried increasing the amount applied to double and they are still biting on the exact places I put the oil on! In contrast, commercial lotions and sprays with deet are effective even when applied to clothes, so it's...


I have a client who (1) was offended by the smell of eucalyptus now that it was added to the new formulation, (2) found out that his son is allergic to eucalyptus. He was loyal to the old formulation. But he no longer wants to use the new one. Since the old one was already effective, I wonder why HHN had...


it used to be really trying every time i apply anti-mosquito lotion to my 5 year old son as he doesn't like the feel on his skin and would always run away from me. however, when i tried this on him, he seems to like it and would often remind to put this on him before we go...


Contrary to other reviews, I love the scent. It smells like aciete de manzanilla which is quite relaxing to me. Me and my baby have been using this. It is really effective. and since this is organic, I know that is safe to use for my baby. thank you HHN for producing this wonderful product. It gives you a feeling that...


I was amazed by this product, cheap and yet super effective! I used this to my 7 month old baby and ever since he used this bug shield he didnt get any mosquito bite.Thanks human nature!...


love the smell of this product and it's all natural content. but the label says apply every 2-4 hours. is it safe to apply/re-apply on babies (10 months old) around 4 times a day for an all day protection? also, i hope there will be a formulation that will last longer hours for an all-night protection against bugs... [EDITOR'S NOTE:...


I have the original citronella formula and have been using it for so long on my daughter. It has been very effective in wardingg off mosquitos. I hope the new formulation remains the same because I have ordered 2 bottlea just yesterday. [EDITOR'S NOTE: Hi Vanessa! Thanks for the positive feedback! Our new 100% Natural Bug Shield Oil has an...


the first one we used was the lotion then this the oil based which i find more effective and has lasting effect :) i tried it myself when the power went out here in our place and uhwell mosquito attack despite having our doors and windows screened.. i usper love it for my kids' safety especially during dengue outbreak but...


I asked a friend to buy your products online since I don't have a paypal. I purchased BUG SHIELD, SUNFLOWER OIL and LIP BALM...the product has a good effect from the first day I use it. I love how the balm keep my lips soft, supple and moisturize all day. The oil based products too they are light to my...


This is a response to the review that my sister sent dated May 13, 2013. My sister Christine Anne, wants to say thank you and that she appreciate that you will produce the original formula just for her baby. Thank you and God bless!...


I have the original formulation w/o the soybean/eucalyptus oil, and it's very effective in keeping my skin mosquito-bites-free. during those times when I don't spray this on, I discovered that it's still effective --- after applying it on the mosquito-bitten area the swelling and redness decreased, the area stopped being itchy after a while and most importantly I didn't get...

CHRISTINE ANNE (05/12/2013)


I hope you will still continue to produce the one that has no soybean oil and eucalyptus oil. My niece and a lot of babies now are born with G6PD deficiency, they are allergic to soybean oil. Thanks. "[EDITOR'S NOTE: Hi Christine! We're sorry to hear that. You'll be happy to know that we still have some of our original...


i only have used this product once.used it on to my 6yo daughter and to my special child sibling..and works great on them.we dont mind the smell as we're already used to the scent of manzanilla from the oldies. but after a minute i tried it on my arms..i got this itchy reaction that it actually left "scratch marks" and...


I love this product! Comes very handy and safe for kids....


This products is the best! I use this to shoo away ants too! I spray it on to a cotton and wipe it on table surfaces, kitchen sinks, etc. And i observed that the ants really repell away from it! I recommend this to my buyers all the time! :)...

Maria Esperanza Fatima (02/15/2013)


Some people are turned off by the smell but I love this better than the more popular mosquito repellant brand. I also put this in my oil burner and it acts dual purpose as a mosquito repellant and an odor eliminator for our rooms....


It's effective but I'm not a big fan of the oil. so instead of putting it on my skin I placed some on the wall near my bed and some on the mattress and TADA! no mosquitoes that night during brown-out! no need to use mosquito coils. hahaha...


perfect protection, specially for my kiddos...I used it for a year now......


I reviewed this product in my blog at http://www.behealthyandwell.com/2012/08/product-review-human-nature-citronella.html Check it out....


I love that you have this, I mix it with rose water for a lighter formula :) ...


I love the smell of this product. It's has a fresh scent and the best part of this is the insect repellent factor. Unlike the popular branded mosquito repellent lotion which has an overpowering smell, this one is very light ad citrus-y. I use it for my baby who sometimes gets bitten by bed bugs and it worked wonders. I...


it's natural... it's safe... it's effective... what more can i say... keep it up!...


I've been afraid of using chemical insect repellants since I know that they contain strong chemicals that might hurt my skin. But I am very prone to mosquito bites and this product is super effective and affordable. I can now sleep in peace....


I've tried all other organic insect repellants in the market. I was so obsessed with finding the "right" one for us because my daughter had dengue a few months ago. Our yaya said that since we started using this, my kids had less bites! I'm going to stick to this one!...


I used this for my kids,especially nowadays that Dengue is "USO",before we used to put patches on them but still my kids had mosquito bites,my eledest used to play with it and little that I know she is no longer protected,I checked this stuff online and tried it and it really works. My youngest's skin is very sensitive but...


I really love this product. i used this for my baby. noon kasi ang dami niyang kagat ng lamok.pumapanget skin niya.i tried off kaso may nabasa ako na may masama siyang ingredient.i had a hard time finding insect repellant for my 6 month old baby.then i saw a flyer about human nature and i tried this product. i was amazed...


This is the first HHN product I bought, since I usually go out during late afternoon, I needed protection. I love the citronella scent so much I use this as a protective "air freshener" by putting small amounts on my window curtains :) makes my room smell wonderful! It's also safe for little kids....


I've used this for more than a week to protect me against insect bites. I think it is effective against mosquitoes but not that much against fleas. I also must say that the scent is too strong but i don't know if this factor contributes to its being effective. ...


a friend introduced this bug spray to me for my kid. and didn't stop until i found this site. been using this product for a year now and it is proven to be effective and safe. love the smell too. ...

Justine Aviella (08/12/2012)


Having a baby really turned my world upside down! She has also been the favorite food of Mr. Mozzy (mosquitoes!) I've tried everything to protect her from them, from insecticides, to electric mozzy mat to mosquito nets! but all of them are not effective! I was introduced to HHN by my aunt and I found Citronella bug spray... and it...


thank you so much HHN for this bug spray, i have searched long and far to find an organic insect repellent that will be safe to use on my baby, before she has this dark spots on her legs due to insect bites, it doesn't look nice but more than that i'm scared of what illness those bites might bring,...


The most important human nature product for me since I have been hit by dengue twice! This is the best mosquito repellent I have ever used! Good job!...


The citronella smell doesn't bother me. My 10 year old daughter loves the smell. This is safe and effective. One user shared to me that it is also effective in getting rid of lice and keeping them at bay....

Loriel Alexis (06/12/2012)


I sooo love this product. My son seems to have inherited my sensitive skin. My mom bought him a mosquito repellant a year ago and his skin became dry, especially sa legs. Since then, I became afraid to use other mosquito repellants so i opted to buy the mosquito patches (which are a bit expensive). My husband's aunt recommended this...

Stephanie Te (04/19/2012)


My mother-in-law gave me this organic bug spray for my baby since i'm very much aware for dengue, i always use this regularly on him ...


this product really works! Initially, I only use it as mosquito repellent but I recently discovered that it is also good to prevent roaches. Just a small drop in a cotton ball will make those roaches stay away. Really, really love this one!...


This is the first-ever HHN product I bought, which was during the dengue scare. What I liked about it is that it's safe for babies (like my daughter) because it does not have DEET. But once the scent wears off, my daughter is once again susceptible to insect bites. Re-application is needed (it's stated in the bottle anyway). I don't...


I love using this to keep mosquitoes away. The smell is okay with me because I used to have an insect repellent that smells like this. However, my coworkers hate the smell.. Hehehe.. They thought I was a walking insect repellent. (I don't mind anyway)... I hope there can be other scents......


Pros: buying this would be for a good cause, natural Cons: scent was just really overpowering...


hi congrats for a great product - HNN bug spray and lotion.. i'm really not sure how effective it is because i got mosquito bites even ryt after applying it when i took a jeepney ride.. however, its the only organic repellent i've tried and so far my family was spared from dengue scare in our town....


The citronella bug spray also work effectively on bedbugs. We put the oil on cotton and apply them on the four sides of the bed closest to the mattress and corners of the bedpost. Saw the bedbugs drop dead on the floor after a day or two. Truly an amazing product!...


This was the first item I bought from Human Heart Nature ever (and got me convinced to be a dealer). It's effective in repelling mosquitoes, especially at this time when dengue is in season. The citronella scent may come as strong to some, but it takes getting used to. I love this product, I'm buying one again!...


My youngest son really loves this bug spray. He isn't bothered by the smell. He even reminds me to apply it before he goes to bed. He really likes how I massage him with this oil. Now, it is part of our nightly bonding routine. ...


Safe and effective even for babies. ...


Safe and effective, even for babies. :)...


I wouldn't choose this if you have a sensitive sense of smell, because citronella has quite a distinct piercing aroma. But this is very effective and now that it's dengue season, I always protect myself with this. Also, just a small amount goes a long way! Mosquitoes just get a whiff of this and they won't even attempt to get...


i always put this on before going to bed. super effective. i am mosquito worry free! =D...


It is September 3 and it says that it is not available as of time..just want to know when will the product be available. Thank you! [ EDITOR'S NOTE: The bugsprays are expected to arrive hopefully on September 15, we apologize for the wait, and thank your. for your patience and understanding :) ]...


I bought the big bottle about a week ago. I love the scent and its bug-repelling ability. I'm a big fan of VCO and a big hater of mosquitoes (I've had dengue twice) I kept it in a cool dark place but the scent is now gone. Sayang! It now smells like rancid oil. [EDITOR'S NOTE: Thank you for...


I put on a few drops on our oil burner and the scent fills our room. My husband and I love its scent....


I put a few drops on our oil burner and the scent fills our room. My husband and I love its scent :)...


This was one of the products I tried when I first learned about HN. It's main purpose is to keep my baby from pesky mosquitoes and bugs especially at night. The scent actually makes her relax and I noticed from day one that she sleeps easily after applying it to her exposed skin. I'm using this personally also as I...


Been using the Citronella Bug Spray since I was introduced to HHN. Seven Stars for insect protection!...


Really effective. A small drop covers a big skin area already so there is no need to apply so much. The scent reminds of the lemongrass tea that I used to purchase from Geofarm in Pangasinan. I am now a little accustomed to the strong scent and but family members and some friends who are still not used to lemongrass...

Jessica Tirado (05/16/2011)


This definitely keeps the bugs away AND keeps my skin really soft. The scent is really strong though and it's not exactly a "spray" as it comes in a pump and not an atomizer. All in all, it's a great product and will definitely buy again once I run out....

Jennie Lecaroz (05/16/2011)


I tried a lot of repellant for my son but this is the only product that actually works for him. I am so happy with your Citronella bug spray. The scent is mild - which my son gives 2 thumbs up! since he's the one using it :). It absorbs well to his skin and it's not heavy and hot....

Aissa Flores (04/03/2011)


I have the 50mL version of this and so far, it has keeped the bugs away brilliantly. The scent is unmistakeably citronella, some people might not like the way it smells but I don't mind at all so long as the bugs are kept at bay. My only complaint is that the 50mL comes in a drop dispenser and not...

Neriza Pacheco (04/03/2011)


Citronella Bug Spray is so effective! It has very strong smell though but I don't mind. Plus it is very affordable. I love it!...

Blesilda Adlaon (04/03/2011)


I love how economical this product is. I just put one spray on my palms and stroke my hands all over one child's body. With three children to protect from mosquitoes, this product is great for our family....

Pamela Joy Mariano (04/03/2011)


The most effective bug repellent I've ever tried. Even the DEET mosquito repellents don't repel other bugs. In my experience, this does. I love being in the outdoors and going to the beach and to mountains, and this hasn't failed me in all those situations....

Lee Montealegre (04/03/2011)


This bug spray rocks! I don't only use it on my skin but I also use it as a room spray instead of using other commercial bug sprays. The scent is pleasant....

sharon asparen (04/03/2011)


after using this product for 9 months, I noticed that my 3 year old baby's skin became smoother and her scars truly lightened. I do not use any product for her skin and on her insect bite scars (not even lotions), except for this citronella spray,and I just concluded that the citronella not only repels the mosquito, but most importantly...

Marie Claire Hernandez (04/03/2011)


I really love this product! I got this from my office mate along with other HHN products. I have been having rashes on my calves for quite some time now and this product not only shooed away the mosquitoes, but it also made my rashes magically disappear! I also love how it made my skin silky smooth now....

SHARON CLARKE (04/03/2011)


very effective and safe! great for kids. really cheap for an organic product. a bit oily though - on a hindsight, a moisturizer at the same time....

sharon asparen (04/03/2011)


it's really very effective in protecting my 3 year old baby's skin from mosquito bites. the citronella oil did not leave a sticky feeling on the skin. For those with sensitive sense of smell, the scent is just a little too odorous. EDITOR'S NOTE - we use pure Citronella essential oil in our Bug Spray, which has quite a strong...

Aleth Agulto (04/03/2011)


The kids use it. We use it. It's as effective as the commercial brands if not better. By the way, our dogs use it as well. Keeps away the fleas too!...

Yassi Dulnuan (04/03/2011)


The moment my sister saw that this product is organic, she wasnt scared of spraying it to her 2 year old daughter! Lol. And seemed like my niece is loving the smell. She usually go ballistic everytime we put on something to her.....


We no longer have to worry about getting bug bites because of the Citronella Bug Spray. Besides protecting your skin from nasty bugs, it also moisturizes....

Karen Ann Frances dela Cerna (04/03/2011)


I just got my first bottle just now, I tried it as soon as I opened my package. Its very gentle on the skin,unlike other products its not mainit sa balat at all....

MA WILHELMINA QUIMSON (04/03/2011)


You get value for your money with this bug spray. A popular American brand of organic citronella bug spray of the same size costs 5 times more than this!...

Jaja Oquinena (04/03/2011)


Because of wide-spread dengue cases in our country, as a mom, i always make it a point to regularly apply mosquito repellant to my child. But the DEET content of chemically-prepared bug sprays always scares me! Finally, we now have Citronella Bug Spray! The scent is not offensive to the nostrils - unlike others you buy from the shelves. I...

Maria Victoria Guevara (04/03/2011)


Very gentle on skin. My son doesn't mind putting it on unlike other brands of bug spray....
Write your own review
Product Description
Your trusted citronella insect repellant now packs an even more powerful punch against pesky mosquitoes with our improved Bug Shield DEET-Free Oil (formerly Bug Spray). Now infused with soy bean oil and eucalyptus oil for an added boost of protection and an even better scent!
Did you know: DEET which is used in many insect repellents was developed for military warfare and not for daily, long-term use. Studies have shown that long-term exposure to DEET kills brain neurons and affects the central nervous system.
Source: Organic Consumers Association
Dermatologist-tested as non-irritating and safe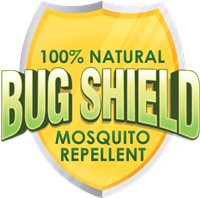 Be a part of our Farmer's Fund Drive! Combat dengue while battling poverty. 100% of the profits from every Bug Shield Oil and Bug Shield Lotion sold will fund the development of sustainable livelihood for our partner farming communities in the province of Bukidnon, located in the southern region of the Philippines.
Our goal is to sell 50,000 bottles which will fund the citronella oil processing facilities in the villages of Imbayao and San Jose in Bukidnon. Join us as we show the farmers our commitment to help end poverty for them!

USE TIPS
INGREDIENTS
AS SEEN IN
Keep a small bottle of the 100% Natural Bug Shield DEET-Free Oil on hand when on the go – when camping, hiking, or on picnics. You can be sure of having a safe trip without leaving behind any toxic chemicals!
HOW TO USE: Apply 2-3 pumps to the palm of your hand and rub onto exposed skin. Reapply every 2-4 hours, depending on physical activity and sweating.
Helianthus annuus (sunflower) seed oil, Glycine soja (soy bean) oil, Cymbopogon winterianus (citronella) essential oil, Citrus sinensis (orange) essential oil, Eucalyptus globulus (eucalyptus) essential oil, glyceryl caprylate (coconut, palm and glycerin derived)
To learn more about our natural ingredients, click here
You May Also Like...