OUR ADVOCACIES
When Human Nature was born in 2009, we envisioned it to flourish as a leading social enterprise. This meant our primary goal would be to use business to build a better society, especially for the poor, by operating a sustainable business that helps developing countries. Over the years, we have stayed faithfully committed to this mission -- Gandang Kalikasan, the company behind the brand Human Nature, was recognized by the World Economic Forum's Schwab Foundation as a Champion for Social Entrepreneurship in 2012.
Partnering with farmers in developing countries
As long as farmers in developing countries are growing low-value crops, we believe they will always remain poor. Early on in our journey, we set out to identify key crops that could be directly integrated with our supply chain, working with farming communities to improve yield and quality of production, and providing them with a stable market for their goods. Today, we partner with farming communities all over the Philippines to supply us with the raw ingredients for many of our bestselling products.
We proudly source some of our essential oils from farmers' cooperatives in the Philippine countryside. The Philippine Federation for Environmental Concern (PFEC) has been supplying us with organic citronella oil for our very popular Bug Shield Mosquito Repellent, produced by a cooperative in Labo, Camarines Norte. Our organic certified lemongrass essential oil, in turn, is provided by the Alternative Indigenous Development Foundation Inc. (AIDFI) in Negros Occidental. AIDFI provides solar and hydropower to poor rural communities who otherwise would not have access to electricity.
As firm believers in fair trade principles, we also offer to buy at fair prices from our community based suppliers, sometimes even above-market prices if the market price is not enough to provide good quality of life for the farmers. Having good business sense isn't only about getting the lowest prices for our raw materials; it's about ensuring that our suppliers, especially the poor community-based cooperatives, receive just prices for their products, too.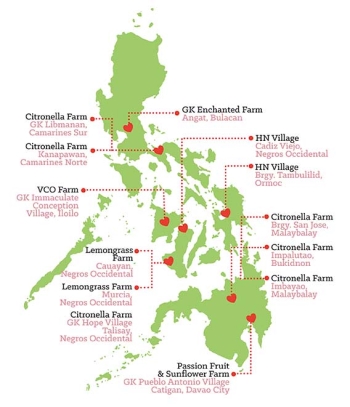 Incubating fellow social enterprises
We partner with other social enterprises because we believe that businesses operating both for profit and social change are crucial in the fight against poverty. In providing them access to our own distribution channels, co-marketing, and our internal departments' expertise and resources, we see ourselves as a big brother to other social enterprises, helping to shorten their learning curve to attain scalability and sustainability.

Working with Gawad Kalinga

Gawad Kalinga is a globally recognized, Philippine-based movement that envisions an end to poverty for 5 million poor families by year 2024 through its three-phase development model: Social Justice, Social Artistry and Social Transformation. Together with its Founder, Tony Meloto, Gawad Kalinga has been given worldwide recognition for its initiatives; among them the Skoll Award for Social Entrepreneurship and the Nikkei Asia Awards for Regional. Gawad Kalinga, which means to "give care," has built more than 2,400 communities all over the Philippines, and works to alleviate poverty in other developing countries, including Indonesia, Cambodia, and Papua New Guinea.
Human Nature partners with Gawad Kalinga communities by equipping them with the resources and training to grow and process the ingredients we use in our products. Already, we have begun work on a pilot farm in a Gawad Kalinga community in Angat, Bulacan, as a future source of raw materials. We hope that soon there will be hundreds of world-class organic farm communities providing livelihood for thousands of the world's poorest people.

Putting people before profit
In a world where executives' salaries soar criminally high above rank-and-file workers' wages, Human Nature engages the working poor towards shared growth. In contrast to the widely reported conditions of underpaid factory workers working in poor conditions in many developing countries, we promote the dignity of laborers by paying our workers at almost twice the mandated Philippine minimum wage, with full benefits – because we believe in raising the quality of life for everyone, from the greatest to the least.

Caring for our planet
Here at Human Nature, we take our responsibility of being nature's stewards very seriously. We carefully deliberate the impact of all our business decisions on the environment. For example, all our raw materials are thoroughly researched to ensure that they are naturally derived, are not processed using environmentally toxic processes, and do not become toxic when released into the environment after you're finished with the product or wash it off.
We also use recyclable bottles in our packaging to minimize our contribution to the country's overburdened landfills. Even better is that Human Nature containers are from PET, the most recycled type of plastic in the world.
Our commitment to caring for our environment extends to our furry friends - Human Nature has never conducted animal testing, and is certified cruelty-free by PETA, the world's largest animal rights group.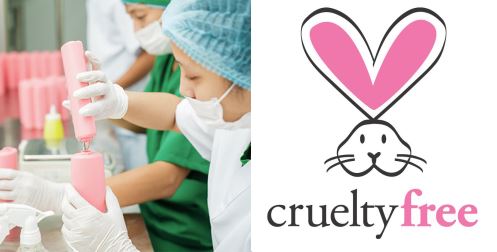 Together with you, our fellow advocates, we are fueled by passion and purpose to create a globally successful social enterprise that uplifts our poor, helps fellow social enterprises scale up, and fosters inclusive growth by doing business while leaving no one behind.