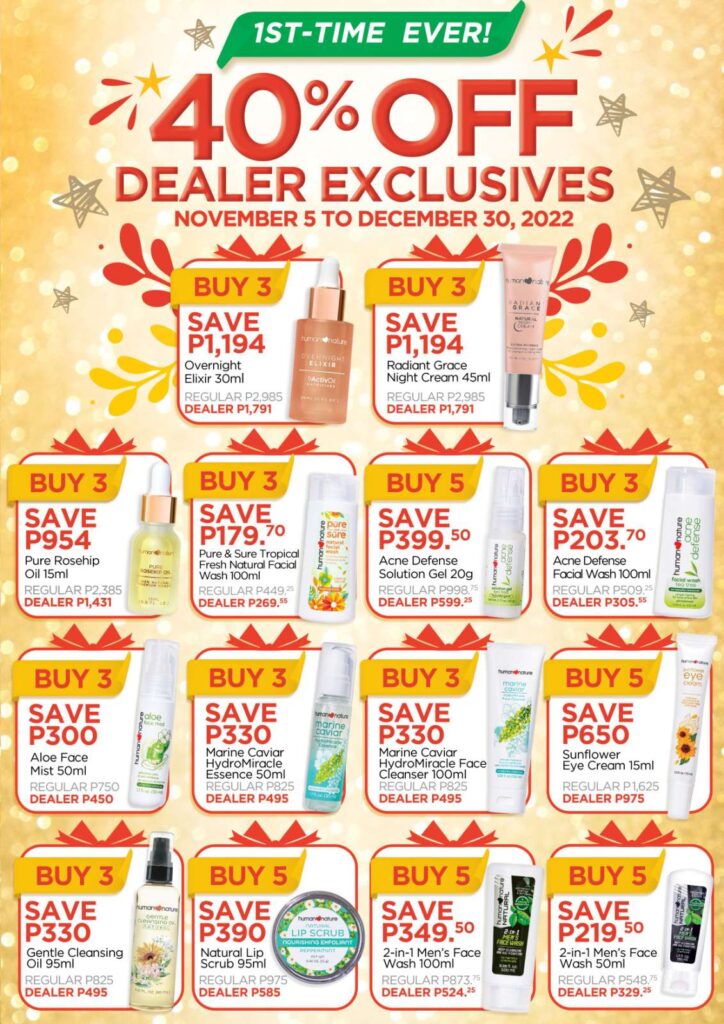 To avail:
For branch/ phone orders
Dealers shall order the promo sets as usual in-store or through Call & Collect.
For web orders
On the Human Nature home page, click the tab "SALE" on top and click the "40% OFF DEALER EXCLUSIVES" page. Just look for the promo set that you wish to avail and click "Add to Cart".
Terms & Conditions:
Valid for all Human Nature Dealers and Community Hub.
The 40% off bulk promo is inclusive of dealer discount.
Returns on any of the purchases shall void claim of discount and the corresponding amount of the product/s shall be paid by the customer.
FAQs:
Will I get a discount for a product on promo but in a different size or scent?
A: No, only the listed products with specific sizes or scent are on promo.
Can I purchase the promo products multiple times?
A: Yes, the products on promo can be bought several times within the promo period and in
all participating channels.
Can these be availed on top of the current magalogue promos?
A: No.
Are promos on top of Dealer Discount?
A. No, the 40% off promo is inclusive of Dealer Discount.
How do I avail the promos without physically going to the stores?
A: You may enjoy this promo, or any NPL or ongoing offers on magalogue, in the comfort of
your homes by using the branches' "Call/ Text and Collect" service. You just need to call or
text-in your orders, and you may either drive by for a curbside pick-up or have a third-party
courier service (Grab/ Lalamove/ Speedy, etc) pick-up the orders for you. You may contact
your nearest branch for more details.