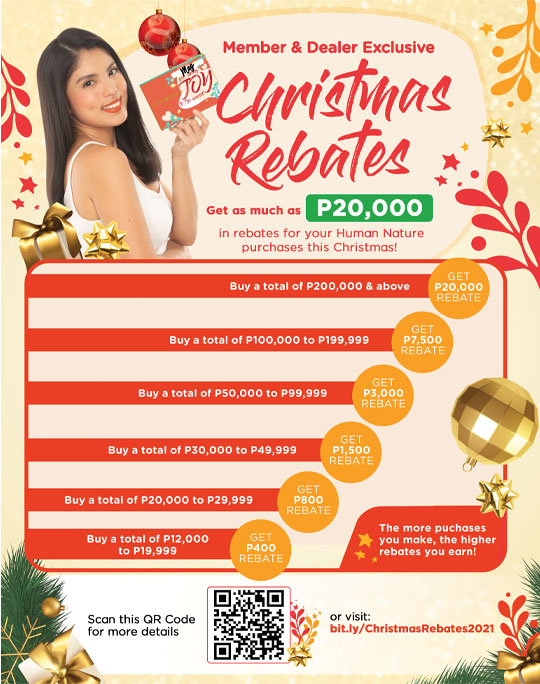 Terms & Conditions:
Promo is valid for purchases of Human Nature branded products only, net of dealer discounts.  Social Enterprise products, Human Nature marketing materials/ packaging, gift certificates, and service fees are excluded. 
Applicable rebates shall be based on purchases net of discounts from November 1 to December 31, 2021.  
The rebates through credit on account will be released on January 21, 2021. 
The redemption of credits is valid from their Human Nature home branch only (where they frequently shopped) by the registered Member/ Dealer only. The TIN of the Member/ Dealer must be provided for the release of rebates.
Product returns for transactions covered by the rebates are not allowed.
Rebates are not convertible to cash and non-transferable.
Rebates are subject to government-mandated taxes.
Human Nature reserves the right to investigate and void claim of rebate due to system error or fraudulent transactions.
Community Hubs are included in this offer. 
Members/ Dealers may monitor their purchases and rebates by:

Logging in the dealer dashboard on Human Nature website
FAQ:
May I request to have my rebates transferred to another branch?
A: Yes you may send us an email at customer.service@humanheartnature.com for the rebate transfer request.