Ever wake up with hair strands all over your pillow? Have you had to remove tufts of hair from your shower drain?
You're not alone. Here's the deal: Hair loss is not just for old people. Approximately 30 million women suffer from hair loss.* 
And while losing 50 to 100 strands of hair per day is totally normal, a combination of stress plus an unhealthy lifestyle can lead to excessive hair loss.**
In the same way, constant use of harsh chemical products and too much heat styling can also weaken hair, causing it to break.
Don't fret. You don't need a miracle to reverse the damage. 
When it comes to caring for your hair, treating it well still comes first before anything else.
To achieve healthy hair, you need to have healthy habits:
1. Your hair stretches and breaks more easily when it's wet so instead of rubbing your wet head with a towel, gently squeeze and pat your locks dry after showering.
2. Let down your hair while it dries because twisting it up in a towel and pulling it into a too-tight wrap can lead to damaged, frizzy strands.
3. Wait a few minutes before brushing your hair after showering because brushing when wet puts a lot of tension on strands, leading to hair fall and breakage. Salon experts recommend rough drying your hair (about 90%) before combing it.
4. Healthy hair starts from within so eat a balanced diet with the right nutrients to help your hair stay strong, smooth and shiny. Studies say foods that are rich in omega-3 fatty acids keep hair thick and healthy so load up on tuna and salmon.
5. Adequate sleep is essential for healthy hair growth so make it a point to get at least 7 hours of sleep every night.
Once you've hacked your habits, consider switching to genuinely natural products that will treat your tresses right like the Human Nature Strengthening +PLUS Shampoo and Conditioner.
With the combined goodness of Human Nature's Classic Strengthening Line and the power of rosemary essential oil, the Strengthening +PLUS Line can help bring weak, thinning hair back to life.
Naturally Thicker Tresses
Scientifically-proven to aid hair growth, rosemary oil improves blood circulation around hair follicles, promoting thicker, healthier-looking hair.
In addition, the Strengthening +PLUS line also uses hydrolyzed wheat protein that helps increase the hair's moisture absorption, making it less prone to brittleness.
Lather that Loves Your Locks
Most synthetic shampoos lather more because the bubbles act as a cushion between your hair and sulfates. Sulfates are detergents that can dry out your hair and cause it to break.
The Strengthening +PLUS Shampoo and Conditioner have no harmful chemicals like glycols, silicones and synthetic fragrances that can clog pores or hinder hair growth. Instead, it is infused with Philippine coco nectar, an effective humectant rich in vitamins, minerals, and amino acids. Humectants are compounds that attract and retain moisture, making hair more resilient to heat.
Now that you know what's good and bad for your hair, it's time to start an effective hair care routine: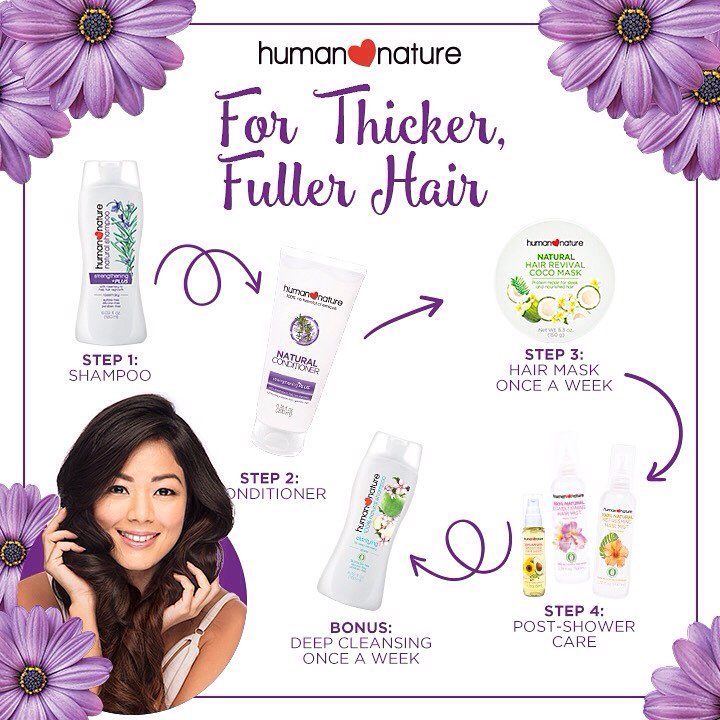 Step 1: Cleanse your hair gently with the Strengthening +PLUS Shampoo
Step 2: Restore lost nutrients using the Strengthening +PLUS Conditioner
Step 3: Keep moisture in and damage out by applying a generous amount of Hair Revival Coco Mask on your damp hair once a week. Coconut oil contains essential fatty acids and vitamins that nourish the scalp and help remove sebum build-up from hair follicles.
Step 4: Take care of your hair post-shower.
Alcohol dries out hair, so sprays, mousses and other styling aids containing this ingredient also weaken strands. To combat hair damage, use alcohol-free post-shower leave-in products like the Smoothing Hair Serum that tames frizz and tangles and the Refreshing Hair Mist that keeps hair looking great and smelling fresh all day.
Bonus:
Deep cleanse once a week using the 100% natural Clarifying Shampoo that lifts away impurities and makes hair bouncier by removing buildup from pollution and hair products. For severely fragile hair, add a few drops of Rosemary Oil to your shampoo to help strengthen and thicken hair.
Take the proper precautions to protect the health of your hair for a stronger, healthier and fuller-looking locks.
Sources:
*Candice Hoffman, Breaking the Silence on Women's Hair Loss, Woodland Publishing, 2007
**Mayo Clinic: Can stress cause hair loss?