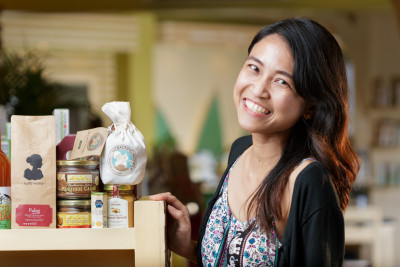 "I know it can be scary to get out of your comfort zone." -- Des Nito, Key Accounts Manager
Before becoming part of Human Nature, I thought I was on the right track, moving towards a career path similar to the direction most of my friends were taking. I was working in the sales and trade marketing department of a large FMCG company. I had several success stories under my belt, and felt quite secure that at some point, all the late nights and hard work would merit going up the corporate ladder—and with it would come good financial packages and benefits. I already lived a comfortable life—I could afford regular lunch and dinner dates with friends in pricey restaurants. I could save, invest in a small franchise and stocks, and still have enough left over to travel, shop and buy myself the latest gadgets I felt would help me manage my already busy lifestyle.
But in the middle of all these and the opportunities opening up for me, I felt like something was missing—I was not sure why I was choosing to place my time and talent in all these activities. I felt a certain level of emptiness.
I thought: Maybe I could be part of an organization engaged in humanitarian or development work —but because I lacked experience, I didn't feel competent enough. In my head, I was just looking for an organization that would allow me to serve people while allowing me to have enough to pay for my own bills. They say that there's always a trade-off for these decisions but deep inside I wanted to believe that you can have the best of both worlds. That serving the poor doesn't always have to equate to being financially challenged yourself. After all, you can't give what you don't have, right?
This attracted me to the concept of social entrepreneurship. By the sound of it, it seemed like the perfect balance between what my mind knew and what my heart wanted to do. This search led a friend of a friend to tell me about Human Nature. All she knew was that Human Nature was a growing social enterprise so I visited their website to find out more about it.
Years on, I would jokingly say this was the point of no return for me. The moment I found out what the company was all about, I immediately fell in love with its story and advocacy. I was struck by the courage of Human Nature to go against traditional business practices and the willingness to pay higher than market prices to poor farmers and higher than minimum wage to meet a dignified living wage and provide true quality of life. I was so moved that I knew I wanted to be part of their journey—so when I saw that they were looking for Key Account Managers, I immediately sent an email expressing my intent to apply. It was the first time I went beyond a professionally crafted email but instead chose to speak from the heart even if I was actually trying to apply for a job.
It was easy to send that initial email but as I got a call back and progressed through the recruitment process, the reality of what I was about to do started to sink in. I was trading in my stable job and career path in a multinational company with proven track record for decades for a 5 year old social enterprise with unconventional business practices.
It was a confusing time and I had so many reasons why I shouldn't pursue it. I was afraid to take a risk, disrupt my pattern and make a mistake in the middle of the game just when things seemed to be going well for me.
But I did anyway. I remember Dylan was the only boss who ever advised me to "pray about my decision" so as I prayed and listened to both my mind and my heart, I realized that if I didn't try and give this a chance, then I'd also be giving up on the hope that the work of Human Nature had inspired in me.
What now excites me about my work most is when I get to share Human Nature's advocacy to retail partners and find ways how the partnership between Human Nature and retail accounts can contribute to the mission to help uplift the lives of the poor in the Philippines. I surprisingly get to enjoy business reviews better because it becomes an opportunity to share how helping the poor makes good business sense not just for us but also for other businesses who chose to support the cause together with Human Nature.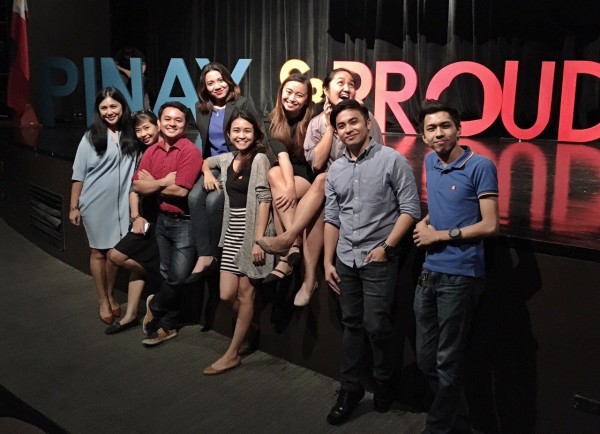 Des and her teammates from Retail Department taking a quick group photo after the Human Nature Pinay & Proud 2016 awarding ceremonies
I love that I learned to be a good steward of company resources and how I am challenged to find the most cost effective and creative way to grow Human Nature's business in retail because you know that every peso could have been used to build a house or feed a hungry child.
I feel blessed to be a part of this family of modern day heroes in the work place who all have the courage and heart to serve and be part of this journey towards a better Philippines. In the next 5 years to 20 years, I still see myself serving in this mission. My role or the way I will contribute may evolve but at the end of the day, its is still about making a difference in the lives of the poor and every person that I get to meet along the way.
I always eagerly look forward to my SE day (social enterprise day). Human Nature is generous enough to give a part of its company time so employees can pursue their personal advocacies, which is a practice I don't think I can find anywhere else. I am currently doing product development and I hope that one day I will find these same products in the Human Nature magalogue and stores so it can then be another Filipino enterprise created to help uplift the lives of Filipino farmers.
I am now earning my certification in aromatherapy so we can eventually pursue the dream to develop the Philippine essential oil industry and give farmers the opportunity to grow and earn from higher value products. I hope to keep on developing essential oil based products and let more Filipinos know that its value goes beyond making your room smell better—these are gifts from nature with healing properties.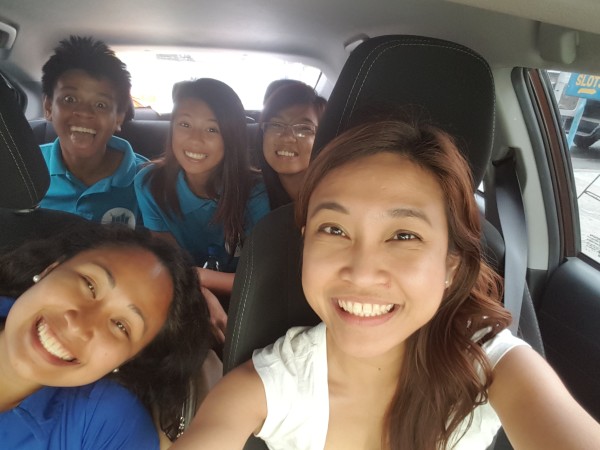 Des takes time to drive with students of Gawad Kalinga's School for Experiential and Entrepreneurial Development (SEED)
I feel strongly about this industry as it reflects so much about the Filipino especially the poor who have yet to see their own worth. Ylang-ylang is endemic to us, yet not even 1% of the oil used by the world market comes from us. We grow thousands of pili (elemi) trees whose essential oil is used by global brands yet we let other countries buy the resin from us, process it elsewhere only for us to import the oil again from them to make our own products.
All these are reflections of poverty that go deeper than finances. I often hear Tito Tony (Meloto, Gawad Kalinga founder), talk about poverty of the mind and the heart which I believe I needed to first recognize in myself before seeing it in others and it takes being in an environment like Human Nature and Gawad Kalinga for this depth of transformation to take place.
I hope that as we progress, this work will inspire more people to also take that leap of faith and continue to seek God's purpose in their life. I know it can be scary to get out of your comfort zone especially if you know that it isn't going to be easy.
But is it worth it?
Before I took the leap, I could only say, I hope so.
Today, after 3 years, I can give a resounding "YES."