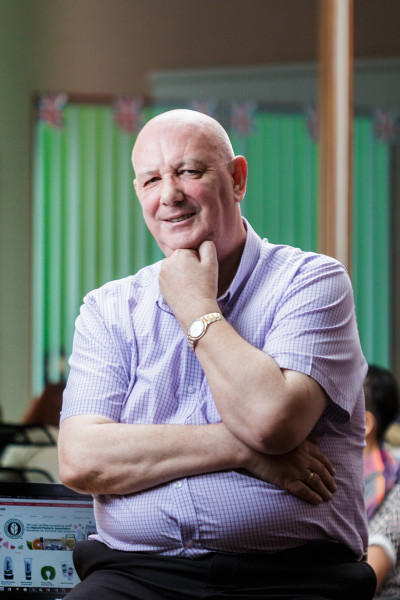 "...the biggest wake up call was the huge disparity between the rich and poor"
I came to work in the Philippines in 2000, when I was asked to carry out a financial review of the Finance Department capabilities in an American multi-national engineering company. (They had just been awarded a multi-million dollar contract). I was given a 3 month contract initially, but this was extended until I actually worked for them for 13 years!
I had never worked outside Scotland, my homeland, before, but being divorced with three grown up kids with their own busy careers, I thought it was worth giving it a try. Probably the best career decision I ever made.
Of course it was a huge culture shock initially, and I took some time to settle down–the biggest wake up call was the huge disparity between the rich and poor. Working initially in Makati, I found it incredible to be inside a high-rise, very cosmopolitan city, with all amenities close at hand, then cross the rail tracks and south super highway, into somewhere like Paco or drive along past shanties by the creek which seemed to be held together with corrugated iron or cardboard. Two cultures living only a stone's throw away from each other.
However, even in my first few days working here, I was amazed at how friendly and helpful all the Filipino staff were, and how no request seemed to be too much trouble. I also found out quickly that they are very talented, and have a very strong work ethic.
And of course, like so many expatriates, after some time, I met a lovely Filipina girl and after spending a number of years together did something I thought I would never do again–get married! Nancy and I got married in 2010 back in my home town of Glasgow, with friends and family being really happy for us both.
I mentioned earlier about the incredible differences I saw in Manila, and the terrible conditions families have to bear just to eke out an existence. It is one of my joys at this time in my life to be working at Human Nature and feeling I am even a very small part of a company which has the drive and ambition to first and foremost help eradicate poverty in the Philippines.
While this is a huge task, we have a saying in Scotland – "Mony a mickle maks a muckle" which translated means many small things build up to make a great thing, and that is partly what Human Nature is all about–make a change for the good little by little.