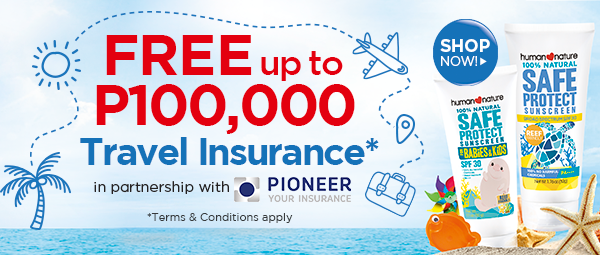 1. Is there a maximum limit in availing of the promo?
Human Nature customers may avail of the promo for as long as they buy one (1) SafeProtect SPF30 PA++++ Sunscreen 200g. One promo voucher will be given for every SafeProtect SPF30 PA++++ Sunscreen 200g a customer purchases.
2. What will I do with the promo voucher?
The customer needs to register the Promo Voucher at www.pioneer.com.ph or https://shop.pioneer.com.ph/humannature in order to avail the Free Travel Insurance. Failure to register the promo voucher until December 31, 2019 will forfeit the freebie.
3. Is the promo voucher transferable?
Definitely! Customers can opt to give it to someone, probably as a gift item.
4. Can we purchase Pioneer travel insurance at Human Nature branches?
No. This specific promo only provides that Human Nature will give away one (1) FREE Travel Insurance for every purchase SafeProtect SPF30 PA++++ Sunscreen 200g for the first 1,000 transactions made between September 14 and November 8, 2019 or while supplies last. Other forms of Pioneer travel insurance will not be for sale at Human Nature stores or through its website.
5. What is the retail price of the travel insurance?
The policy we're offering as a free gift to customer when they purchase SafeProtect SPF30 PA++++ Sunscreen 200g and is an exclusive policy with Human Nature. It is not to be sold separately. On the other hand, Pioneer offers other insurance policies that customers can avail for as low as P199 through Pioneer's website or through SM branches nationwide.
6. Where can I buy travel insurance and how much is it?
Customers may visit www.pioneer.com.ph if they interested in purchasing other insurance policies sold by Pioneer.
7. I lost my promo voucher. Can I register/replace it?
No. Promo vouchers are like prepaid load cards; It is not replaceable in case of loss regardless if the customer was able to register it or not. As such, we recommend that you register your promo voucher after purchasing this promo as soon as possible.
8. I am already registered under SafeTrip Travel Insurance, but I lost my promo voucher. How do I claim if I will Travel?
You may call (02) 750-5433 or e-mail retail@pioneer.com.ph for assistance regarding this matter.
9. Can Human Nature employees avail of the SafeProtect x Pioneer SafeTrip Travel promo?
Yes. Human Nature employees can avail of this promo.
10. Does the registration close?
Yes. Registration of free promo vouchers is up until December 31, 2019 only. You may register on or before the said date to activate your coverage.
11. Is there a limit per person in getting this Travel Insurance?
The promo allows for one travel insurance per person only. As such, a customer can buy as many bottles of SafeProtect SPF30 PA++++ Sunscreen and get as many travel insurance as possible before December 31, 2019. Please note that registration of one promo voucher is valid for one person only.
12. How does the coverage terminate?
Coverage under this policy with respect to all benefits stated under Policy Schedule shall cease on whichever of the following occurs first:
a) The expiry of the policy period specified in the Policy
b) The insured's return to his Usual Place of Residence or employment, whichever occurs first
c) Two (2) hours after the actual time of flight arrival in the last destination in his Usual Country of Residence as stated in the itinerary.
15. How long is the coverage of the insurance?
Customers may register their promo voucher code until December 31, 2019. Once registered, the policy insurance is valid until August 31, 2020 only.