Spend a zen day shopping for natural goodies Human Nature's concept stores - now with 3 new branches!
Spend a zen day shopping for natural goodies Human Nature's concept stores - now with 3 new branches!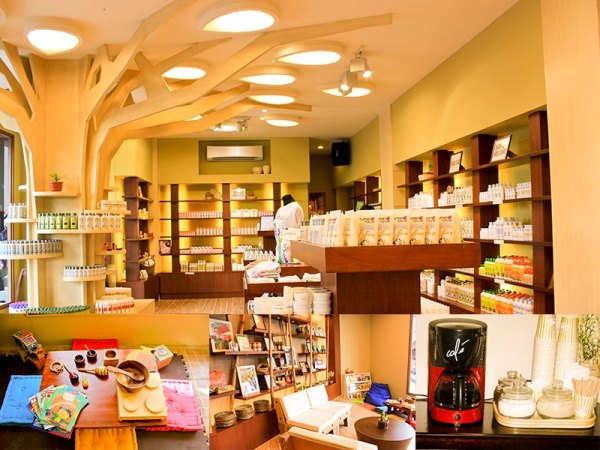 Looking for a relaxing day of shopping that rewards you with only natural goodness?  Mommies, kiss your shopping worries goodbye! Spend a zen day shopping and trying out Human Nature products at one of our concept stores!
Each store has its own colorful play area for kids to frolic while you browse the shelves in peace. Hubby or friends waiting for you to get your haul rung up? Let them relax in our cozy coffee nook with a newspaper and endless piping hot cups of freshly-brewed coffee - it's absolutely on us!
Patterned after blueprints by Filipina designers Maureen Adraneda and Joyce Angara, Human Nature concept stores have modern Filipino interiors featuring elegant tree lights and uniquely chic accents of wood, bamboo, and capiz. Its shelves are abound with all-natural personal care goodies and social enterprise products that showcase world-class Filipino talent.
Take it from mommy blogger Camille, who says that our Commonwealth Flagship Store is "good-natured, gracious and urbane indeed... I finally found a beauty haven that is perfect for our budget."
We're also thrilled to tell you about the three new additions to our ever-growing Human Nature family of concept stores: our Cabanatuan branch in Nueva Ecijja, our Santiago City branch in Isabela, and our San Fernando branch in Pampanga!
Cabanatuan, Nueva Ecija

Human Nature Cabanatuan branch operators Nicanor Echavez, Wilfredo Reyes, and Janice Manuel discovered Human Nature through the activities of Gawad Kalinga. GK sparked their desire to help uplift poor communities and the economy of their hometown. Though they were no strangers to the field of entrepreneurship, Human Nature radically shifted their perspective about their capacity to make an impact in our country in a meaningful way.
Janice Manuel envisions Human Nature as playing an important role in the development of their province. After years of being a businesswoman, she never thought that enterprises could help the poor and impact the lives of many people - which is why it absolutely delights her to be part of Human Nature, a business with a cause.
Cabanatuan Branch
FMN Industrial Corp., Maharlika Hi-way, Cabanatuan City
Telephone: (044)464-0083
Mobile: (0927)203-1532
Santiago City, Isabela

Human Nature Santiago's branch operator, Veronica Grace Manalo, made it her mission to help fulfill Human Nature's advocacy of being pro-Philippines, pro-poor, and pro-environment by bringing all-natural products to every home in Isabela - with our very first concept store in Cagayan Valley! She was very persistent about carrying Human Nature in Isabela after hearing about the brand from a relative who was active in Gawad Kalinga. In just a few months, Veronica was able to meet a lot of people who aren't just users of the product but sharers in the advocacy as well. Already operating several restaurants in Isabela, Veronica feels the need to finally embark on the Human Nature adventure because it will be her own way of helping the poor farmers by spreading Only the Good.
Santiago Branch
Heritage Complex, Maharlika Road, Malvar, Santiago City, Isabela
Telephone: (078)305-1440
Mobile: (0917)808-7453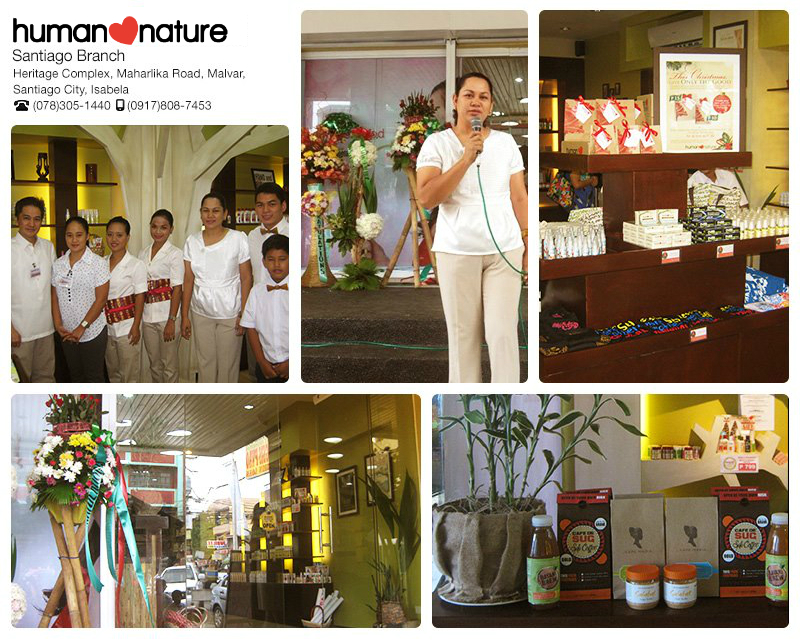 San Fernando, Pampanga
Human Nature San Fernando, Pampanga branch operators Raymond and Mae David came from a simple middle class family transformed by Human Nature's vision for the Philippines. The company's story inspired them to be stewards and advocates of natural and organic products, spreading Only the Good to their growing circle of influence.
San Fernando, Pampanga Branch
3M Building, MacArthur Hi-way, San Agustin, San Fernando City
Telephone: (045)436-0236
Mobile: (0922)820-6063
Swing by your nearest Human Nature concept store today!
Now, Cabanatueños, Ilocanos, and Pampangeños can grab a business opportunity that contributes to nation-building. Drop by any of our concept stores and enjoy one of the best shopping experiences the Philippines has to offer:
Cebu | Laguna | Olongapo | Iloilo | Cagayan de Oro | Tacloban | Cabanatuan | San Fernando, Pampanga | Santiago
Hope to see you around soon! ♥
Do you have a heart for the Philippines, the poor, and the environment? Whether you're a dedicated stay-at-home mom, a hard-working employee, or even a student, our Human Nature branches provide an avenue for you to share in the advocacy and find a source of additional income. So why not start out by becoming a dealer?