Summer is upon us and it only makes sense that we slather on sunscreen to stay protected from premature skin-aging and sunburn. But have you thought about caring for your skin before and after you bask in the sun? Because we have, and we have the testimonials to show for it. We handpicked five Sunflower Beauty Oil testimonials that prove beauty miracles do happen, and that sometimes they can all be contained in one single bottle.
1. Helps soften and lighten underarms.
Summertime undoubtedly compels everyone to ditch their t-shirts in favor of sleeveless tops but a dark secret prevents many women from trading their tees over—dark underarms. This tank top season, dare to bare smooth and even underarms by applying Sunflower Beauty Oil regularly.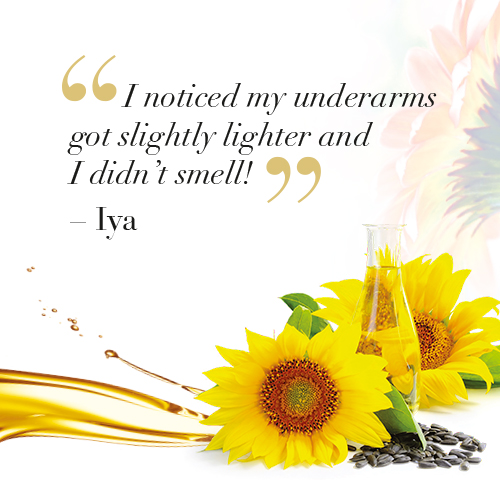 2. Helps prevent and lighten the appearance of stretch marks.
While we believe that there's no shame in having stretch marks, we also know that it's not easy for everyone to see beauty beyond scars. But fret not as religious use of Sunflower Beauty Oil can help lighten stretch marks and scars. So be ready to bust out your bikini and show off some skin nurtured by our premium-grade all-natural sunflower oil.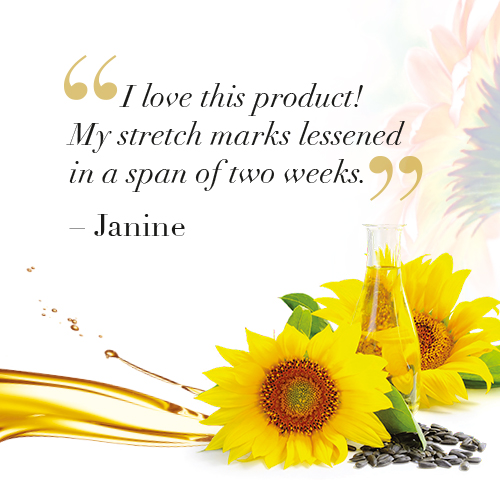 3. Smoothens dry, rough skin from shaving.
Apart from helping you achieve smooth skin and an even skin tone, Sunflower Beauty Oil also makes sure that your skin is taken care of after you defuzz. If you shave often, soothe your skin by applying SBO after you shower.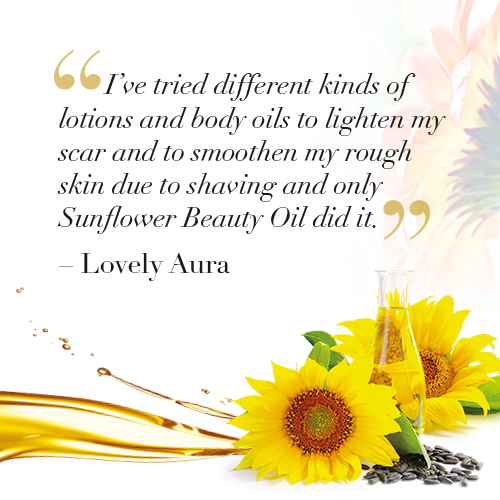 4. Helps improve skin condition after sunburn.
You may not be able to escape the heat but you can spare yourself from the pain of sunburnt skin. Find relief in Sunflower Beauty Oil and calm your skin with it by applying after being exposed to the sun.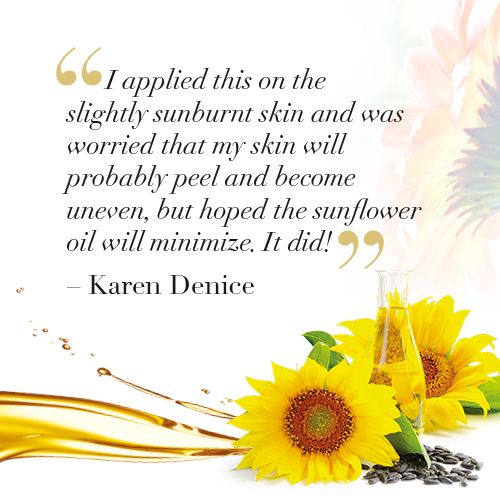 5. Makes skin glow and helps keep it youthful.
Give your skin that enviable glow all day, every day. Use Sunflower Beauty Oil as your overall body moisturizer and lock in the goodness of vitamins A, D, and E to help nourish your skin as the oil keeps it soft and smooth. Beauty oils such as sunflower oil also helps in strengthening natural skin barriers thus protecting your skin from free radicals.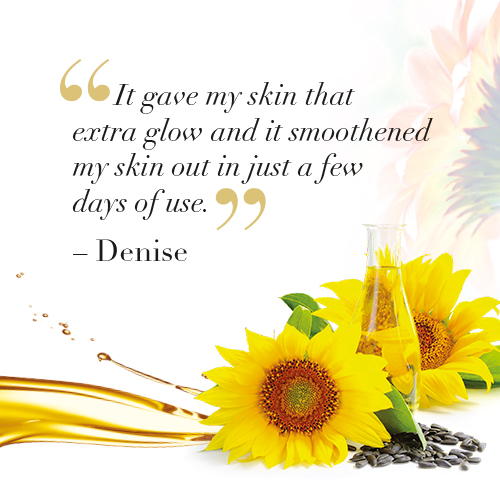 Are you ready to experience your own beauty miracle? Get your own Sunflower Beauty Oil here, and read more testimonies about how this humble beauty oil become a cult classic.