Did you know that our land is home to over 70 to 80 percent of the world's diversity? In fact, Laguna's Mount Makiling is home to more tree species than the entire United States*.
Since Human Nature began, we've worked hard to be good stewards of the Philippines' rich biodiversity by creating products using indigenous ingredients.
After funding the Citronella Extraction Facility in Bukidnon through Goodness Rising and Bug Shield sales, we've branched out to sourcing more ingredients locally. From the citronella in our Bug Shield line & Wellness Oil to the sugar that we use in our bestselling Natural Lip Scrub, we're helping more farms grow by giving new value to their produce through our Social Enterprise Development team.
Newly Minted Opportunities
It's no question that mint is one of the most refreshing ingredients in our products—from our well-loved Men's Care line and Natural Toothpaste to our Cooling Leg & Body Cream and Feminine Wash, mint leaves a cooling and relaxing feeling.
Despite the demand for mint, growing it locally is a challenge for farmers who often focus on producing crops like rice and corn. Agricultural Partnerships Manager Maureen Mangaring shared that our Social Enterprise Development team is working closely with our partners in Mabalacat, Pampanga and Kiangan, Ifugao to produce mint that will be developed into oils. Mint oil is one of the common actives of many personal care products with cooling properties.
Maureen inspecting the seedlings at the mint seedling nursery in Mabalacat, Pampanga
"Taking the cue from our work in the citronella farming communities, we've given agricultural inputs for the nursery establishment that will house our mint seedlings. We've also helped two communities in Ifugao and Pampanga who are growing three varieties of mint. We are working on the testing phase of the mint product that can yield the quality of mint oil that we use. Once we've identified that, we'll tap more communities to grow them." Maureen shared.
Helping Each Other Grow
Uplifting our farmers from poverty is not possible without the help of other like-minded groups: social agri-enterprises like Morination Agri Products, local government units, and organizations like Kooperatiba ng Maliliit na Magniniyog ng Barangay Kanapawan (KMMBK).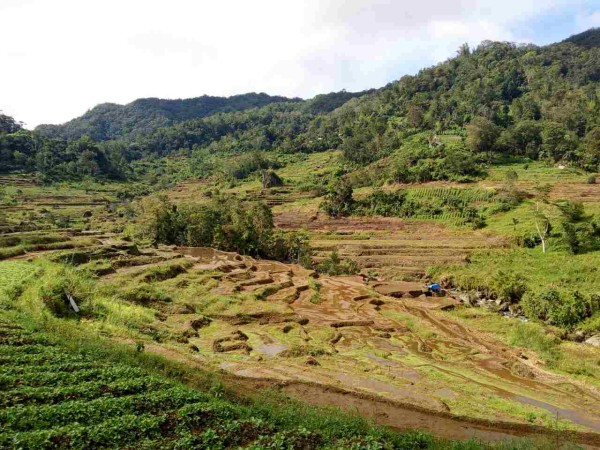 Human Nature is currently working with farmers from Ifugao to explore the different varieties of mint which can be processed as mint oil.
As Human Nature's roster of world-class quality products continue to grow, the demand for locally-sourced materials is growing as well. We also source lemongrass, muscovado sugar, virgin coconut oil and natural fragrances for upcoming products. "We are also exploring a partnership with coffee farmers in La Trindad, Benguet for coffee grounds for our Natural Body Scrub," Maureen said.
Maureen with the Green Life Coco Products team, producer of virgin coconut oil, in Quezon Province
While working with these communities might seem like baby steps, it remains a win-win for the farming communities and Human Nature. Purchasing these raw materials at fair trade prices, even sometimes at twice as much as the normal rate, from these farmers will help them develop their lands and earn more.
"We hope to extract and commercialize three new active ingredients from local plants and use them in our products. Hopefully, we'll be able to add six more to our roster and partner with at least 100 communities to supply these raw materials and purchase them at fair trade," Anna Meloto-Wilk, President & CEO of Human Nature said.
As we bring in the best indigenous resources in each Human Nature bottle, we're not just nourishing our farming communities—we're helping Mother Earth,too! With more people caring for our natural resources, we can make greener choices and make our commitment to preserve Mother Earth a mission that we can all partake in.
Source: Foundation for the Philippine Environment: Hub of Life: Species Diversity in the Philippines