Noorain Sabdulla spends her days helping bring basic goods and services to far flung communities.
While her aim was to simply help people, no matter what their faith was, she didn't realize that she was slowly becoming a peacemaker by living out her Muslim faith wherever she went.
Changing Stereotypes
Noorain never pictured herself as a peace-worker as a child. Growing up in Nueva Ecija with her father, an Tausug Imam from Zamboanga and her mother, a Nueva Ecija native, Noorain encountered harsh words from non-Muslims.
"I was in Grade 6 when I told my mom that I was ready to wear my hijab, a symbol of womanhood for us. When I started wearing it, I'd often hear people call me 'Abu Sayaf!' or 'MILF!'," Noorain shared in Human Nature's Pinay & Proud for Peace themed advocacy night. But unkind words never broke Noorain's spirit.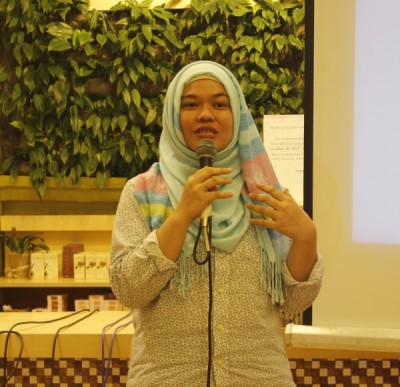 She shared that she continued practicing her faith, which eventually led her to serving others. "My faith teaches that we should bring peace to others and in following our teachings, I didn't know that I've become a catalyst for peace," she said.
Now a registered nurse, Noorain spent most of her adult life serving others. She even founded Bayani The Association of Youth Organization (Bayani TAYO), an organization that encourages student leaders to spearhead change through leadership.
Service and Peace
Noorain, known as 'Ate Ain' to her colleagues, has been a part of various institutions—from the Australian Red Cross to Gawad Kalinga.
Dressed in her hijab, Noorain said she never felt afraid of judgment as she serves others. "One of the priests in my school said that when he sees my hijab, he sees peace. Through serving others wholeheartedly, I was bringing peace to others. I've shown them what being a Muslim is really like. I'm not afraid of judgments. I'm more afraid of not being able to do my best to serve others. If I can't help or serve our people, then I am not practicing my faith."
Even with her changing schedules and sudden trips when the duty to serve calls, Noorain shared that she never forgets to practice her faith. Muslims pray for five times a day: Fajr (pre-dawn), Dhuhr (noon), 'Asr (afternoon), Maghrib (sunset), and 'Isha (evening).
"When I fast, my colleagues would often tease me to eat when I am fasting. After all, how can you serve if your stomach is grumbling? But when I fast, I think it's my faith that really drives me and becomes my strength to help others."
Last Eid ul Fitr, Noorain spent her fast with her family in Nueva Ecija—a first in a long time. "While we were doing our prayers and our fast with my family, I've realized that I can call myself as a peace advocate because I practice my faith. I showed what peace meant for us, Muslims. Islam, our faith, only calls for peace. We are called to bring peace by Allah," Noorain said.
Noorain's unwavering faith and commitment to serve others truly shows that peace isn't just the absence of war—it comes with the acceptance of each other's differences and the compassion to serve others so that no one will be left behind.