MARCH 8, 2011
PRESS RELEASE
Human Nature: FIRST Filipino Company to Receive Prestigious Cruelty-Free Recognition from PETA (People for the Ethical Treatment of Animals).
Gandang Kalikasan, Inc. (GKI), through its Human Nature brand, is a fast-growing, trail-blazing natural & organic consumer goods company operating as a social enterprise and driven by the core philosophy of PRO-PHILIPPINES, PRO-POOR and PRO-ENVIRONMENT. Founded in November 2008 by Anna Meloto-Wilk and Camille Meloto, daughters of Gawad Kalinga founder Tony Meloto, Human Nature's products are 100% made in the Philippines and 100% free from harmful chemicals.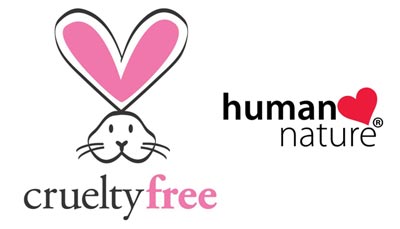 Today it announces:
PETA awards Human Nature with a certificate for being animal cruelty-free.
Pro-Philippines, Pro-Poor and Pro-Environment
. These are the three core philosophies of Human Nature. Perhaps though, another philosophy that Human Nature should include is
Pro-Animal Rights. People for the Ethical Treatment of Animals
(PETA) based in Virginia, USA, has recently awarded Human Nature with a certificate of appreciation thanking them for their support in preventing animal suffering by not testing their products on animals and for not incorporating carmine in their cosmetics line. Human Nature is one of only two companies in the Philippines to have signed PETA's statement of assurance against animal testing.
PETA is the
largest animal rights organization in the world
with more than 2 million members and supporters, mostly in the USA and Europe. PETA focuses its attention on the four areas in which the largest number of animals suffer the most intensely for the longest periods of time: on factory farms, in the clothing trade, in laboratories, and in the entertainment industry. They also work on a variety of other issues, including the cruel killing of beavers, birds and other "pests" as well as cruelty to domesticated animals. PETA works through public education, cruelty investigations, research, animal rescue, legislation, special events, celebrity involvement and protest campaigns.
Very recently, PETA added Human Nature to its
Caring Consumer Program, Cruelty-Free Shopping Guide, online cruelty-free company lists
, and the
iPhone application "Be Nice to Bunnies."
As a proud recipient of this award, Human Nature is happy that a local Filipino company has gained international recognition for being cruelty-free. Anna Meloto-Wilk, President of Gandang Kalikasan Inc (owner of the Human Nature brand) says "The Philippines is sometimes criticized for still allowing cock-fighting and lagging behind its neighbours in animal rights. But I'm extremely proud that we can show the rest of the world that the Philippines takes these issues seriously and that products from the Philippines are world-class in every way."
Human Nature's tagline is
Only the Good
.
To learn more about Human Nature products and advocacy or to learn how to be a dealer, please visit www.humanheartnature.com or your nearest Human Nature Branch or call (02) 931-5787.