Summer comes with the promise of fun adventures and exciting getaways—from the places you'll visit and the memories you'll take back home. And since the season makes for a perfect backdrop for all the fun outdoor activities you would do, it only makes sense that you protect your skin from the sun's unforgiving glare.
Staying long enough under the sun exposes you to harmful UV rays which can seriously damage your skin. Doctors recommend applying sunscreen 20 minutes before you head out, but as many a sunscreen is available in the market, the fact is they are not created equal.
A broad spectrum sunscreen means it can protect you from both UVA and UVB rays but that isn't all there is to finding the right sunscreen for you. It's also important that your sunscreen does not contain chemicals that may harm you or the environment. Read on to find out more about what makes for a good sunscreen before shopping!
1. Armors your skin from premature aging.
UVA rays can speed up skin aging and can cause wrinkles, sagging of the skin, and leathering. Apart from lasting damage, exposure to UVA rays can also up one's chance of getting skin cancer. A sunscreen with PA++++ rating—the highest a sunscreen can get—will help you protect your skin from premature aging caused by the sun's harmful UVA rays.
2. Blocks the sun's rays from burning your skin.
It only takes 20 minutes of sun exposure for unprotected skin to start turning red, and this may lead to sunburn. Also, getting sunburned regularly can increase the risk of getting skin cancer at a later time. The good news is that you can prevent your skin from burning by using a sunscreen with SPF. A sunscreen with SPF 30 deflects up to 97% of UVB rays.
3. Cares for your skin and the environment.
Do you ever wonder what happens to chemical sunscreens after swimming in the sea? Once they wash off your body, traces of these products find their way into the waters and pollute them. In addition, the chemicals in synthetic sunscreens and other personal care products contribute to coral bleaching. Coral bleaching happens when chemicals stress the corals until it stops producing them and then turn white. This is why it's important that you only use sunscreens that are safe not just for you but also for the environment.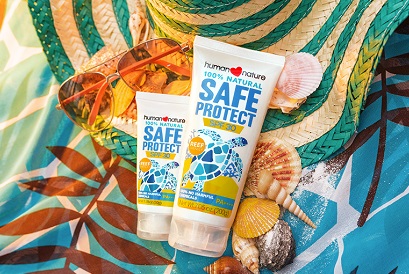 The great news is you can find all these benefits in SafeProtect SPF 30. Now, you wouldn't have to worry about keeping your skin safe not just during summer but throughout the year with the ABC of sun protection:
Armors skin against skin-aging UVA rays with its superior PA++++ rating
Blocks up to 97% if skin-burning UVB rays with SPF 30
Cares for coral reefs with its 100% natural formulation
Bask in the sun without worry! Slap on your SafeProtect SPF 30 Sunscreen and keep your skin safe while helping protect Mother Earth. Make sure that you apply liberally and evenly to ensure that you are protected, and to reapply after swimming and sweating. Have a fantastic summer!