Choosing People over Profit has its Own Rewards
Today, we proudly announce:
Human Nature marks a decade of goodness with a development that's been 9 years in the making.
Human Nature, the country's largest genuinely natural brand is finally opening its doors in SM City North Edsa!
Enjoy convenience without compromise: holding true to its commitment to put people over profit and provide all employees with time for rest and family, the new Human Nature store at the 3rd floor of SM City North Edsa – The Block will be closed on Sundays.
Stay safe from harmful chemicals and fill your home with genuine green goodness: the new store will carry Human Nature's wide range of personal care, cosmetic, pet care, and home care products. Each was produced using excellent green formulations and sustainable business practices.
Why did it take genuinely natural brand Human Nature almost a decade to open a standalone store inside a mall?
"We started Human Nature with only two things: faith in God and faith in the Filipino. So since the beginning, Human Nature has always tried to do business based on our values and not compromise when it comes to living according to our faith," states Human Nature Co-Founder and Chairman, Dylan Wilk. "We wanted to help change employment practices not just for our people but for the millions of Filipinos who wake up every day with no job security, minimum wage, and no chance at a better future."
"One of the decisions we made was to honor the Sabbath by allowing all our people to rest on Sundays and to believe in this promise: "If you watch your step on the Sabbath and don't use my holy day for personal advantage, if you treat the Sabbath as a day of joy, God's holy day as a celebration, if you honor it by refusing 'business as usual,' making money, running here and there— Then you'll be free to enjoy God! Oh, I'll make you ride high and soar above it all. I'll make you feast on the inheritance of your ancestor Jacob. Yes! God says so!" from the book of Isaiah 58:13-14 (MSG). So it took us nine years to open in a major mall because of the requirement to open on Sundays."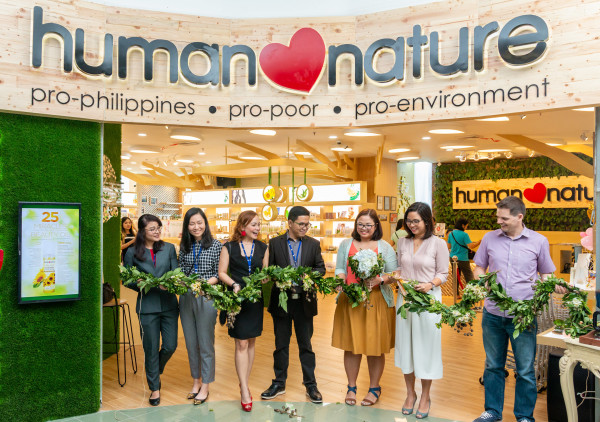 Goodness grows at SM City North Edsa. SM City North Edsa executives hold a 'garland of goodness' with Human Nature Co-founders to symbolize a blossoming partnership at the launch of Human Nature's first SM City branch. From left are SM City North Edsa's Fritz Ramos, Operations Support; Ruby Ng, Marketing Manager; Lovely Anne Nacino, Leasing Manager and Luis Alonzo Mapoy, Building Admin. Manager. Joining them are Human Nature's Co-Founder and Creative Director, Camille Meloto; Co-Founder and President, Anna Meloto-Wilk and Co-Founder and Chairman, Dylan Wilk.
Citing the Sundays off policy as integral to changing labor practices, Wilk adds that "the only chance we have of actually building a new middle class in the Philippines is if we can improve the workplace so people who are poor can actually move up. Being middle class is not only about earning a decent income, but about having genuine quality of life, including proper family time and rest."
Wilk and Human Nature Co-founders Anna Meloto-Wilk and Camille Meloto believe that prioritizing employee rest and family time over profit is at the core of the brand's continued success. Human Nature posted close to 20% year on year growth in 2017.
Get your fill of genuinely natural beauty products every day except Sundays. Find your skin's best match at the skin assessment and beauty consultation areas of the new Human Nature store at the 3rd floor of SM City North Edsa – The Block, open daily from 10AM to 10PM except on Sundays.
The brand had also received numerous accolades. Human Nature is the first Filipino cosmetic brand certified cruelty-free by People for the Ethical Treatment of Animals (PETA), the first and only Southeast Asian brand on the roster of the US Natural Products Association (NPA) and the first Asian brand to win in the prestigious Organic Monitor's Sustainable Beauty Awards. In 2017, Anna Meloto-Wilk was awarded the Beauty Industry Woman of the Year by London-based industry publication Cosmetics Design.
The Privilege of Rest
Meloto-Wilk explains that beyond having a "Sundays off" policy, it's time we reconsidered how we spend our weekends.
"We often take for granted that while we are on break, many people in the retail and service industry are hard at work to allow us the enjoyment of our time with our family." In believing that rest should not be a privilege reserved only for the rich, every Human Nature employee is entitled to Sundays off and another day of rest every week.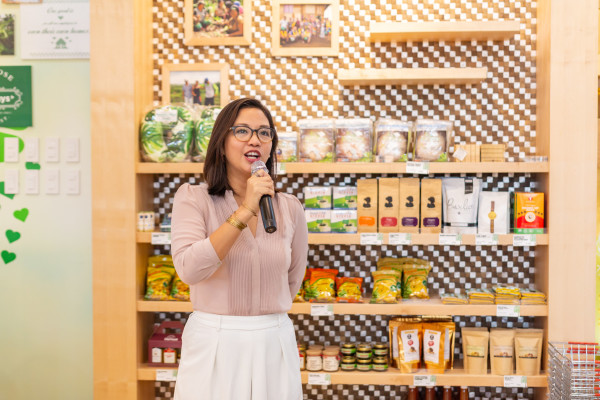 Rest should not be a privilege reserved only for the rich. Anna Meloto-Wilk, Co-founder and President of Human Nature explains why Gandang Kalikasan Inc., the company behind the Human Nature brand, closes all its offices and branches on Sundays during the launch of their first SM City Store.

Policies like these seem almost unbelievable to rank and file employees like Ecel Luzon. Before joining Human Nature, Luzon worked as a promo girl and a merchandiser at different supermarket chains for five years.
"Nasanay na akong magtrabaho ng Linggo. Hindi ko naisip na pwede yun magbago, na magkakaroon ako ng oras na kasama pamilya ko kapag weekend. Makikita mo yung ibang pamilya na nagbobonding sila tapos ikaw biglang papapasukin ng Sunday…mabigat sa dibdib. (I was used to working on Sundays. I didn't think it could change, that I could be with my family on weekends…You'd see other families bonding while you had to go to work)," recounts Ecel Luzon.
Luzon shares that much of her personal life revolved around her job. Her husband also worked in the supermarket and she recalls that there were weeks when the only time they'd see each other was on the selling floor. Working on weekends with one weekday off took a toll on her family.
"Bawal talaga mag-day off ng Linggo dahil nandoon ang buhos ng tao. Hindi ko na nasusubaybayan ang mga anak ko (Taking Sundays off was not allowed because many people shopped on Sundays. I didn't have quality time with my kids)," Luzon recalls.
Sadly, her story is the norm in the Philippines. Data from the Philippine Statistics Authority shows that 19.2% or almost 800,000 workers are in the retail sector. For retail workers, demand often peaks during the weekends, with Sundays seen as peak days for sales. The International Labour Organization recently reported that over 400 million employed people work 49 or more hours per week.
"We all talk about wanting to build a new middle class in the Philippines. We all want the Philippines to be a more prosperous country. But where is that middle class going to come from? We're not going to fly them in from the US. The middle class will come from the people who are poor today. And where are those poor? They're in the workplace," emphasizes Wilk.
By intentionally hiring people from marginalized sectors, Gandang Kalikasan is able to provide dignified work, fair living wages, and opportunities to those who need it most. While the worldwide trend is to add more working hours, Human Nature is working on reducing the work hours of employees. Some teams and departments are currently on a 7-hour work day, and the goal is to eventually bring it down to 6 productive hours.
Currently, 58 percent of employees come from the low-skilled working poor from communities in surrounding areas in Quezon City and Laguna where its main operations are based. GKI's minimum living wage for its rank and file workers ranges from over 60 percent to as high as twice the minimum legal wage.
The 560-strong company continues to enforce a strict no firing policy for all regular employees, maintains a firm anti-endo stance, and gives all regularized employees full benefits. A variety of interventions are put in place for the bottom-of-the-pyramid (BoP) employees' holistic well-being covering transformation (both tangible and intangible) in terms of their family life, work life and community life with the end goal of getting them and their families out of poverty.
Through a combination of different policies and programs never before invested in workers, Gandang Kalikasan envisions itself to be the most compassionate employer in the Philippines.