It's summertime in the countryside as Chips and Akiko Thomson-Guevara enjoy family bonding activities!
It's summertime in the countryside as Chips and Akiko Thomson-Guevara enjoy family bonding activities!
Choc-nut the carabao plods calmly under the sun-dappled trees, pulling a cart with a mom, dad, and two lively toddlers. It could be any ordinary family excursion – except the passengers are all but ordinary.
Olympian and swimming advocate Akiko Thomson-Guevara and eco-entrepreneur Chips Guevara are at the Sta. Elena Fun Farm in Laguna with little Noah, 3, and Elijah, 1, in tow. Ponies whinny, chickens wander un­derfoot, and rabbits hop around their pens. The sky is a brilliant blue.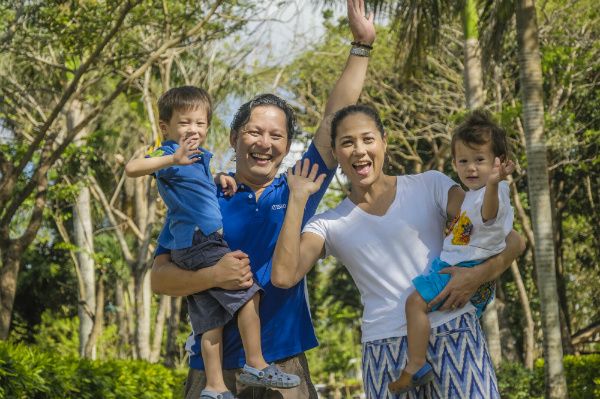 Family fun under the countryside sun with Noah, Chips, Akiko, and Elijah Guevara!
"It's a great thing for the kids to be out and about, to play in the sunshine, to pet the animals," says Akiko.
Chips and Noah take up a fishing pole to try their hand at hooking something from the pond while ducks dip in and out of the water. Akiko and Elijah discover a brightly-painted farm truck and promptly climb in to explore. Ahead, a mini zip line beckons. Chips zooms down to the delight of the kids, then Noah gets rigged out with a har­ness. He shuts his eyes, clings tight, and zips by to cheers and applause.
As the sun rises higher, everyone troops to the club house, slathers on sunblock, and makes a beeline for the pool. "Oh, I have to spread it, do I?" grins Chips, comically covered in white. Elijah and Noah squeal and splash about in the shallow end while mom and dad alternate between easy laps and playing with the boys.
"They don't really swim yet, but Noah's very confident in the water," Akiko remarks. The husband-and-wife team teaches a swimming program in a Makati school, and plan to hold an infant swimming class this summer.
After a simple lunch, Elijah is tuckered out and napping, while Noah is still full of energy. "I love soccer!" he exclaims, waving about his red Lightning McQueen toy car.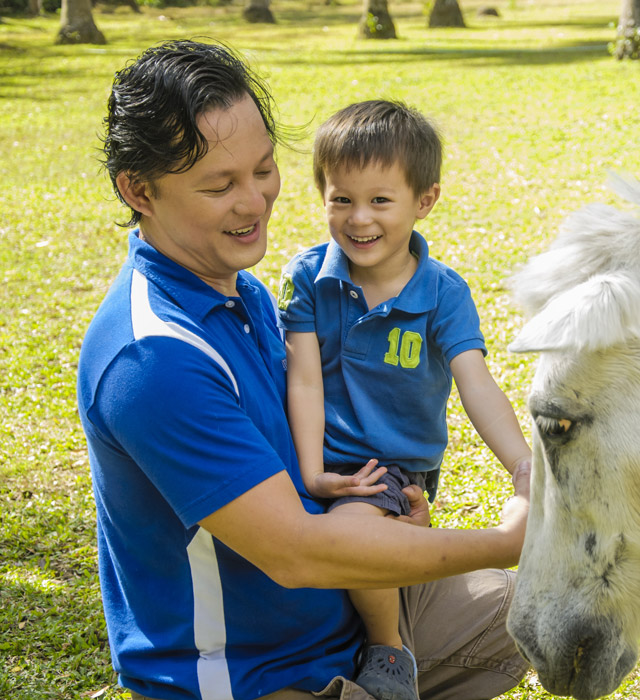 The Guevaras live and breathe sports and the great outdoors. Chips says, "There are so many options – go to the beach, go to the mountains –"
"…We don't have as many parks as other countries –" interjects Akiko.
"But you could do a day hike, like up Mt. Maculot. During the weekend, go outdoors, fly a kite in Luneta, go to La Mesa Dam, have a picnic. Climbing Mt. Taal is only a 45 minute hike going up, anyone could do it. It really does a lot more to kids' confidence – than say, staying at home to watch TV," finishes Chips.
"I think for us, when we bring them out of the house, we're more likely to get them off the internet, off iPads," smiles Akiko. "They become more creative."
The family bikes around their village with Elijah and Noah perched behind. Chips even cycles to work daily. "I save P8,000 in gas every month. It takes 15 minutes for me to get to work on my bike. On a car it takes me 30 minutes," he chuckles.  The boys adore going to the beach, too. According to Chips, Noah's a very picky eater, but has a hearty appetite after a swim.
Outside, the noon sun shines bright and hot, and the pool gleams a cool crystal blue. The Guevaras wave good-bye and pile into their car for the drive back home, sans cart and carabao, but with the promise of more days like these ahead. Summer has come, indeed.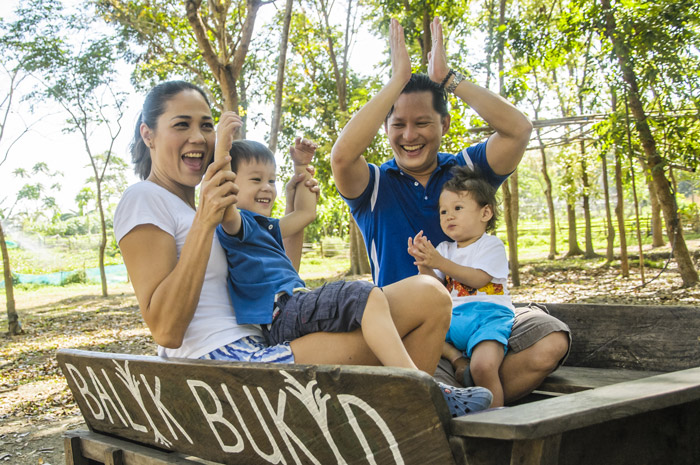 The
Sta. Elena Fun Farm
i
n Barrio Malitlit, Sta. Rosa, Laguna is open daily from 9AM-4PM.

To book a farm visit, go to www.holycarabao.com or call 09204688785.

Entrance fee is P300 per head (2 years old and above)
.