ANTHILL takes on the challenge to change for the better the story of Philippine fabrics and the weavers behind them.
ANTHILL takes on the challenge to change for the better the story of Philippine fabrics and the weavers behind them.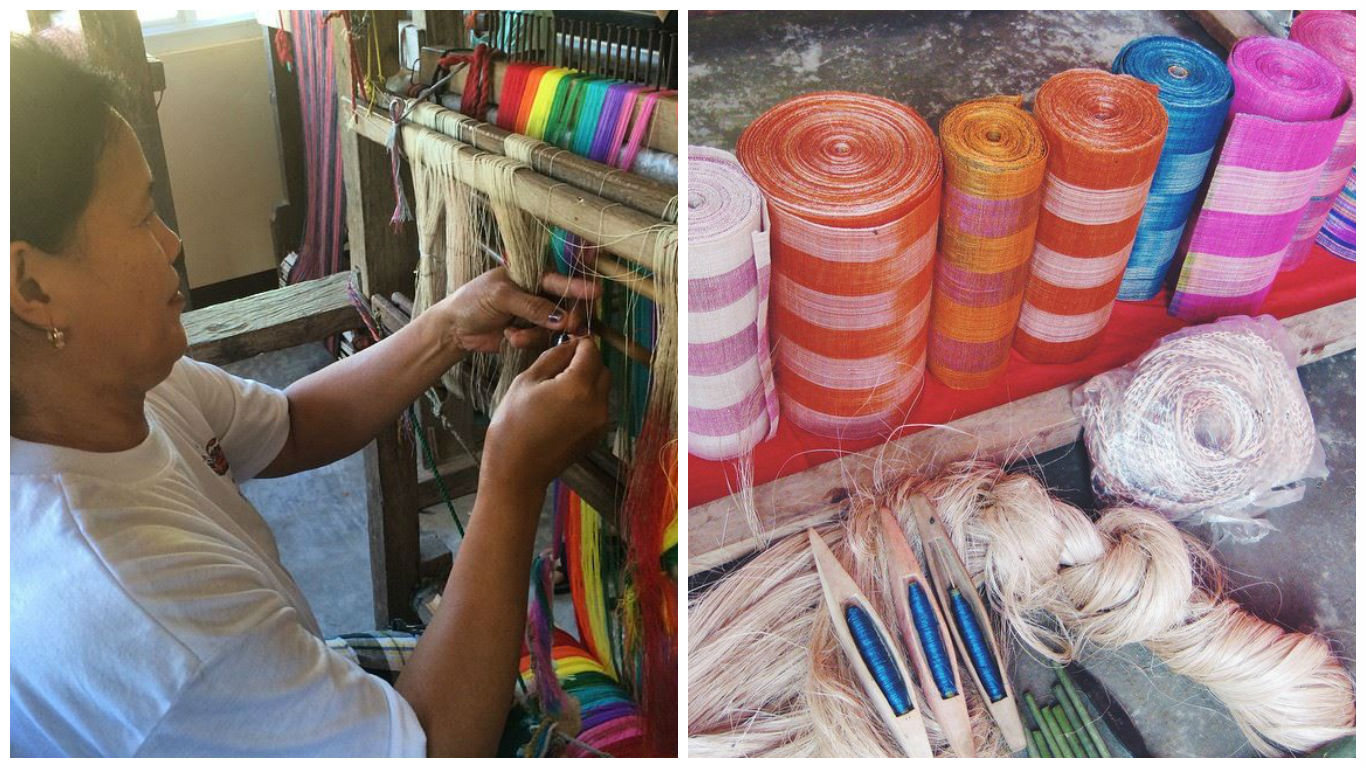 L: Weaver at Work. A weaver works hard on her loom, adding beautiful pops of colors to her pattern. | R: Tools of the Trade. Staples for any weaver are spools after spools of fiber and threads, and of course, a loom. (Photo courtesy of ANTHILL)

From captivating colors and patterns to fibers and threads mesmerizing to the touch, weaving speaks such a sensorial story of the Philippines. It preserves the history and culture of indigenous communities all over the country, and it puts on full display the sheer beauty of Philippine fabrics and ingenuity of our weavers.
But for the past decades, there has been a growing problem for this beautiful art – the weavers are aging along with their craft. Their children don't find interest in the age-old profession, posing a risk of unraveling the traditions woven by generations past.
Seeing this alarming trend during her trips around the country and the world, Anya Lim along with her mother, Annie Tan Lim, stepped up and made a bold move to try and arrest the problem: they launched their very own weaves- and fabric-centric social enterprise and named it ANTHILL (Alternative Nest and Trading/Training Hub for Indigenous/Ingenious Little Livelihood seekers) Fabric Gallery.
Tugging at Transformative Threads 
"There is a gap in [weaving's] cultural transmission and cultural continuity," starts Anya. "Our weaves are undervalued materials and weaving has been an undervalued skill that is not attractive to younger generations. Woven fabrics and clothes made of hand loomed fabrics were either very expensive or not very accessible in the market. Cultural degradation was a social issue that deeply disturbed us." 
Previously being a fundraiser for an international non-profit organization, Anya knew that simply putting up a program or project to give aid to the weavers is not enough. "It doesn't entirely give stakeholders a sense of ownership. More often than not, it also doesn't lead to sustainability."
And so she looked  at other possible solutions, taking into consideration her fascination with the Filipino indigenous culture, her passion to provide sustainability for it, and her mother's business experience in the fabric industry. Soon enough, she found the perfect answer in social entrepreneurship.
Weaving a New Pattern of Hope
Anya and her mother marched forward on their mission, first seeking out possible partner communities. With the help of friends and fellow advocates who shared their vision and dream for the Philippine weaving culture, they soon found three partners in goodness in Mang Abel Ti Abra, The Daraghuyan Bukidnon Tribe, and The Handcrafters of Mary Enterprise (HOME) in Cebu. 
"The three communities are semi-organized groups," explains Anya. They all have responsible community leaders, a genuine interest to weave or make crafts, and the desire for their own sustainable business. Though ANTHILL's role was to establish a sustainable livelihood within the community, it wasn't going to be as simple as that. The biggest investment they had to make, Anya knew, wasn't money or equipment, it was time.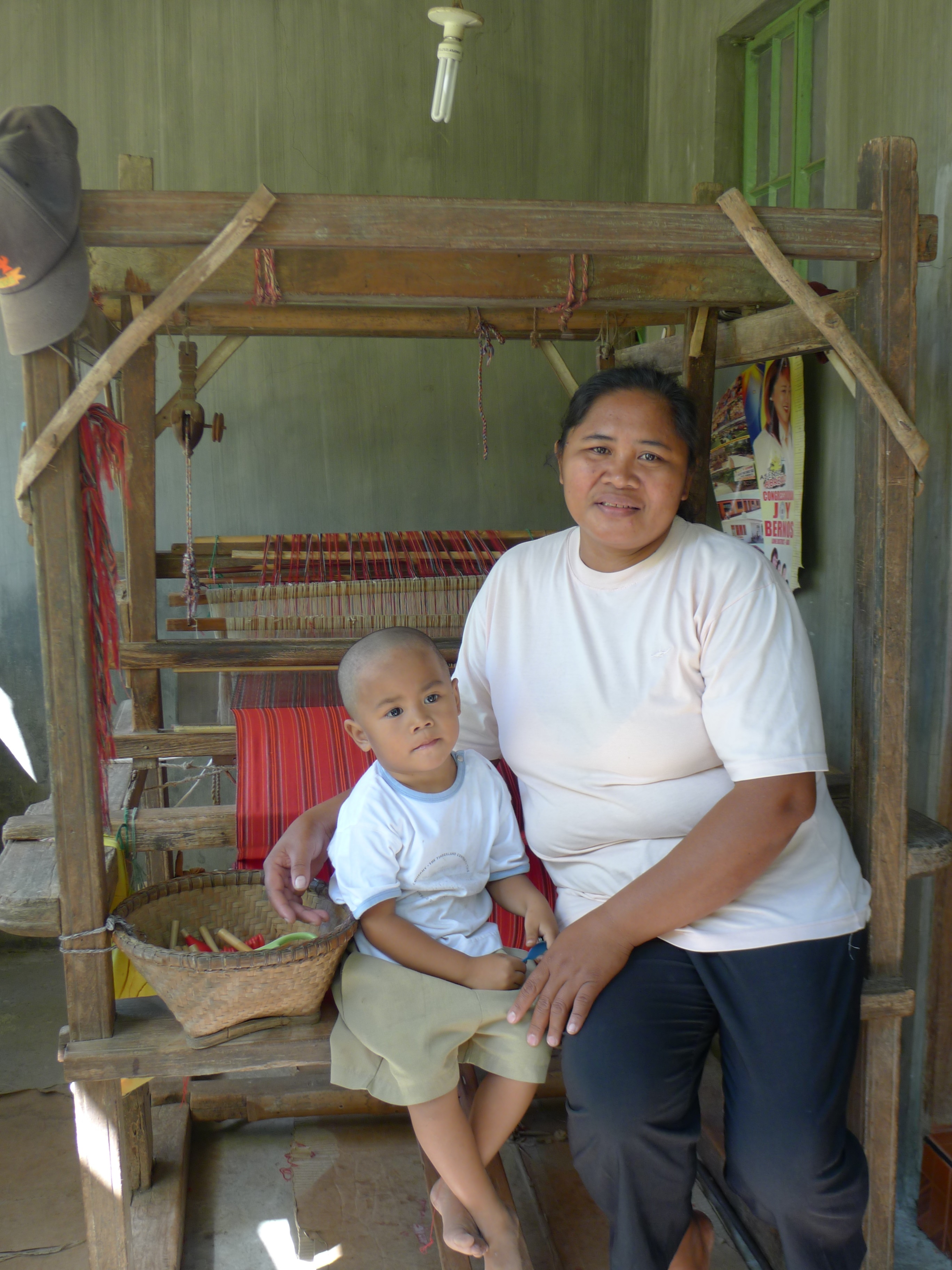 Meet Nanay Paulina, one of ANTHILL's weavers. When her son Angelo was born, she ingeniously tied a little hammock onto her loom where her baby can sleep so she can cradle him and weave at the same time. Angelo is now five years old and Nanay Paulina still weaves with him on her side! (Photo courtesy of ANTHILL)
"We spent the first year doing assets assessment, baselining and having continuous dialogue with the communities," says Anya, with those initial dialogues including orienting the communities about ANTHILL and the business partnership they will have with them.
And then there were numerous talks on product design and innovation through fabrics and weaves, basic management and accounting, and even financial literacy and savings practices. Needless to say, it has been a struggle for ANTHILL to set the strong foundation for their and their partner communities' dreams, especially taking into consideration the geographical difficulties.
But finally, on February 6, 2010, ANTHILL set up shop in Cebu, bringing what used to be rural goods to a high-end market and at the same time elevating the lives of their partner communities.
Bringing Philippine Fabrics to the Forefront
Five years in and ANTHILL has faced – and continues to face – its own share of challenges. Anya points out one in particular, "Though this is what makes our work unique and exciting, there's the challenge of geographical limitation as most of our partner communities are far from us. We can't be present in the communities as much as we want to. The far distances also cause supply chain challenges in deliveries and sometimes cause delay in achieving production timelines."
Despite all the hitches, to Anya, everything is all worth it especially when she saw the fruits of their labor: "One powerful instance that validated that we were on the right track was the second time we visited the community this year," shares Anya. "In January, there were just about thirty-four weavers in Abra. When we came to visit this October, there were already forty-four weavers and most of them we're in their twenties. This was a validation that ANTHILL is able to provide enabling environments for younger women to have more economic opportunities and build a stronger connection to their culture and identity."
Weavers of The Handcrafters of Mary Enterprise (HOME) proudly show off their handmade ANTHILL dolls, most of them wearing traditional garbs! (Photo courtesy of ANTHILL)
Finally, a tradition that for decades have been weaved by the same hands is now being given new life! With stories like this, ANTHILL continues to be motivated with the ripples of goodness they are making despite all the challenges. Anya shares her own words of encouragement to those wanting to also make a change through their own social enterprise:
"One, be genuine in everything you do and in getting to know your stakeholders. Sincerity and authenticity linger. They transcend any business transaction.
"And two, share your story with pride. I always tell our mothers to honor their voices. There is power in story telling that somehow magnifies and attracts more opportunities. One should really own one's story. Everything about what you do weaves your story."
Just like any business in its early years, ANTHILL continues to learn and grow in its own way, making the threads that bind all of us stronger as they as they continue telling a brighter, bolder story of the Philippines. Kudos to  ANTHILL for telling the Philippines's story with pride, and cheers to more years of celebrating the art of weaving and the beauty of Philippine fabrics!
To learn more about ANTHILL, visit their official Facebook page.
Perfect Gift for Your Inaanak: ANTHILL's Baro't Saya Doll is currently available through our online store, Human Nature branches nationwide, and Human Nature dealers.