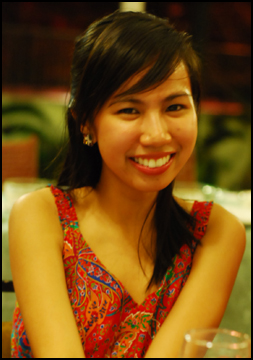 Felice Caringal is a young (she's only 24!), bright, beautiful lady inside and out. To her friends, she's simply known as "Fel." Despite her age, which is definitely just a number, Felice has already banked years and years of experience in running social enterprises and working as a nation builder. Before putting up her very own Manos Nail Lounge, a social enterprise known for its tropical-inspired "modern Filipino" interiors and use of Filipino products, she was working full-time with Gawad Kalinga and at one point was also managing TRESE, a shirt-printing social enterprise that has been providing jobs to out-of-school youth and residents of Payatas 13. Let's find out more about Felice's love for Human Nature, as well as her social enterprise, Manos Nail Lounge.     
 1. How did you find out about Human Nature?
I found out about Human Nature as a full-time worker for Gawad Kalinga. At that time, Human Nature was still being launched, but it was already very clear that HN and GK were partners in nation-building.
 2. What attracted you to Human Nature?
I love that Human Nature was founded on Pro-Philippines, Pro-Poor and Pro-Environment values. These values are so apparent in their business decisions, whether it be the way they conduct campaigns, support farmers or empower their employees. I'm also amazed by their creativity and ability to revolutionize products using Philippine ingredients. It seems like there's always something new to look forward to.
 3. What are your favorite Human Nature products?
I am such a fan of practically all the Human Nature products. I use the strengthening shampoo and conditioner, feminine wash and sunflower oil everyday, and I never leave home without my spray sanitizer, tinted lipbalm and travel size healthy lotion. 
 4. Have you always been into organic/natural/healthy/green living?
I've always been into healthy living and I enjoy sports and working out. However, it was actually Human Nature that made me more aware of the importance of going organic and healthy, not only for food choices, but also for the everyday products we use on our bodies. It may be a bit nerdy, but I like reading the little tidbits on the specific ways natural ingredients are good for you.
 5. What are some eco-friendly tips that you can share with us?
Plant a mini-herb garden in your house. We have basil, rosemary, dill, etc at home, and they're pretty handy (and fresh!) whenever my mom or I make meals or drinks. If possible, forgo the plastic or paper packaging when shopping. I love my Human Nature tote from the Pinay and Proud campaign because it's so functional in this sense. The design is also such a happy reminder of the wonderful traits of Filipinos that we should live out and be proud of.
6. Tips for healthy living?
Exercise! There are so many options nowadays to help keep you fit-- sports, yoga, crossfit, etc. Not only is it good for your body, but it's also undeniably fun when you find the right kind of work-out for you. Also, find time to relax; whether it's getting a foot spa, catching up on your reading list, or taking trips with family and friends. It's always very important to give your body and mind the rest they deserve. Finally, always be grateful. I believe that being grateful and appreciating all the little joys that come your way is the key to happiness.  Happiness is the key to maintaining good health. :)
  7. Can you tell us a bit more about what Manos Nail Lounge is?
Manos is a nail salon that aims to create a different spa experience- a place that offers not only relaxation and premium pampering but also promotes environmental awareness and social responsibility. Manos literally means "hands" in Spanish. Aside from the obvious- it being a place for manicures- Manos pays tribute to the hardworking and creative hands of the Filipinos. As much as possible, we source locally. For example, our chairs were skillfully woven in Pampanga, some decors were handcrafted in GK villages, and the many of the supplies we use for the services are products of social enterprises such as Human Nature (we looooove the massage oils). For more information on our services and story, you can visit our website www.manosnaillounge.com :)
 8. What inspired you to put up Manos?
We put up Manos because we wanted to create a business that would allow us to make contributions to our country. It makes us happy when clients not only appreciate the quality services we provide, but also become inspired by the many stories and "hands" that make the Manos experience. One thing that truly makes us proud is the story of empowerment of our nail technicians. Although not all of them started with experience in the beauty industry, they were all so committed to becoming excellent in their craft. These, together with the stories of hope of the social enterprises we work with, are what keep us inspired.