Still battling with breakouts? We feel you, girl! A lot of factors are involved when it comes to dealing with the dreaded acne  - daily stress, the diet and lifestyle you follow as well as the products you put on your skin.
But luckily for us, we can face this problem head on by sticking to healthier choices. For 31-year-old Joyce, this means switching to a natural skincare routine (and sticking to it!)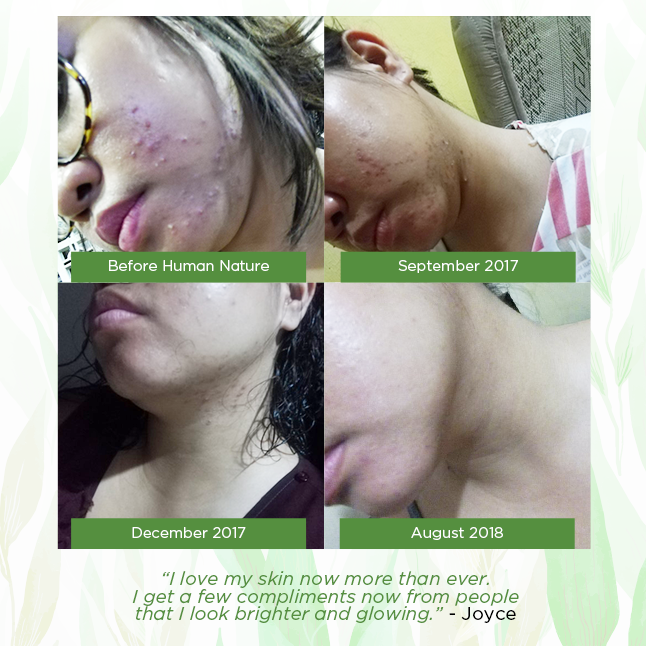 1. Please introduce yourself! What's your name, what do you do and how long have you've been a Human Nature user?
I'm Joyce Cababan, 31 years old, I'm a freelance online worker. I've been using Human Nature since early of 2017 but I became a dealer on August 2017.
2. Before Human Nature, which skincare products have you been using?
I've been exploring Korean products right before I switched to Human Nature.
 "August 2017. This photo made me really sad because no matter how much I edit the photo, I can still see my pimples and scars from afar."  (from Joyce's blog)
3. What made you want to try natural skincare products? Why Human Nature?
I had terrible acne last year and a friend encouraged me to try natural and organic products. It was a risk because she didn't really tell me that it's effective but I wanted to kind of give my skin a detox.
4. What's your skin care routine? Share your tips and secrets with us!
I have super oily skin so here's what I do:
Before I leave the house
- Wash with Balancing Facial Wash
- Dry face with face towel then tone with Balancing Face Toner. I just use my hands and put 2-3 layers.
- Once the toner's already dry in my face, I put Day Moisturizer.
- After a few minutes, I apply SafeProtect Sunscreen to face and neck.
- When it's dry that's the time that I apply make up. Then apply Acne Defense Solution Gel to pimples if I have any.
It's basically the same at night except that I apply Sunflower Beauty Oil LUXE after toning then of course I use Night Moisturizer then no more sunscreen. I also use the Gentle Cleansing Oil as makeup remover before washing my face at night.
My ultimate secret is just to be consistent with your routine. I get excited to wash my face and do my routine every night and before I leave the house because it's just fun.
"Merry talaga ang Christmas when my acne scars were gone!!!" (from Joyce's blog)
5. How long did it take for you to see the results?
It took me about six months, I guess.
6. What's your favorite Human Nature skincare product?
My ultimate favorite is the Acne Defense Solution Gel. It does magic!!
7. Lastly, what advice can you give those who are still starting their own skincare journey? Or to those who are feeling discouraged because they're not yet getting the results they want?
Know your skin type. I guess it's the most important thing because you will know what products are good for you.
It's important to be consistent also. Give your skin a chance to adjust to the new products. I'd say you really have to empty out your bottles until you can finally say that it's effective (and of course, para hindi sayang!).
Excited to transform your skin to its natural healthy beauty just like Joyce? Start shopping for your own skincare at our online store. 
Read up on Joyce's full blog post here.