Get up to speed on beauty queen and Human Nature ambassador Rachel Grant's latest global adventures!
Get up to speed on beauty queen and Human Nature ambassador Rachel Grant's latest global adventures!
Rachel Grant – Philippine-born beauty queen, Bond Girl, Human Nature Global Ambassador, and our Furry Kind collaborator – shares her global social enterprise adventures. 
Last month the GNP Social Enterprise Roadshow came to the USA. In association with GKonomics, the non-profit supporting social entrepreneurs producing world-class Philippine products, the roadshow traveled to San Francisco, Silicon Valley, San Diego, Los Angeles, Chicago and finished at the Philippine Consulate on 5th Avenue New York where I sat down to hear the good news.
 "GNP" is popularly known as an economic indicator (Gross National Product) and the GNP Roadshow is open to interpretation. This "Good News Philippines" showcased exceptional "Global New Products" and "Great New Potentials" that do not leave the poor behind. Included were: Human Nature, The Enchanted Farm/Center for Social Innovation, Mabuhay Restop (social tourism), Klik Eskuela (education), ASAM (design) and GET/COMET revolutionary zero emission vehicles unveiled by President Obama during his Philippine state visit. Manila serves as the first on the world stage to showcase the public use of the COMET (City Optimised Managed Electric Transport), a 22-passenger electric shuttle with 40% less running costs than regular jeepneys.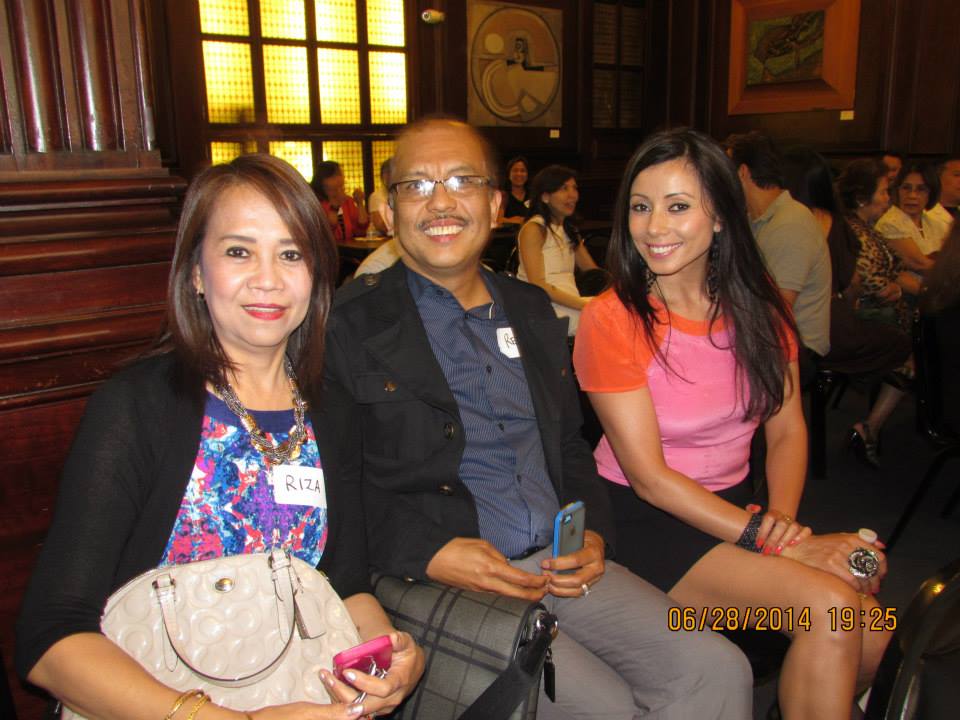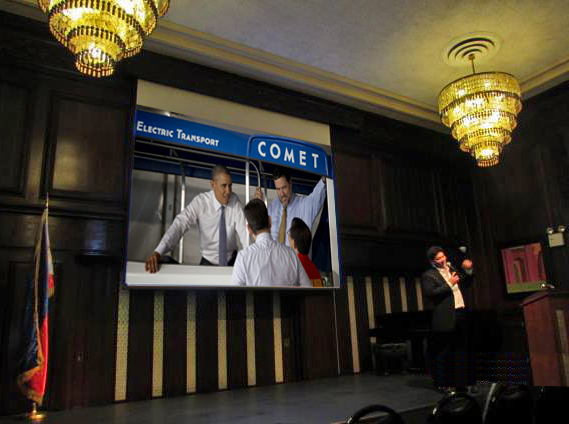 (LEFT) Rachel watches the GNP Roadshow in New York with FilAm friends. | (RIGHT) The stage at the GNP Roadshow NYC. Freddie Tinga talks about the COMET and meeting Obama at its unveiling in Manila.
Earlier in the month I enjoyed several memorable occasions as well.
Philippine Consul General Mario de Leon Jr. of New York invited me to two special functions: a private dinner in honor of Miss World Megan Young and their 116th anniversary celebration of Philippine Independence Day. Before dinner, beautiful Megan talked fondly of her work with the Tuloy Foundation and I spoke of Human Nature as well as GK – the beneficiary picked by the consulate to work with their Typhoon Yolanda public donations of over $320,000. In association with BASP (Build-A-Shelter-Project) the consulate has set its goal to construct 4 GK villages in Hernani, Giporlos and Quinapondan in Eastern Samar and Tanauan in Leyte.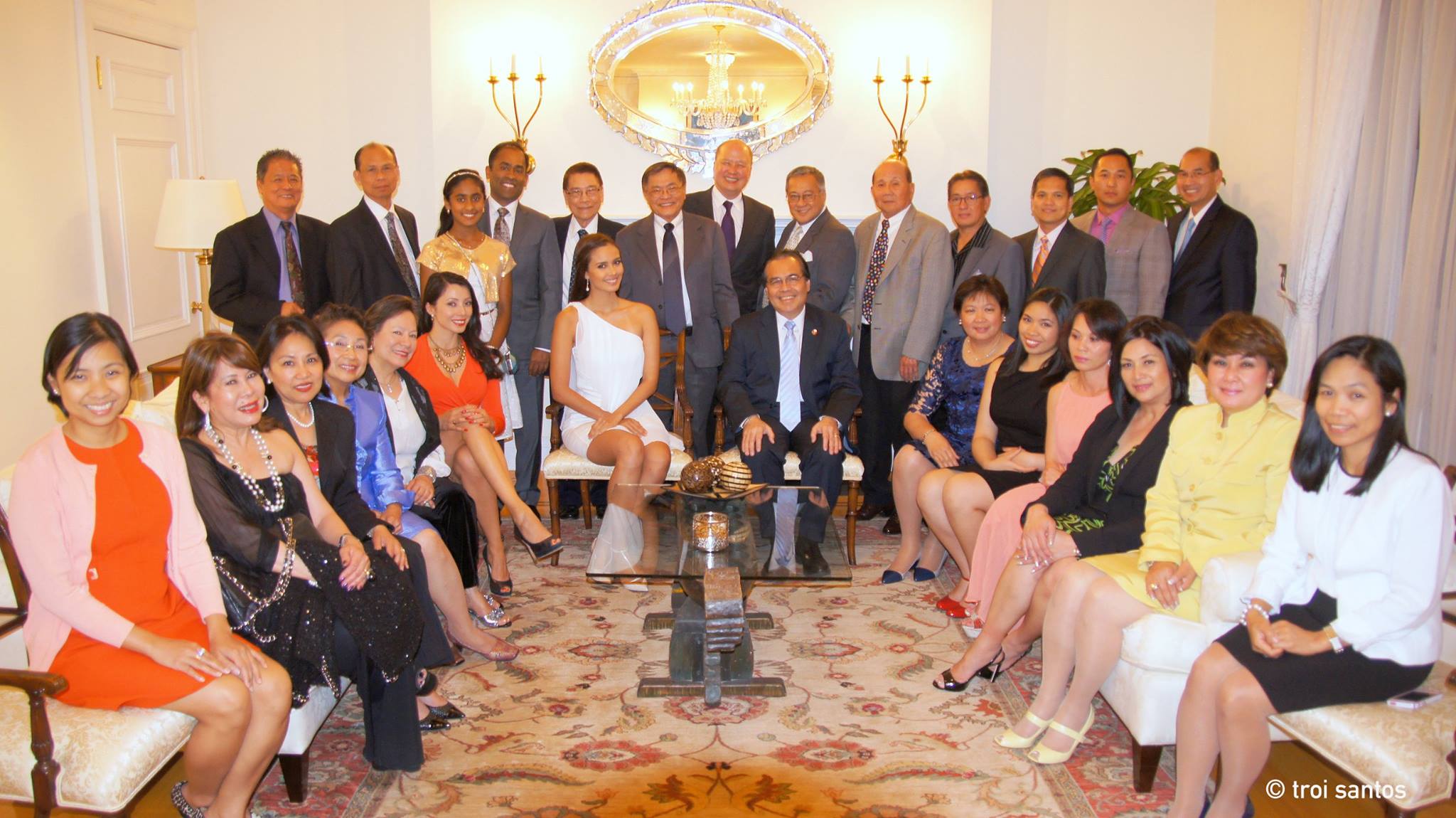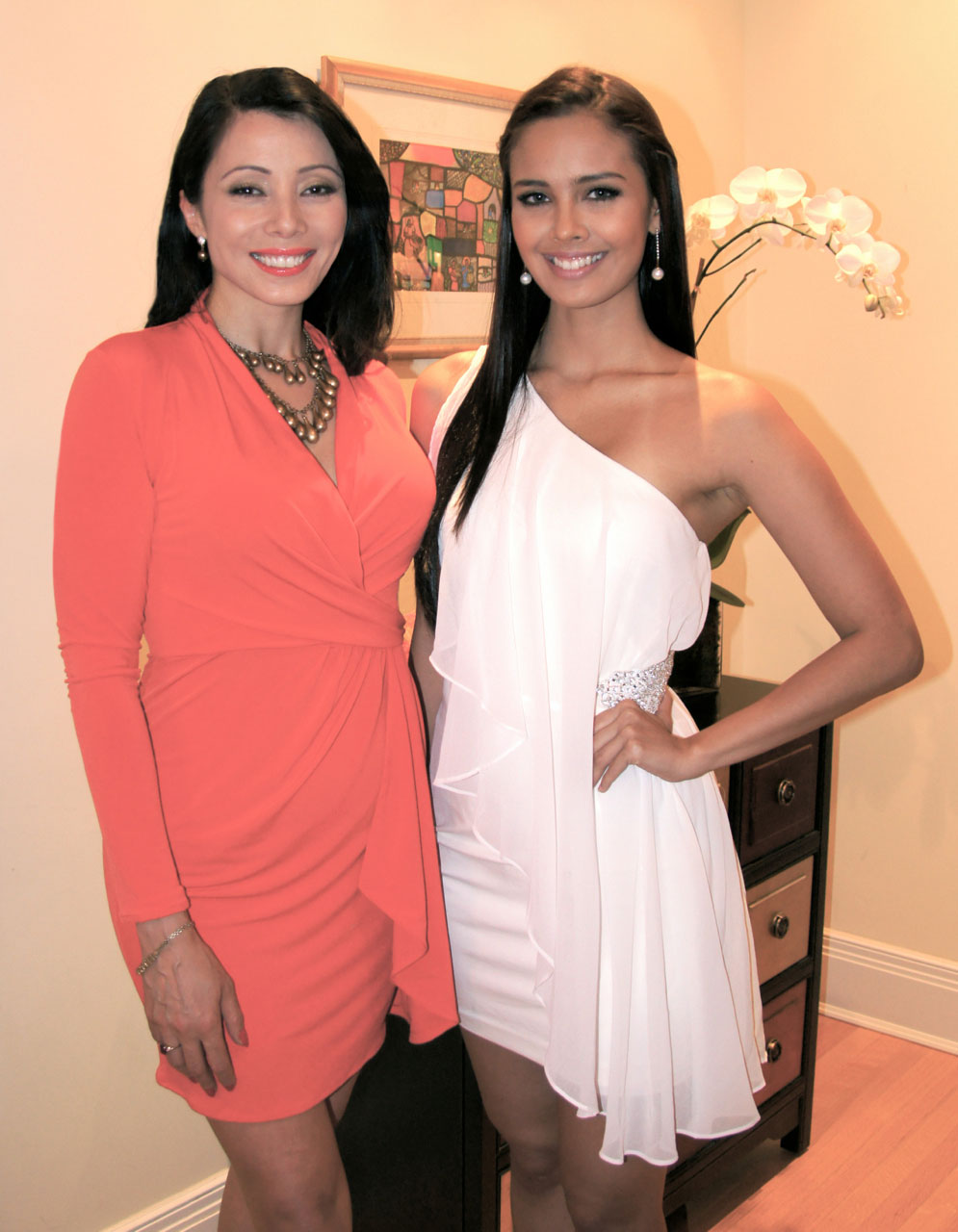 (LEFT) At the Philippine Consulate's dinner in honour of Miss World - Megan Young | (RIGHT) Rachel talks about Human Nature to Megan Young, the Consul General Mario de Leon Jr and those present at the consulate dinner.

Colorful Filipiniana gowns and trays of Philippine foods filled Kalayaan Hall at the consulate's Philippine Independence Day celebration. Addressing the FilAm community gathered there, Consul General "Kuya Mario" announced the Philippines one of Asia's fastest growing economies and "Ours is one of the greatest economic comeback stories in recent years despite the devastation caused by super Typhoon Haiyan."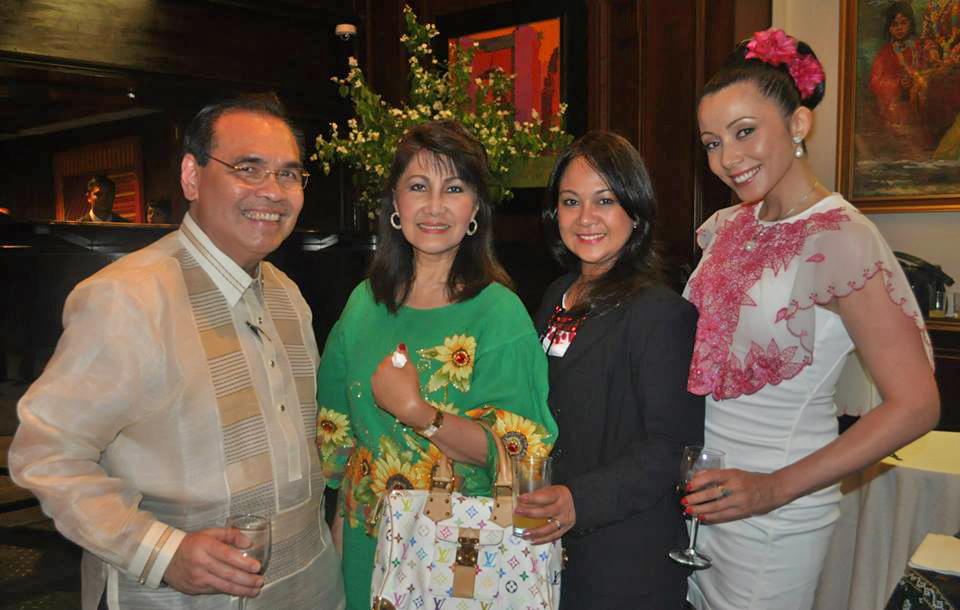 Philippine Independence Day at the Philippine Consulate. Rachel (right) with Consul General Mario de Leon Jr. (left) and friends
Lastly, I gave the opening remarks at the dazzling 70's-themed "Artists Against Abuse" gala in the Hamptons New York to benefit The Retreat domestic violence services. My outfit was secondhand; I picked up at The Retreat's thrift store to help encourage support of the store and its used goods. A silent auction helped raise additional funds and delightfully featured a "doggy bag" of Furry Kind and Human Nature products.
On the red carpet with Furry Kind at The Retreat's "Artists Against Abuse" Gala in the Hamptons New York.