Human Nature was recognized by the Schwab Foundation as one of 26 Global Social Entrepreneur Awardees for 2012.
Human Nature was recognized by the Schwab Foundation as one of 26 Global Social Entrepreneur Awardees for 2012.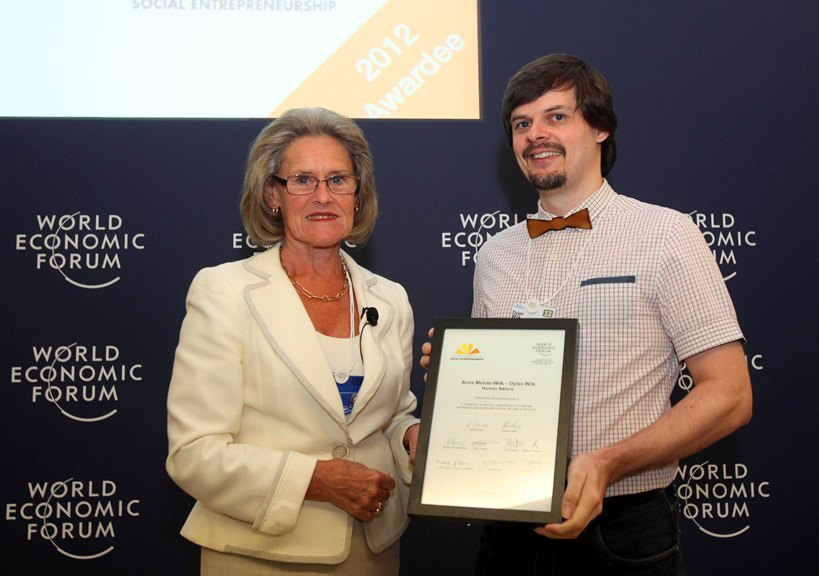 Tianjin, People's Republic of China – Human Nature Founders Anna Meloto-Wilk and Dylan Wilk have been recognized by the Schwab Foundation as one of twenty-six Global Social Entrepreneur Awardees for 2012 - an inspiring affirmation of the impact of social innovation on a worldwide scale.
The winners were selected in recognition of their innovative approaches and demonstrated impact. Hilde Schwab, Co-Founder and Chairperson of the Schwab Foundation for Social Entrepreneurship, presented the awards during a reception at the World Economic Forum's Annual Meeting of New Champions on September 11.
"Given the complex nature of today's challenges, we must find more effective ways to collaborate across sectors, rather than working at cross purposes," Hilde Schwab said. "The 2012 awardees are successfully mobilizing a range of actors, including governments and corporations, to effectively address urgent social and environmental challenges. It is a testament to their impact – and to the efforts of thousands of other social entrepreneurs – that social innovation is becoming a priority for decision-makers at the most senior levels."
The 2012 Awardees were announced during the Annual Meeting of the New Champions held in Tianjin, People's Republic of China on September 10. They will become part of the broader Schwab Foundation community of Social Entrepreneurs, which includes 225 social entrepreneurs from more than 70 countries.
Indeed, there's no business like social business. Dylan Wilk said, "Human Nature has shown that loving the country works, doing the right thing works, employing the poor and paying our people more works. (In order to be competitive), we need to find other efficiencies in our business; we need to be creative because we pay our people more than what other business do and THAT is what makes us better."
The bottomline remains: The key to progress is LOVE. Not only must we love our country with our minds, hearts and our pockets, but also with our commitment to finding extraordinary ways to make our businesses serve the people and lift our country out of poverty.
"Now, more than ever, business should be at the forefront of addressing social and environmental issues because it has the resources, technology and discipline to make a significant impact. All it needs is the heart and the will to do so," said Anna Meloto-Wilk.
And in Human Nature, we are blessed with the abundance of hearts and wills! You, our dedicated dealers, our passionate partners, our bold and brave branch operators, our family of advocates who champion the poor, the environment, and the Philippines daily, YOU have made us what we are now - AN EXTRAORDINARY ENTERPRISE - and we are honored to build this nation with you.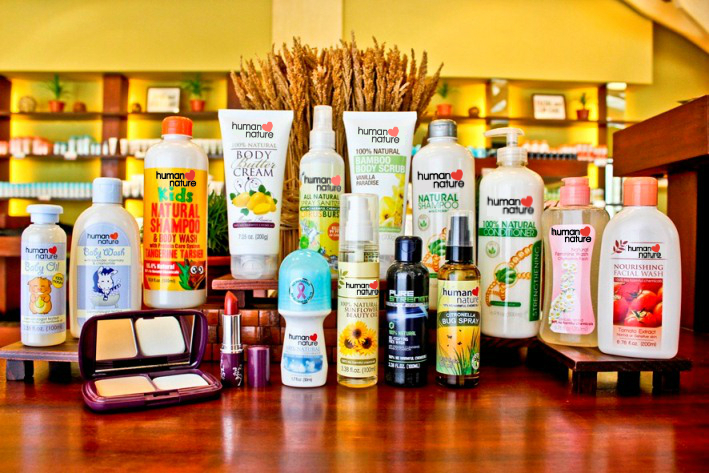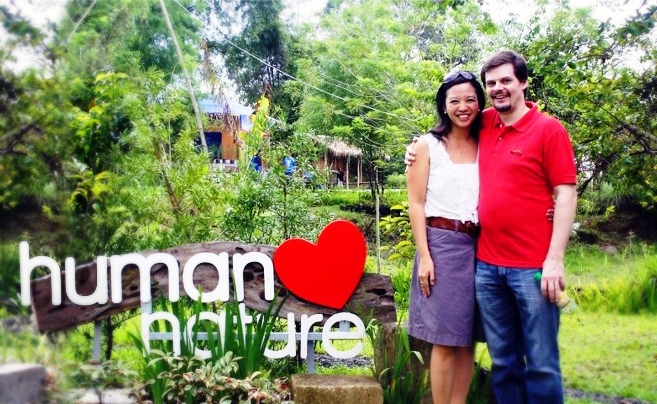 Left: Human Nature's line of natural personal care products at the Human Nature Flagship Store in Quezon City; Right: Anna Meloto-Wilk and Dylan Wilk in the Gawad Kalinga Enchanted Farm, Angat, Bulacan
The Schwab Foundation for Social Entrepreneurship was co-founded by Klaus Schwab, Founder and Executive Chairman of the World Economic Forum, and his wife, Hilde. Since its inception in 2000, the Foundation has been identifying the world's leading social entrepreneurs and involves the community of 200 award winners in advancing the field of social innovation in collaboration with corporate, government and academic stakeholders. Selected social entrepreneurs of the Schwab Foundation network participate in World Economic Forum events, thus providing unique opportunities for them to connect with business, political and media leaders. 
The World Economic Forum is an independent international organization committed to improving the state of the world by engaging leaders in partnerships to shape global, regional and industry agendas. Incorporated as a foundation in 1971 and based in Geneva, Switzerland, the World Economic Forum is impartial and not-for-profit; it is tied to no political, partisan or national interests. (www.weforum.org)
About Human Nature
Human Nature is the Philippines' largest brand of genuinely natural, affordable personal care, cosmetics and home care products. Founded in 2008 by Dylan Wilk, Anna Meloto-Wilk, and Camille Meloto, Human Nature's products are 100% made in the Philippines and 100% free from harmful chemicals. Operated by social enterprise Gandang Kalikasan Inc. (GKI), Human Nature is driven by the core philosophies of being PRO-PHILIPPINES, PRO-POOR and PRO-ENVIRONMENT. In 2012, Human Nature was recognized by the World Economic Forum's Schwab Foundation as a Champion for Social Entrepreneurship.  To learn more about Human Nature and its advocacies, log on to www.humanheartnature.com.