"The more I read about it, the more I became drawn to it." -- Diane Basino, Category Manager
A few years ago, I was in a traditional corporate marketing setup doing brand management work. The company I worked for was a place where a lot of employees thrive and stay on until retirement but no matter what I did (I had a lot of really good friends there, and the corporate culture was very familial), I still knew that there was something lacking.
For the most part, I knew that there were a lot of things I did that weren't very much aligned with my core values but I didn't fully accept that—until after I gave birth to my second child. The night before I gave birth, I was in a work meeting that lasted until 11 pm. The first day I came back from maternity leave, I went home very late. I remember crying so hard in the car on my way home. I went back to that crazy grind where I either was at the office working for at least 10 hours every day or I'm out of town to do more work. All of those things took a toll on my family time.
My milk supply stopped and I didn't come home until everyone in the family was already fast asleep. I felt so bad. I was crying every day and when I finally faced the situation, I asked myself, is it all worth it? I wasn't proud of what I was doing anymore, and I didn't look forward to working anymore.
Luckily, my husband Anton was very supportive. He gave me the freedom to think about it and do what I felt was right. For me that was very important because it was an affirmation of his love and support for me. I realized that I needed to take a break and just think about my next steps in life. I knew that I wasn't going to be a housewife—I still wanted to work but it was very clear to me that I didn't want to go back to the typical corporate setting anymore. I was looking for something more.
Although I loved marketing, I felt that the traditional way of marketing didn't resonate with me anymore. What was very close to my heart, though, was the concept of social marketing. I once led a social marketing project in my previous company for selected brands, and I was so happy because we were directly touching people's lives with what we did. After the project, everyone went back to their usual ways but it really stuck with me. I realized that while traditional marketing is very powerful, it doesn't usually bring real added value to the community. And I was very particular about this because ever since I started working, I always told myself that the work I do should always be something that my children will be proud of and will want to emulate.
Finally, I knew what I wanted to do. I wanted to look for a company where marketing will have more meaning and will have a direct positive impact on people and the community.
At the time, we had a few Human Nature products at home—and it was really just a eureka moment for me. I read up on the company. I looked at its website, I visited the Commonwealth store, I even stalked Dylan and Anna on YouTube and watched all their interviews. I really just wanted to get to know the brand. The more I read and watched about it, the more I became drawn to it.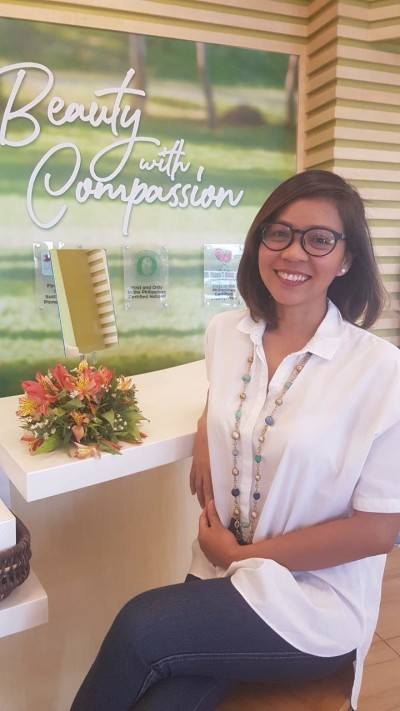 Now that I'm part of Human Nature, I appreciate the message that a brand can be a force for goodness is very strongly magnified in all marketing initiatives. Human Nature focuses on positive and uplifting messages, that the products simply enhance what is already beautiful to begin with. I also love the inclusive mindset—I, who used to live in a world where it's mostly about me, me, me.
I am so impressed and moved that the co-founders walk their talk, and to say that's actually hard to do is an understatement.
There was this one instance when I presented a marketing plan where I proposed initiatives to tap the non-lotion users in the Philippines because to be honest, it is still a substantial market.
Dylan responded firmly, "We're not here to do that. We will not force those who are already happy with their current habits of not putting on lotion to buying and applying our lotion just for us to meet sales targets."
I'm very fulfilled to see that through our marketing initiatives we are able to promote good values alongside products that are safe and of the highest quality. I told myself: Okay, this will be challenging as it is fulfilling.
Above all else, the care that the company gives to the more marginalized sector of the company—no endo or end of contract, no firing policy, life skills seminars, mentoring—is what really moves me the most. These assert that the principles of the company—Pro-Philippines, Pro-Poor, Pro-Environment—are true to the very core.
I used to have a lot of worries before joining Human Nature—these were mostly material things, like perks from my previous job that I had to give up—but over the years my mindset has changed and I realize now that Human Nature is actually generous.
Just the mere fact that the products I'm marketing contribute positively and has a big impact not just on the consumers but on communities, the country, and the environment as well makes work very exciting. In most companies, you have to take part in separate CSR activities to feel you're doing something concrete to help the community or society—but in Human Nature, the whole company is the CSR.
The community involvement we're encouraged to participate in—Gawad Kalinga (GK) house builds, outreach to GK communities, Kusina ng Kalinga—all these make me realize that the world doesn't revolve around me. It makes me happy that when I get home to my family, I have something really positive and inspiring to share about the people I work for, about the people I work with and the lives that are changed because of the little things that we do in the office.
Plus, working in Human Nature expands my network of good people—it may seem funny, but it's true! And I hope their goodness rubs off on me even more so that I can do my share in spreading good vibes everywhere.