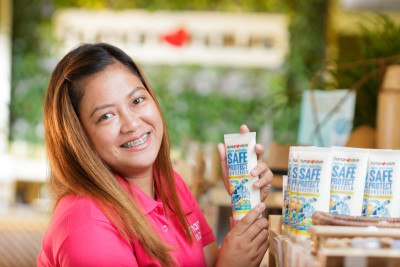 "I never got to college but you trusted me." -- Dina Ocampo, Provincial Coordinator
Before joining Human Nature, my dream was to join the police force, or army, or SWAT. But my family could not afford to send me to college. With that, I prayed to find a job to help my family. I was willing even to work as a house maid.
I started in Human Nature as an "extra" in the warehouse, when Ate April, one of the warehouse staff asked me if I wanted a job for two days. I didn't hesitate, even if I knew that the job offered was temporary. Then after two days Ate April asked Ma'am Anna (Wilk) if I can go back again, then she said "yes". Finally! I got a job!
As the time passed, I made so many mistakes that I thought I would lose my job. But our bosses gave me another chance, and I moved to retail as a merchandiser, then I got promoted as a field coordinator. Now I am a provincial coordinator.
I prayed to God to help my family, and God gave me more than what I prayed for. He gave me job security, he gave me abundance, he gave me great bosses who made me feel that I am valued. God gave me my Human Nature family.
I am excited to go to work every day because of my co-workers. We treat each other as friends, as family, as brothers and sisters. We're always eating. When we're stressed we eat, when we're happy we eat. I am always happy to do my job. I love travel, and doing something that can help others.
Sir Dylan, Ma'am Anna and Ma'am Camille changed my life and my family's life. Thank you for treating us as a family. I never got to college but you trusted me and allowed me to make my dreams come true.
I want to do many things, to put up my own business to sustain my family's needs, especially my parents, to send my youngest brother to college, and to give back because of all my blessings.