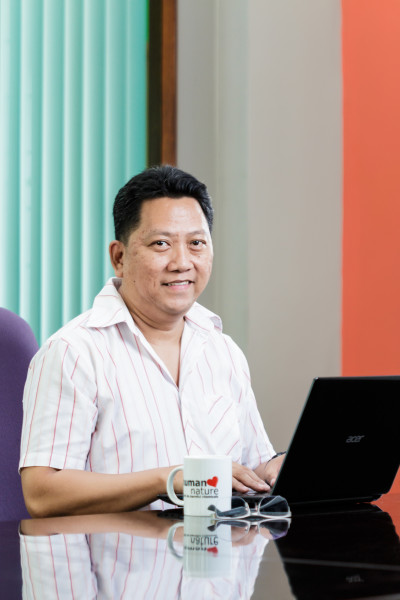 "We need to see the purpose of our lives." -- Jojo de Dios, IT Head
Most of us recognize God as a character in the Bible, in the movies, or a part of a sermon. We know His goodness or His wrath and sometimes His compassion. But it takes a life-changing moment to realize His love and passion, at the point where we are down, with no one and nowhere to run to. That's when we seek for Him.
My previous jobs were the kind a lot of young people would love to have. I went around the country promoting IT applications and supporting my company's branches and customers. I also had a freelancing business. Money was the name of the game and I partied with customers and coworkers on a regular basis.
I was happy but there was no joy in my heart. I found myself empty.
I knew I had to let go of where I was then, to free myself, to actually be born again. I left my work without delay and poured out myself to God. I asked forgiveness for all my shortcomings. This changed me dramatically.
Several companies and friends offered me work but I wasn't sure if these were God's will for me, so I let go of the offers. With no job while 5 of my children were in school, with a new baby on the way, my family survived. For almost a year. I don't know how, yet God always provided at the nick of time.
A few months later I heard about Human Nature, and I believed that its advocacy and its work with Gawad Kalinga was something God called me to be part of. I applied and was blessed to be hired.
There have been uncounted times when God proved to me He is always with us and that he put all His children in one place–put together, to take care and look after one another while serving Him by following His will.
We need to see the purpose of our lives which is to serve our creator, and the only way to understand this is to know God, who He is, what He does, what he wants. For me the only way to learn this is to read the Bible. The Bible gives hope to humanity and a reason to live for another day. It widens our understanding and acceptance of our circumstances.
For me, sharing the Bible is sharing the good life. A single verse doesn't just deliver a handful of facts; it opens shuttered eyes, a shuttered relationship, a shuttered job, dreams and even a purpose to live. Finding Human Nature is part of God's plan for me, and He made me a part of a company that selflessly stewards the poor and the country.