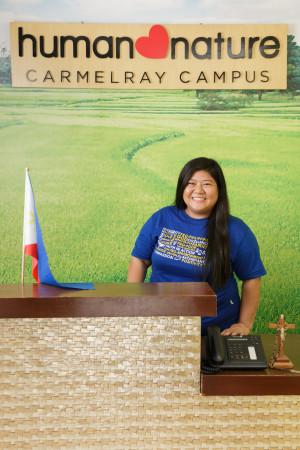 "I now have more time with my family." -- HR Officer, Human Nature Carmelray Campus
I used to work in a multinational FMCG (fast moving consumer goods) company for over four years — which is a dream come true for most people. I enjoyed working there until my husband and I decided to purchase our own house through in-house financing. We were very excited, but that dream vanished because we were both contractual employees employed through an agency — and were not eligible. It almost broke our hearts.
I decided to look for a regular post through Jobstreet. A lot of roles were open, but since I'm a family woman, I had limitations in terms of work location. One day, I saw the job posting of Gandang Kalikasan Inc. (GKI/Human Nature) for an HR Officer at the Carmelray Industrial Park in Calamba. It was a permanent position with health card benefits. What attracted me the most was the last requirement: "must love the Philippines". I promptly applied for the job. After a week, they called me for an interview schedule – however, due to my very busy work schedule, I failed to squeeze it in. I was that tied up with my job! After three months of trying to schedule the interview, I ended up letting the opportunity go.
One Christmas break, I was looking forward to bonding with my only daughter. To my surprise and dismay, my daughter told me that she didn't want to play with me because I was always busy. It was a tough wake-up call. True, I had access to material comforts, but I didn't have time with my family.
That New Year's eve, I prayed to God and asked him to lead me wherever he willed. I looked up the job post I had let go months before and saw that it was still active. I told myself, "If they call me, then I'm called there. And I'll do everything to attend the interview this time."
God's grace is really amazing. The call came and I was asked if I could proceed with the initial screening. And the love story between me and Human Nature began.
This company gave me a lot of "firsts": regularization and a health card! It was the first time I experienced being a regular employee. I wasn't different or isolated from the rest of the employees. I could bring my family every summer company outing (hahaha!) and during Christmas parties, my name would be on the attendance list – I wasn't just an event facilitator.
One policy I couldn't understand at first was the "No Firing Policy". I first heard it from Nay Mildred (Human Nature's Plant Manager) during my interview, and I couldn't believe that a company this small could even have such a policy. In my view then, employees need to understand that they are the ones responsible for their actions and that they should know the implications of how they behave. But since I became part of Human Nature, my eyes were opened. It became clearer to me that we all need to have compassion for our colleagues. Instead of just letting them go, it is our responsibility as stewards who hired them to help them, lead them and support them so they can get back on track.
Most importantly, I found a home. Our Pro-Philippines, Pro-Poor, Pro-Environment mantra gives me a sense of purpose. My work at HR implements practical policies that support employees' families (Marriage Assistance for newlyweds), values development (Life Skills training), financial stewardship (Save-Up program for former low-income workers), quality rest and family time (7.5 shortened work hours and no work on Sundays). The employees here are all amazing – they are all bayani in their own way. Seeing them motivated and encouraged to do good and work hard as well for their countrymen makes me feel so proud and happy.
I now have more time with my family. My daughter is now seven years old. She always comes to the Carmelray Campus whenever we have activities like Trick or Treat and Kids Camp. She enjoys staying and tells me she wants to study hard so she can replace me in the near future (!) – she dreams of working here because she knows how happy I am working here.
From the moment I joined Human Nature and to this day, my shout out remains the same and stronger everyday: This is where I will retire.
Human Nature is where my ❤️ belongs.