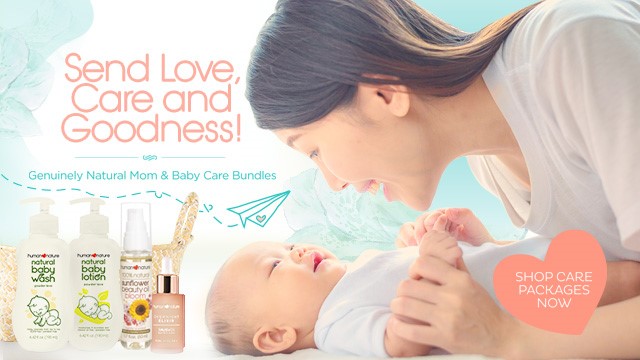 1. What are Mom Care Bundles?
Too often, after giving birth, the attention is all on the newborn. We neglect the moms who are in fact, going through a lot of difficult adjustments in their new roles. That's why, in HN, we want to provide new moms support in order to allow them to fully experience the joyful MOMents of motherhood. Through this initiative, we want to be able to provide support to Moms by offering bundles that will make life a bit easier for them.
2. What are the bundles available and how were they selected?
Mom and Baby Bundles
These are bundles that have products for the comfort and well-being of both Mommy and Baby
a. MOM & BABY GOODNIGHT KIT - For soothing & calming nightly routine
b. MOM & BABY CLASSIC NEWBORN KIT - Exquisite care for new moms & their newborns
c. MOM & BABY BLISSFUL BATHTIME KIT - For mom & baby's refreshing showers
New Mom Essentials Bundles
These are bundles that offer solution to physical concerns that new moms usually go through
a. NEW MOM GO & GET GLOWING KIT - Helps enhance mom's post-pregnancy bloom
b. NEW MOM SKIN & SLEEP SAVERS KIT - Trustworthy all-nighter allies for new moms
New Mom Pamper Bundles
These are bundles that let new moms indulge and take a break from the demands of their newborn and the rest of the family
a. EVERY MOM'S PAMPER KIT - Relief after a long and tiring mommy day
b. NEW MOM PREMIUM SKINCARE KIT - All-time faves for mom's post-pregnancy skin
3. For the kits with products that are available in more than one variant, can I choose a specific variant I like?
Unfortunately, no, except for the Baby Care Products. For Baby Wash, Baby Lotion and Baby Oil you may choose one (1) scent between our two variants: Powder Love and Tangerine Dream. For the other products we will only serve the specific variant that's indicated on the Bundle List.
4. Are these bundles sold on promo?
Yes. Discount of bundles ranges from P69.25 to P360.
5. Will these bundles be packed in special packaging?
No, the Mom Care Bundles will be packed in a Human Nature pizza box just like regular orders.
6. Can I still use my dealer discount?
Yes, dealer discounts will still apply.
7. Where can I avail these bundles?
All Mom Care Bundles are available on our website and Human Nature branches nationwide.
8. If I order a bundle and plan to have it delivered straight to someone as a gift, do I have the option to not include the invoice on the package?
Absolutely! You can opt to have your invoice shipped with your order or just emailed to you if you're sending it to someone else as a gift.
If you're ordering via phone, just inform our sales representative whether or not you'd like the invoice to be sent with your order.
If you're ordering online, here's how to send your gift:
1. On the checkout page, at Step 1: Shipping & Billing Info, select or add the address of the person to whom you wish to send your gift.
2. Select the checkbox: "Do not include invoice please." You can leave your default billing address as is.

3. Continue with your checkout process as usual and we'll ship your gift for you, hassle-free!