Written by Jennylyn Suguitan
Every day, my mom and my tita would wake up early to prepare baon for me and my two cousins. While most of us had the luxury of enjoying healthy baons lovingly made by our parents, access to healthy and nutritious food is just a dream for at least 15 million Filipino children.
This is how Kusina ng Kalinga started: with a vision to provide healthier food choices for our school children from the Philippines' poorest communities to help them reach their full potential. Following the ravage of Typhoon Yolanda in Western and Eastern Visayas in 2013, GK volunteers were not able to build houses right away. What they saw, however, was the opportunity to help by providing healthy and nutritious food for the children of Alang-alang, Leyte.
From the vision to help school children get the healthy meals that will fuel them to enjoy school and grow strong and healthy, Kusina ng Kalinga (KnK) has grown into a feeding program model that aims to reach 50,000 children and provide them with delicious and nutritious meals for the entire school year.
Community of Heroes
In GK Sitio Pajo, Quezon City, KnK's Kitchen team woke up before the break of dawn to prepare an average of 1,300 meals daily for their seven partner public schools. Composed of only six regular volunteers, the team was in charge of food preparation, cooking, packing and food distribution. Each meal consisted of a cup of rice and the assigned viand which was mostly meat, vegetables and chopped malunggay.
"It takes us 21 days or one school month before we repeat the menu so the children won't get tired of the food we serve," volunteer cook Edmund Franco said. Franco, who is also a resident of GK Sitio Pajo, has been a volunteer of KnK for four months. He shared that waking up early is only a little sacrifice for him. "We have neighbors who also donate malunggay for the children. For me, waking up early to cook their lunch meals is my way of giving back to my community."
Once the food was cooked, a scoop of rice and viand filled up the empty lunch boxes that will be delivered to their partner schools. "We don't want to just feed the children, we want them to enjoy healthy meals with dignity." Rita Denzo, Kitchen Manager for KnK in Sitio Pajo said.
With the kitchen staff's day starting at three in the morning, Denzo shared that it was the spirit of bayanihan that helped them keep their operations sustainable. The local government unit has provided vehicles to help with the food deliveries while mothers from their partner schools took charge of food distribution and cleaning up the lunch boxes.
Sharing Goodness in Every Meal
Human Nature employees also did their share in helping Kusina ng Kalinga's daily operation through a volunteer event last November 12. Employees from different departments participated in the preparation of 1,324 meals, each one packed with love and hope from the children's ates and kuyas from Human Nature.
Our efforts were rewarded with the warm smiles and welcome from the students of Toro Hills Elementary School. Marilyn Borja, one of the volunteer parents shared how KnK has changed the lifestyle of her seven year old daughter, Elaine. "Elaine used to be a picky eater but now she has learned to eat vegetables because of the program. I also noticed that since KnK started, she has gained weight and she has become more active at school," she said.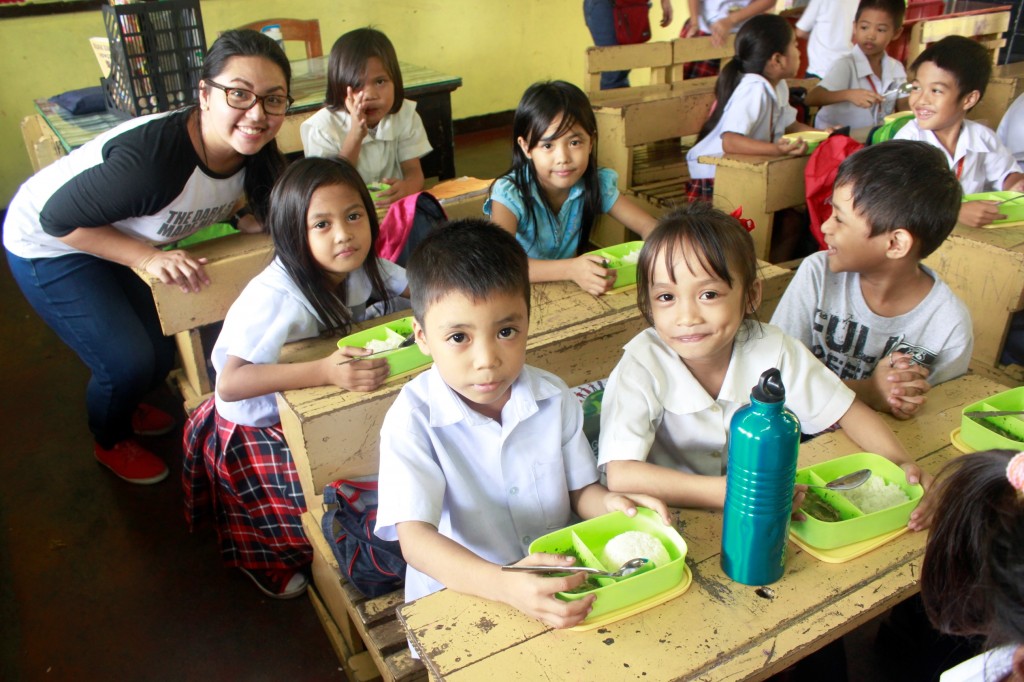 Apart from volunteer work, Human Nature launched its Buy 1, Give 1 promo wherein participating social enterprises under Human Nature pledged to donate one meal for every unit sold of their participating items. These are First Harvest Peanut Spread (P159.75, 250g), Pili & Pino Pinoy Trail Mix (P195, 100g), Theo & Philo artisan chocolates (3 Bar Box, 419.25; 5 Bar Box 434.25), Bayani Brew 6-pack with Gift Box (P299.75), Café Lugud Premium Arabica Coffee (P360, 225g), Dr. Gerry's Coco Nectar (P999, 750ml/1000g), Trese Mabuting Asal Lunch Box (P189.75), Trese Kids Lunch Box (P149.75), Trese Note to Self Mug (P129.75, 325ml (11oz)) and Tom Graham's Genius of the Poor book (P400).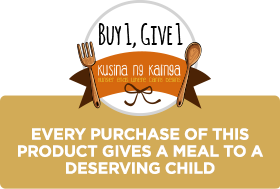 Currently, Kusina ng Kalinga has six kitchens in the Philippines located in Metro Manila, Laguna, Leyte and Sultan Kudarat. Each KnK meal only costs P15 or P3,000 per school year for one child.
Spending time with the KnK Kitchen and meeting kids like Elaine and her classmates, who aspire to become teachers, doctors, pilots, and even leaders reminded me of why even though the future of the Philippines may not look that bright, there is still hope. There is always hope. We just need to plant seeds of goodness in the next generation, our future leaders. We can spread hope—one meal at a time.