Gandang Kalikasan, Inc. (GKI), through its Human Nature brand, is a fast-growing, trail-blazing natural & organic consumer goods company operating as a social enterprise and driven by the core philosophy of PRO-PHILIPPINES, PRO-POOR and PRO-ENVIRONMENT. Founded in November 2008 by Anna Meloto-Wilk and Camille Meloto, daughters of Gawad Kalinga founder Tony Meloto, Human Nature's products are 100% made in the Philippines and 100% free from harmful chemicals. 
Today it announces:
MOA signed off by Human Nature, PFEC & KMMBK governing the usage of the One Heart for One Community 2010 fund.
Human Nature committed to make One Heart for One Community initiative a permanent campaign wherein from now on and for all time 100% of every centavo earned by Human Nature from the sale of its top-selling Citronella Bug Spray will fund the development of Filipino farming communities all over the country.
Christmas and Valentine's Day is over but not for social enterprise brand Human Nature as they continue to spread the love with their One Heart for One Community campaign. A campaign that continues to keep giving and a campaign that's definitely here to stay. 
The seeds that were planted are starting to bear fruit for the citronella farmers of Brgy. Kanapawan in Labo, Camarines Norte. After more than 20 months of supporting the citronella enterprise of the Kooperatiba ng Maliliit na Magniniyog ng Brgy. Kanapawan (KMMBK) and Philippine Federation of Environmental Concern (PFEC), Human Nature has turned over close to Php973,000 representing 100% of all profits from its Citronella Bug Spray from Oct-Dec 2010to invest in community development programs which will provide a sustainable enterprise, keeping a whole barangay out of poverty for good. 
Health and education have been identified as primary community concerns and have thus been the primary scope of coverage for the disbursement of the One Heart for One Community fund. In detail, these include renovations to the town's elementary school, additional textbooks and supplies for their students as well as health care for the citronella farmers and their families, all of which are aligned with additional investments on plantation expansion to help them get from 7 hectares in 2009 to the 47 hectares that has already been planted to-date. 
One Heart for One Community represents the shared dream of Human Nature and Filipino farming communities to create high-value, sustainable livelihood for farmers so they become empowered to provide themselves & their families a better quality of life. Human Nature cements its commitment to this dream with its decision to permanently donate 100% of the profit from their top-selling product Citronella Bug Spray to fund other farming communities around the country break the cycle of poverty. We hope that you can be one with us in supporting the cause and spreading the good news. Walang iwanan.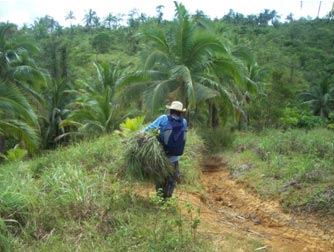 To learn more about Human Nature products and advocacy or to learn how to be a dealer, please visit www.humanheartnature.com or your nearest Human Nature Branch.