Pinay mom Patricia Villamin shares the stories of family heroines who inspired her to be who she is today: a proud Pinay.
Pinay mom Patricia Villamin shares the stories of family heroines who inspired her to be who she is today: a proud Pinay.
For Pinay mom Patricia Villamin, the household is a treasure-trove of heroines. Read the stories of the women who inspired her to be who she is today: a proud Pinay.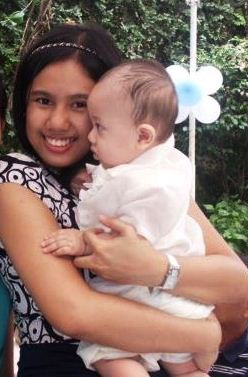 I am a 21-year old mom and I am a proud Filipina. I am proud of my brown complexion, my straight black hair and my black almond-shaped eyes. But above all this, what defines me as a proud Filipina is not just my physical appearance but rather what lies inside me. How I came to be the women I am right now is because of the wonderful Filipinas around me who inspire me and encourage me to be the best that I can be.
Let me share the stories of the Filipinas that greatly influenced my life.
At my young age, I am now a mother to a one-year old baby boy. I know that this may be unacceptable to some in the traditional Philippine society, and people around me have often seemed surprised and disappointed that I married and gave birth a young age. I understand them because I know they expected a lot from me. I was a consistent honor student, a scholar all throughout my high school and college years and a newly-qualified CPA. Just a few months after receiving my license, I became a mom. To others, this may have seemed to shatter my dreams or future. To me, this became my inspiration.
When I found out I was pregnant, abortion never became an option. I was determined to give birth to my baby. Was I scared? Yes. I chose to continue with my pregnancy amidst all the criticisms of people because I know this is the right thing to do.
My mom taught me to fear God above all. I remember when she told me that when she found out she was pregnant with me; she was given the option to abort me. She was in the peak of her career in Japan when she became pregnant. Abortion was legal at Japan and her employers told her that she can either choose to abort me and continue with her career or to keep me and pay a penalty. My mom, who is God-fearing, determinedly told them that she would rather pay a sum of money than to commit murder on her own child. She gave up her career, went back to the Philippines and kept me. When I asked my mom why she chose me over her career she said, "Dahil yun ang tama. Ang pera kikitain ko pa yan, pero ang mgakaroon ako ng kasalanan sa Diyos, habang buhay na dadalhin ko yan." ("Because it was the right thing to do. Money I can earn, but if I sin against God, I'm going to carry it with me for the rest of my life.") Bearing her story in my mind, I always chose to do what is right.
Cooperation and alertness. These are the values that I unexpectedly learned from my sisters. I was in a job interview when this happened. My teenage sisters, Sam, Leslie, and Brigitte are my heroes. Last May, my mom suffered from electric shock which nearly took her life. Upon hearing my mom's call for help, my sisters Sam and Leslie rushed to her aid. She was still being pulled by the electricity when they found her. Brigitte immediately went to the main switch and turned it off. My mom lay unconscious and was already turning purple. Sam ran to the nearest town clinic and went to get help. Leslie, who found that my mom wasn't breathing, gave her CPR. When the doctors arrived, they found my mom conscious. My sister was able to revive her. She suffered two burnt fingers but still, she was alive. The doctors said that if my sisters didn't respond immediately we could have lost our mom. I admired my sisters for being alert instead of panicking, and being able to think straight in critical times like these. With what they had shown, I instilled in my mind that I must always be alert in critical times.

Sisters Leslie, Brigitte, and Sam
Being resilient. That is the value that my mother-in-law has shown and that is what has kept me going. My husband and I along with our baby are living in my in-laws' house. Last July 19, a fire consumed our house along with all our belongings. My mother-in-law and my father-in-law were taking care of my baby and my two nieces when suddenly they heard that a fire broke out in our neighborhood. My father-in-law immediately went to get wet blankets while my mother-in-law immediately gathered the children. When they went outside, the fire was so huge that they could barely go near the exit to our compound. They were trapped inside. My father-in-law remembered a passageway and from there, they jumped to the other side of the compound. The fire consumed everything that we owned – appliances, money, clothes, some jewelry, and documents. All that was left were the clothes we were wearing that day. We were thankful enough that they were safe.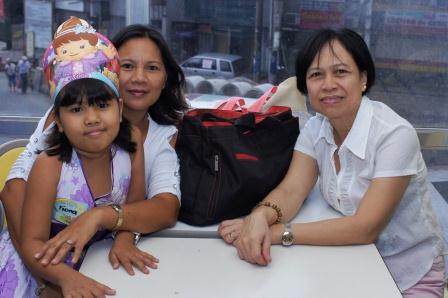 Patricia's mom and mother-in-law
My mother-in-law regained her composure as soon as she got over her shock. She went back to her usual duty as a mother. My mother-in-law immediately went to look for things that we were going to need. Whenever she remember something that was destroyed from the fire, she will just laugh about it. She said, "Naku, Oo nga. Nasunog na yun. Di bale, ang mahalaga ligtas tayong lahat." ("Oh, yes, that was destroyed in the fire. Never mind, what's important is we are all safe.") Because of that, we were able to laugh despite our predicament. I never saw her cry over the things that she lost. She kept strong and was always there to support her husband in starting anew. She went on with her normal course of work and took care of us as if nothing had happened. Because of this, we felt safe and secure. This has shown me that as a mother, one must be resilient to keep the balance in a family.
My mother, my sisters and my mother-in-law – they are the Filipinas who enlightened me to become what I am right now, Pinay and Proud.
Got your own proudly Pinay story? Submit it to us at iampinayandproud@gmail.com and get a chance to be featured on www.pinayandproud.com and receive one of our Pinay & Proud tote bags!