Pinay & Proud is a tribute to Filipinas from all walks of life who are courageous, nurturing, compassionate and beautiful within.
Today, we feature Athenaeum String Quartet--a classical music's Pinay & Proud that has been nurturing musical artistry on and off the stage.
"When a Pinay performs classical music, she brings the heart. It's so much more than a mastery of technique and theory – we can't help but be entangled, involved. We think from the heart," shares Edna Marcil "Michi" Martinez, musical director of the country's only all-female string quartet, the Athenaeum String Quartet.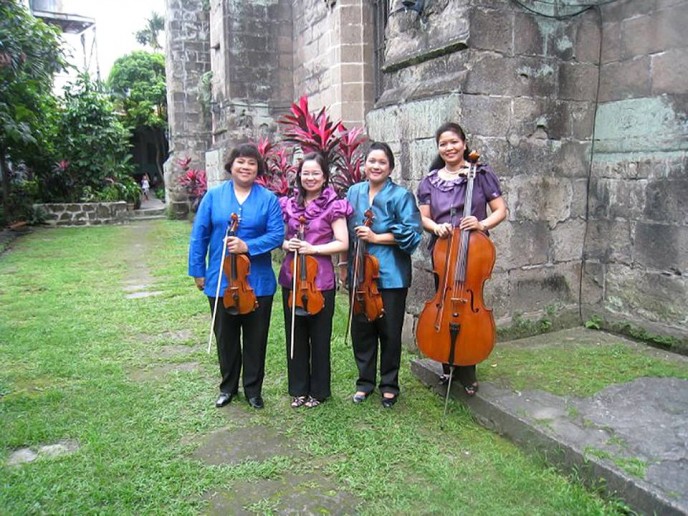 The Athenaeum String Quartet. From left: Chona Noble on first violin, Ferizal Midoro on second violin, Michi Martinez on viola, and Celia Narzo on cello
With every pluck of the string and rise of the bow, the Athenaeum String Quartet aims to showcase not just excellent musicality – but the Filipino woman's nurturing heart.
Nurturing Musical Artistry On & Off the Stage
Athenaeum was founded in 1985 by 4 music majors from University of the Philippines: Chona Noble on first violin, Ferizal Midoro on second violin, Martinez on viola and Celia Narzo on cello.
"We named the group Athenaeum after the ancient Greek temple of learning," Martinez shares. "We all wanted to be really good string quartet players. So I told them: let's compete to be better and hopefully others will be inspired to follow suit."
The National Music Competition for Young Artists introduced its chamber music category in 1986 and the Athenaeum became the first group to win its first prize. Martinez recounts that they were in close competition with the University of Sto. Tomas' all-male brass group.
"It was quite the battle of the sexes, so to speak. There was a lot of pressure and we'd crossed paths with the members of UST Brass before – we were nervous but we were also competing against friends."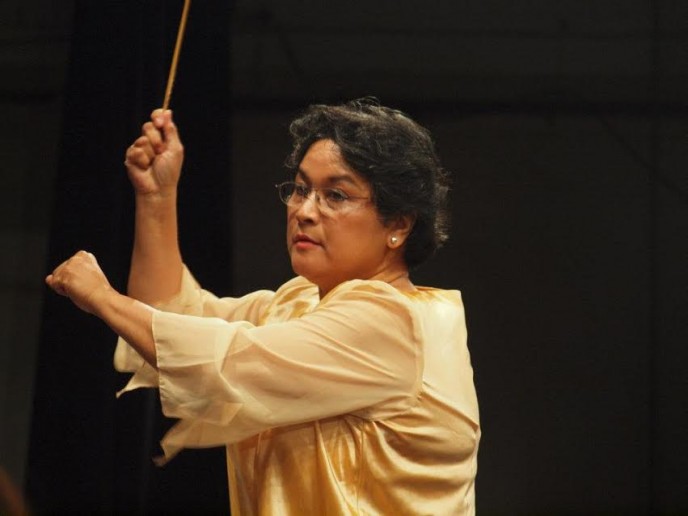 Michi Martinez also holds the distinction of being the only female orchestra conductor in the Philippines. She is currently the conductor of both the UP Orchestra and the UP String Orchestra (UP Arco)
Martinez adds that she is glad that there are more women in the arts today than ever before. "Education really liberated us in a lot of ways – a lot of facets of the arts were taboo – even in the 50s. In music, unlike in other performing arts, more women became musicians…although limited because girls were always encouraged to take piano or voice. String, wind and percussion instruments were considered masculine."
Nurturing the Next Generation of Artists
All members of the quartet teach at UP Diliman's College of Music. "What motivates and drives us now as educators is still that love for learning that the Greek Athenaeum represents – our goal is to make our students fall in love with their instruments. When they fall in love, you don't need to monitor them --they'll pour all their energies into their music."
She emphasizes the need for nurturing connections with fellow musicians and your audience. "Wag masyado soloista. You want to be relevant in your performance? Playing music is always the trinity of the mind, the heart, and the hand…when you play music with others – the essence of it is learning to breathe from the same lungs and beating from the same heart."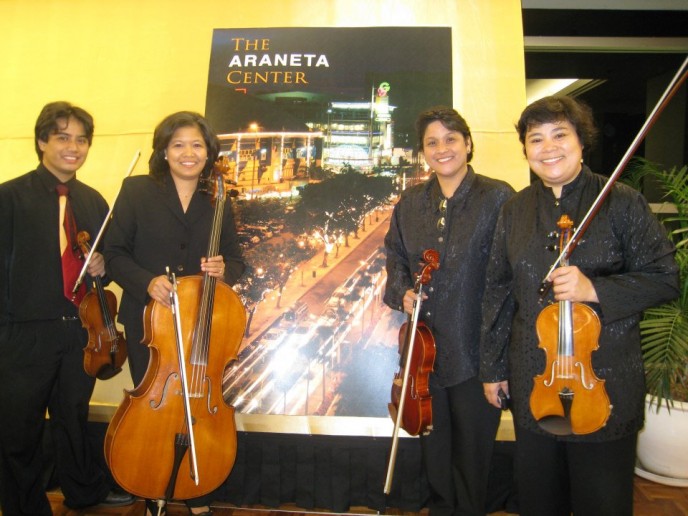 Members of the Athenaeum String quartet also teach and perform with their students. In photo are, from left, music major Ralph Taylan with cellist Celia Narzo, violist Michi Martinez, and violinist Chona Noble
"It is more important that you touch lives with your music than mount a hundred performances." The Athenaeum String Quartet will be performing at the Pinay & Proud Summit on October 19 at the Benilde's School of Design and Arts Theater.