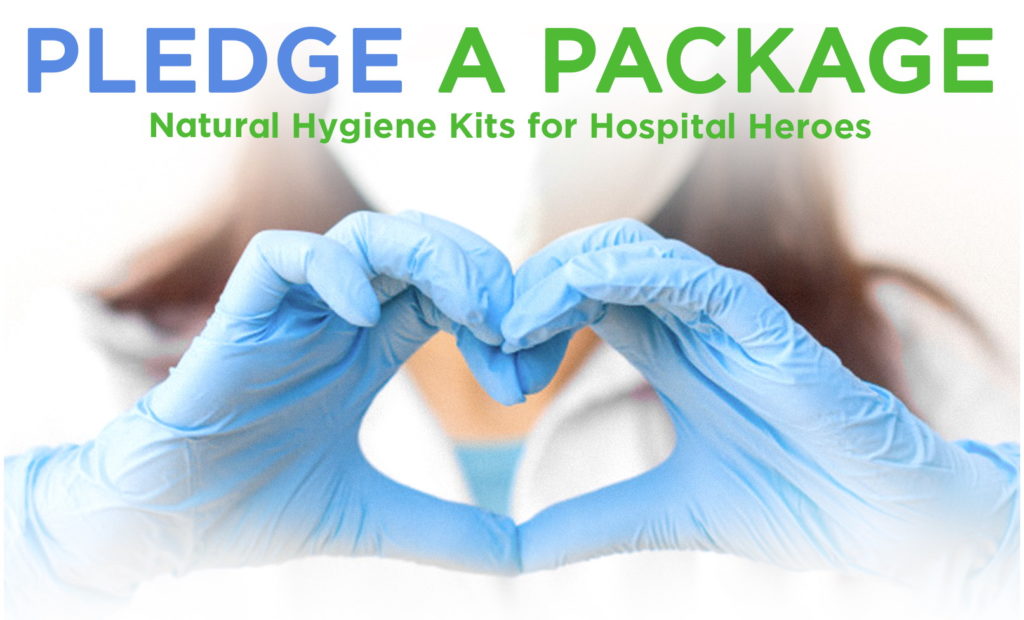 1. The initial price of hygiene kits were offered at more than 30% discount. Why is it now set at 30%?
Answer: In order for us to reach more hospital beneficiaries in the province, we have fixed the discount for pledge kits to 30% so it can cover logistical costs for products being transported to areas outside NCR. See table below for considerable savings in spite of the reduced discount.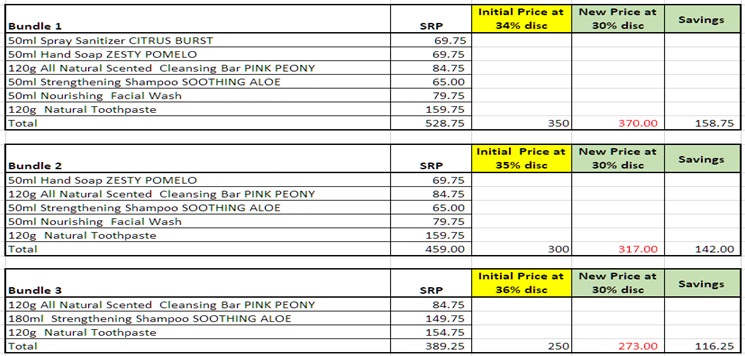 2. I am an advocate, can I apply my dealer discount when I make a pledge?
Answer: No. Dealer discount does not apply.
3. I see that you also call for food pack donations for poor communities. Why do you have two Goodness Rising projects? Would it not be better to concentrate all efforts to just one cause?
Answer: We understand that a lot of sectors need help at this point and with these two Goodness Rising projects, we found a way to make lives a little easier for both the urban poor as well as the frontliners. This also gives our customers options on how to contribute during this crisis.
4. Can I just donate instead of buying the hygiene kits?
Answer: Our Pledge a Package initiative will only donate hygiene kits to frontliners. Cash donations are welcome in our Goodness Rising initiative to provide food packs enough to feed a family for about a week: bit.ly/FeedFamiliesToday
5. Why don't the hygiene kits have sanitizers and hand soaps?
Answer: One of the bundles include 50ml sanitizer and the other two include 50ml hand soap. Since our sanitizers often run out of stock, we made sure that we have readily-available back-up bundles.
6. Can I buy one hygiene kit for myself and another one for donation?
Answer: No. The hygiene kit bundles are strictly for donation purposes only.
7. How will the hygiene kits be distributed to the frontliners?
Answer: We will be dispatching the hygiene kits in batches of 100 to frontliners in various hospitals nationwide. For Metro Manila, we have contact persons from our partner hospitals who will help pick-up the hygiene kits from our warehouse. Outside Metro Manila, our branches will handle coordination.
8. How many hygiene kits do we target to give out per hospital?
Answer: Pledges thru the web will be dispatch in batches of 100. Pledges thru the branches may be dispatched even if quantities are lower than 100.
9. When is the target date to distribute the hygiene kits?
Answer: As soon as we collect 100 hygiene kits we will immediately distribute them to our partner hospital.
10. If the target quantity of hygiene kits is not met, will Human Nature still donate? How will you identify the recipients for the limited bundle quantity collected? Will Human Nature provide the rest of the hygiene kits to complete the 100 count?
Answer: Human Nature has already donated 100 kits to St. Luke's Medical Center - Global City. If the minimum 100 quantity is not met, we will still turn them over to the hospitals. We will try our best to supply the rest of the remaining quantity.
11. Why ask for donations? Why don't Human Nature just donate their products to the frontliners?
Answer: Human Nature donated 100 kits to St. Luke's Medical Center - Global City and has also sold kits at a deep discount to Tala Hospital in Caloocan. The company has also given away more than 3,000 food packs and continues to give more. Feeding the hungry, helping the frontliners is a collective effort. The need is continuous and the magnitude wide.
12. Can I also nominate a hospital beneficiary? Can it be a local hospital in our area? What is your criteria for selecting a hospital beneficiary?
Answer: Yes. You may nominate a hospital beneficiary but there is no guarantee that the kits will go there. One of the important criteria in our selection of hospitals is that there's a confirmed and trusted contact person for faster and easier coordination and transaction. For pledges made in the branch, hospital beneficiary can be within the locality.
13. Will you be donating hygiene kits to hospitals in Metro Manila only or also in the provinces?
Answer: With relaxed quarantine, GCQ for most areas and lowered discount we can now afford to include hospitals outside of Metro Manila
• PGH - has 26 COVID-19 cases as of Apr 2
• Mandaluyong Medical Center - has 2 COVID-19 cases as of Apr 2
• National Center of Mental Health (Pavilion 3 & 7) - has 2 COVID-19 cases as of Apr 2
• Tala Hospital - has 4 COVID-19 cases as of Apr 2
• Amang Rodriguez Hospital - has 1 COVID-19 case as of Apr 2
14. How will the hygiene kits be packed?
Answer: We will use the medium Human Nature brown paper bag. There will be 100 hygiene kits in one box to be turned over to the hospital coordinator.
15. Can we pledge the hygiene kit via branch transaction?
Answer: Yes. Hygiene kits can now be purchased through web and select branches. Please inquire from your nearest branch to coordinate local relief and donations.
16. Are the hygiene kits subject to delivery fee?
Answer: No. Hygiene kits will be picked and packed from our warehouse, and will be collected directly by the hospital coordinator so there will be no delivery fee. But, in the event that there are special packing and delivery requests, we may be charging a service fee to sufficiently cover costs.
17. If I pledge a hygiene kit and also buy other Human Nature products in one transaction, will the net weight (to which delivery fee is dependent especially in provincial orders) include that of the hygiene kit/s?
Answer: No. The delivery fee will be based on weight that is net of the hygiene kits.
18. Can I order hygiene kits through your Telesales Channel because I don't want to order online?
Answer: Yes. Here's how:
Deposit/Transfer to
Account Name: Gandang Kalikasan, Inc.
BPI Current: 3-101-0986-12
BDO Savings: 002210344383
Confirm your payment by sending a screenshot to orders@humanheartnature.com
We will send a copy of the invoice once done processing.
19. Are the hygiene kits commissionable for the uplines?
Answer: No. Hygiene kits are at above 30% discount and are a pledge for donation.
20. Can purchasing/pledging Hygiene Kits be included in the monthly purchase for dealer rank promotion?
Answer: Yes.
21. How can a customer from abroad pledge hygiene kits from the web?
Answer: Donors abroad have to make sure that their shipping address is a Philippine address. Since this won't get delivered to their doorstep, they can use Human Nature's head office address (463 Commonwealth Avenue, Barangay Matandang Balara, Quezon City, Metro Manila Philippines 1119) in place of their default international shipping address. This way, they will be able to purchase donations without going through the trouble of finding a PH address.