For Rheavie "Rhea" Galvero, Human Nature was the answer to all her prayers.
For Rheavie "Rhea" Galvero, Human Nature was the answer to all her prayers.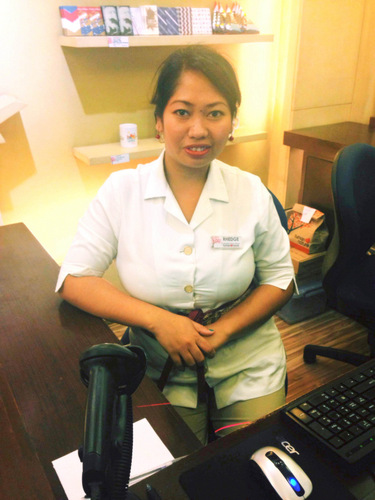 If you've ever passed by our Flagship Store along Commonwealth Avenue, you may have noticed one jolly woman, beaming in her smartly-pressed uniform , roaming the shelves or processing orders behind the cash register. Her positivity simply lights up the store with every "How may I help you, Ma'am?" and "Thank you so much for shopping!"
That's Rhea – one of Human Nature's Customer Care Officers. She first heard about Human Nature through her scholarship program. "After Bagyong Ondoy in September 2010, kasali ako sa isang scholarship program ng group of Ateneo students," recalls Rhea. "Nagbigay ng talk si Mrs. Anna [Meloto-Wilk] about Human Nature at nagkaroon ako ng interest kasi narinig ko na marami pa silang natutulungan, maganda ang mga products, at mura. [After Typhoon Ondoy in September 2010, I became part of a scholarship program of Ateneo students. Mrs. Anna gave a talk about Human Nature and I because interested in the idea that they help so many people plus their products are good and affordable.]"
It was on one fateful day that Rhea received a call from one of her Atenean mentors regarding an opening in Human Nature as an ID maker. Once her part-time stint was over, however, Rhea found herself praying to God for more opportunities. "I felt so sad nung natapos ko agad yung work kasi feeling ko wala nanaman akong work," she expresses. "Paano na yung anak ko? Saan nanaman ako kukuha ng pera para sa family? Sobrang nag-pray talaga ako kay Lord na sana makapasok ako sa Human Nature. [I felt so sad when my stint ended because I felt that I had no more work again. What about my child now? Where will I get money for my family? I prayed hard to the Lord that hopefully I could get into Human Nature.]"
One month later, Rhea received a call that Human Nature had an opening for a Sales Personnel and she jumped at the opportunity. Until this day, she still thanks God for her blessing. "I feel that this company gave me a lot of opportunities as an employee. They treat me as family and I truly believe that family stays together," she expresses.
"Kahit mahirap man at puno ng pagsubok ang company, I've been here for four years and eight months, and still, nakikita ko kung gaano lumago at lumaki ang company. At alam ko tatagal at lalaki pa tayo lalo at marami pang matutulungan. [Even though the company encounters many challenges, I've been here for four years and eight months and still I've seen how much it has grown. And I know it will endure and grow even more, and that we will be able to help even more people.]"
'I may not be rich but I'm proud to say that I'm part of this company that helps other people, that acts on our advocacy and helps make the Philippines world-class by spreading the goodness of Human Nature," she smiles.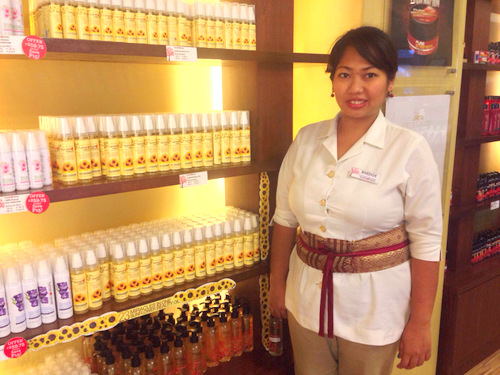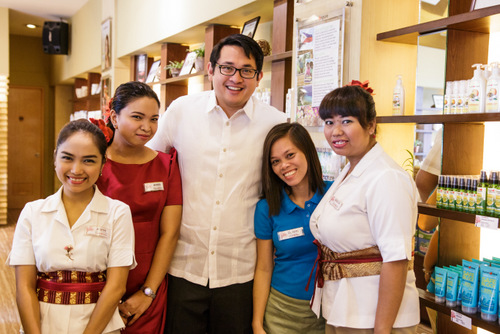 [LEFT] Rhea, ready to assist customers by our Sunflower Beauty Oil display | Rhea (right) with fellow Customer Care Officers and Senator Bam Aquino
Do you share Rhea's hope and compassion towards our country? Visit our careers page and email your resume to gethired@humanheartnature.com today!