Human Nature supports Save Philippine Seas's youth camp
Human Nature supports Save Philippine Seas's youth camp
Thirty beaming faces greeted the Human Nature team at the Luzon leg of the Sea and Earth Advocates (SEA) Camp in Calatagan, Batangas. 
Organized by Save Philippines Seas in partnership with the US Embassy Manila, the five-day camp aims to equip young Filipinos with the knowledge and practical skills needed for conservation work. Save Philippine Seas is an independent movement to protect and stop the abuse and destruction of the country's marine resources.
The SEA Camp's Luzon leg was the first of four: Its Visayas leg, held at Siaton, Negros Oriental ran from April 27 to May 3, 2015 while its Mindanao leg took place from May 8 to 15 at Bongao,Tawi-Tawi. The national culminating camp is set on June 11 to 15 in Palawan.
"I saw what the program would be like and wanted to learn from my heroes," shared Angel Rodriguez, a SEA Camp participant from University of the Philippines who hopes to pursue a career in conservation. She added that meeting people who are passionate about saving the environment was truly encouraging. 
Love the Philippines, love its seas
Human Nature Category Manager Angie Tan was invited to speak at the SEA Camp's first leg. Angie delved into how her desire to help the Philippines led her to Human Nature.
"We want to see the day when 'made in the Philippines' will mean something. It will mean products that are excellent, competitive," she enthused. 
"It's not easy to do marketing in a social enterprise set up. When I am discouraged or disheartened, I go back to why we are doing this in the first place. I visit our partner communities, I remind myself of Human Nature's mission: a poverty-free Philippines."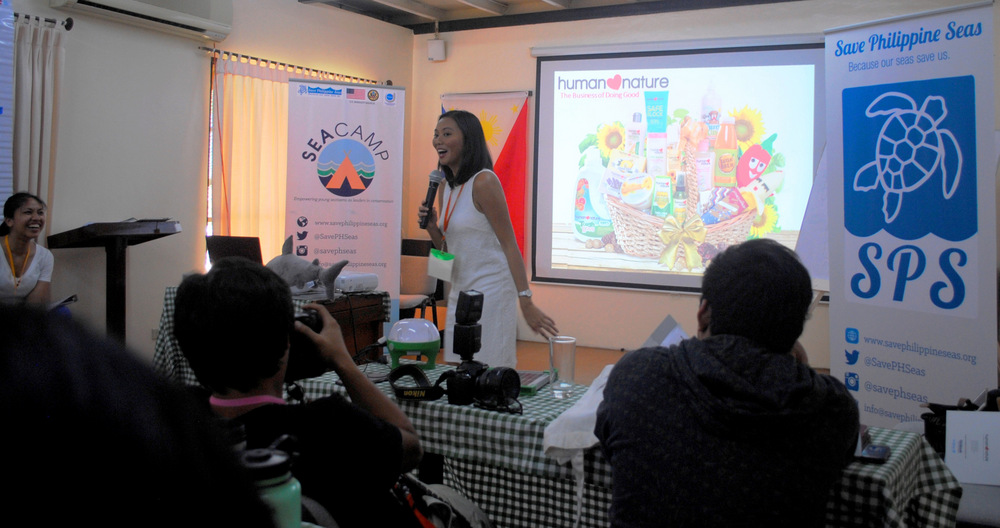 Angie discusses how Human Nature strives to uplift the Philippines with its pro-environment philosophy.
"The Philippines is a center of marine biodiversity," she explains. "It is because of this that there is a much greater call for us to take care of our seas. The seas are also an income source for many people – from fisher folk to those in the tourism industry."
One way through which Human Nature walks its talk when it comes to being pro-environment is through its patronage of natural and biodegradable ingredients. Most personal care brands, for instance, use plastic microbeads – tiny polyethylene or polypropylene beads are used to exfoliate skin and even fill in wrinkles.  These mircobeads are too small to be filtered out by wastewater treatment plants and make their way into our water systems where fish, birds, and mammals mistake them for food. To prevent this from happening and to preserve our sea life, Human Nature uses only natural exfoliants from loofah, coffee, and bamboo in products like our Balancing Facial Wash, Vanilla Cleansing Bar, and Coffee Body Scrub.
Another measure we take to save our seas is creating reef-friendly sunscreens. Most chemical sunscreens contain parabens, oxybenzone, benzophenone and ethylhexylmethoxycinnemate that cause coral-bleaching when washed off. With a reef-friendly, 100% natural formulation, our sunscreens are free from these reef-destroying ingredients.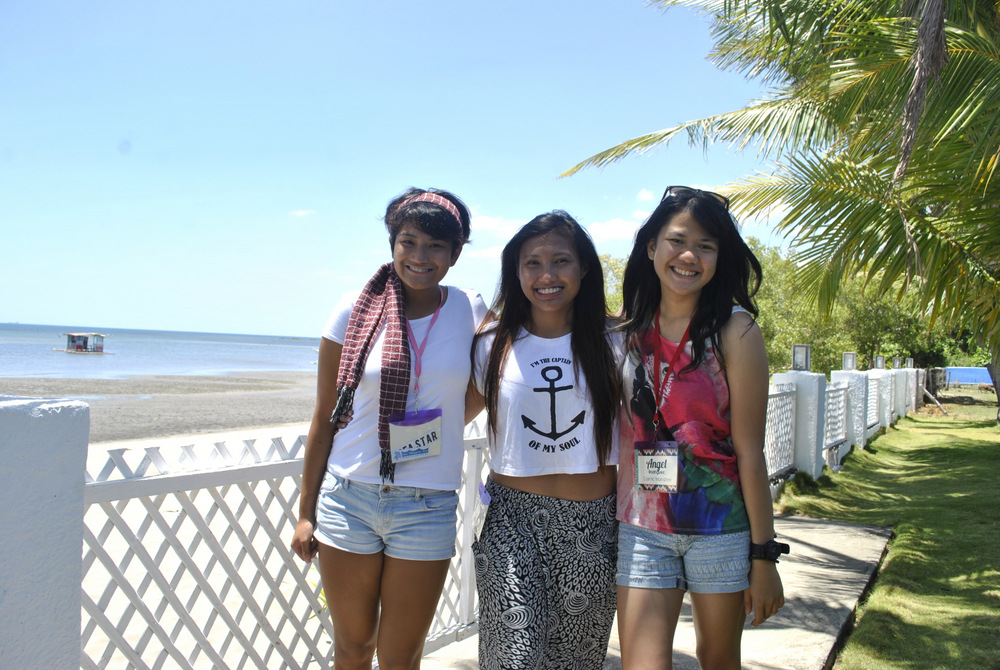 Angel Rodriguez of UP Los Banos and Ateneo de Manila's Annabel Coronel and Alexa Abangan
"I'm a Human Nature user but before the talk I didn't know about the brand's community involvements," said Alexa Abangan, a participant from Ateneo de Manila University. "I love how the products are environment friendly and help communities."
"It feels good to know that one purchase can help in so many ways," she smiled.
Want to do your part to save our seas? You can get involved with Save Philippine Seas by visiting their official site or following them on Facebook, Twitter, and Instagram.
You can also do your part for our seas and Mother Earth by becoming a Human Nature dealer! Register here!