One year after the launch of Goodness Rising, Human Nature visited Tambulilid to witness how goodness has grown
One year after the launch of Goodness Rising, Human Nature visited Tambulilid to witness how goodness has grown
By Tish Martinez-Castillo  
"The purpose of human life is to serve,
and to show compassion and the will to help others".
-Albert Schweitzer
I first set foot in Barangay Tambulilid, Ormoc last summer as a participant in Gawad Kalinga's (GK) Bayani Challenge.
The Bayani Challenge is the country's largest showcase of volunteerism to date. From April 9 to June 12, 2014, Bayani Challenge gathered over a million volunteers to serve 12 provinces across the Philippines. Bayani Challenge activities included feeding local children, repairing schools, fixing fishing boats, and of course, rebuilding communities devastated by 2013's Typhoon Yolanda. While I had doubts about my house-building abilities, I went to Ormoc because I wanted to see where our "Goodness Rising" efforts were going.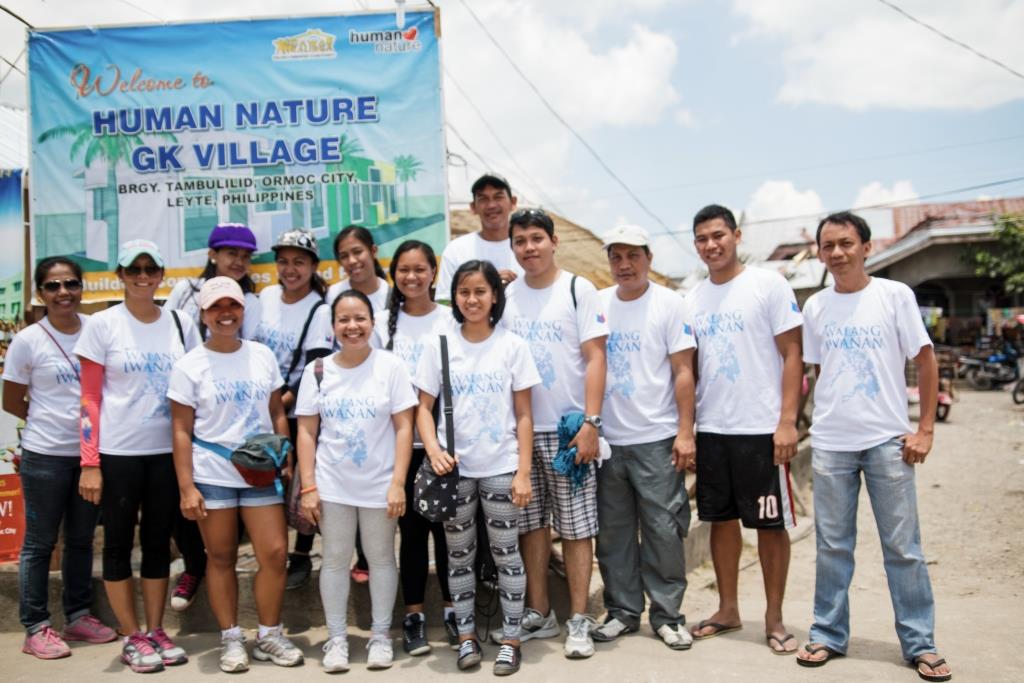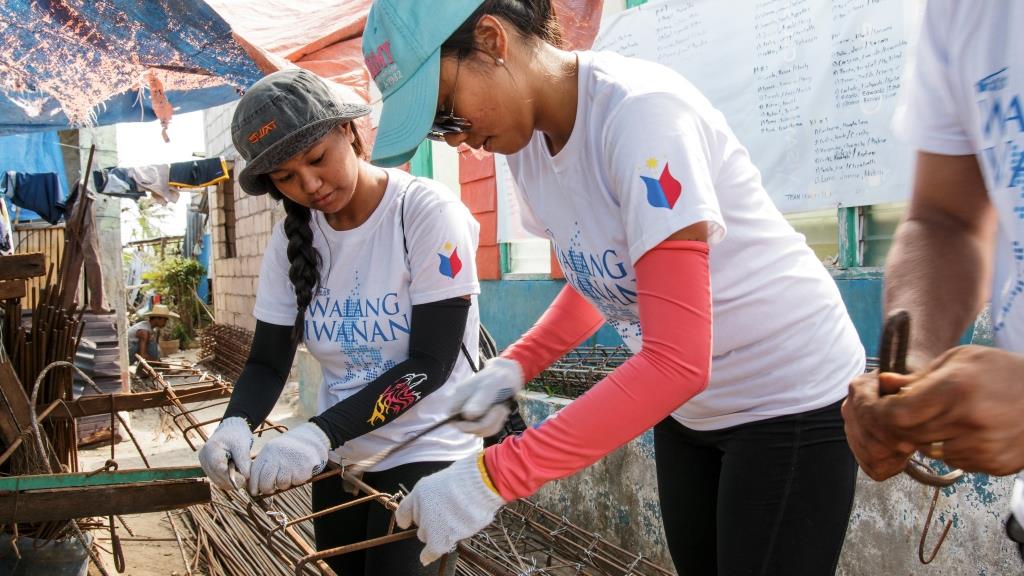 Team Human Nature at the Bayani Challenge 2014!
No Tears 
Say "Typhoon Yolanda" and what immediately springs to mind are chilling headlines - details of devastation and death.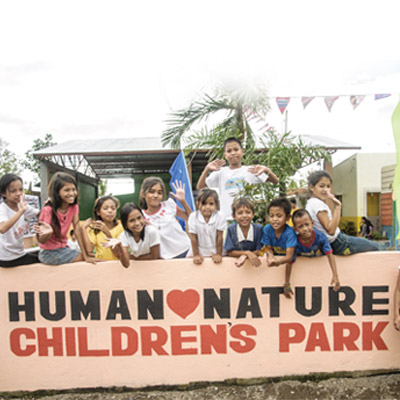 When I met with the nanays in Tambulilid, I expected sob stories. These people, after all, had lost all of their possessions. These mothers, after all, lost their friends and family to one of the strongest tropical cyclones in history.
But I found no tears in Tambulilid.
Instead, I was met with smiles everywhere I went. I encountered outpourings of gratefulness at every turn and more hope that I could possibly imagine. These people, the so-called "Yolanda victims," were wellsprings of positivity.
In Tambulilid, I met Nanay Paping Lauron, a 74-year old lady who was part of my "work group". Nanay Paping and I hauled sand together. I asked her why she insisted on building houses in Tambulilid each day. "Gusto ko tulungan kapitbahay ko, sama-sama kami dito. Pa konti-konti lang, ang trabaho, yung kaya lang ng katawan ko," she said. It was that simple.
During one afternoon, I took to writing down the names of the people I met. Some children asked me why I was listing them down and if it was a palista for relief goods or school supplies. I told them I was writing down the names of Tambulilid residents so I'd remember them and be able to pray for them when I went back to Manila.
I thought that the children would lose interest.
Instead, they volunteered their names, the names of their siblings and friends, the names of their parents… virtually anyone they could think of. One even ran off to her mother to ask for the names of other relatives. I wrote everything down feverishly, determined to remember all the names they entrusted.
GK Human Nature Turnover
Last December 17, 2014, I traveled to Tambulilid together with Dylan, Camille, Wowie, and other colleagues to witness the turnover ceremony of houses. I was in a daze when we arrived. Tambulilid was unrecognizable.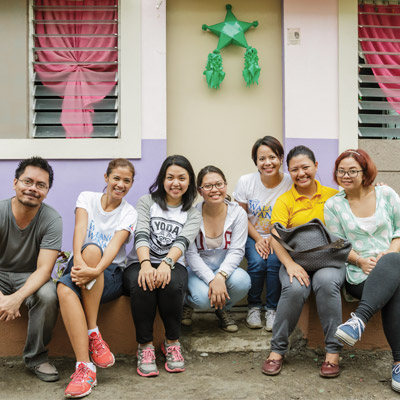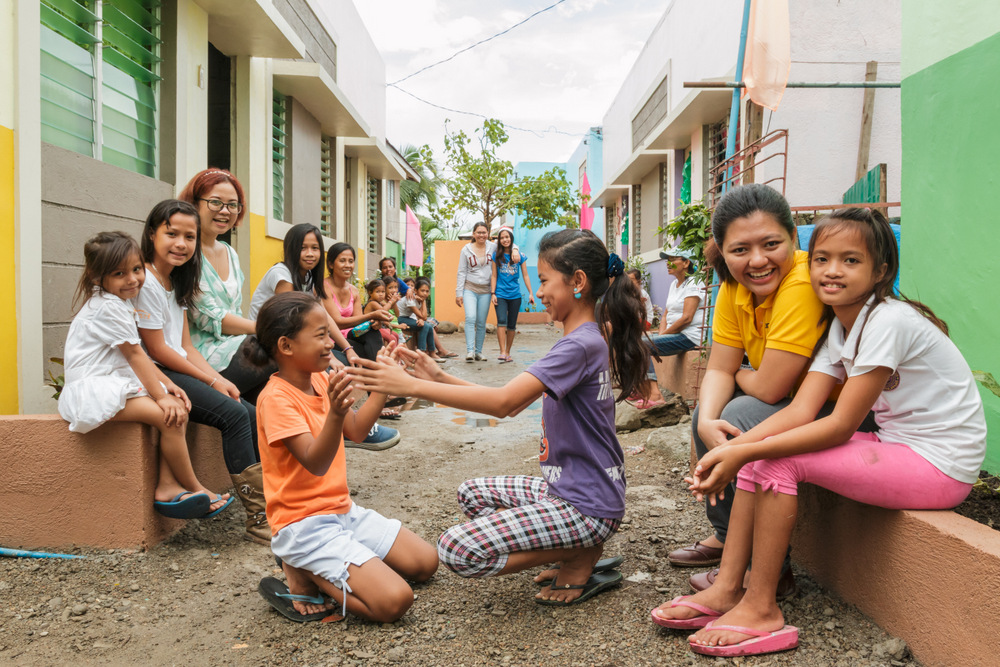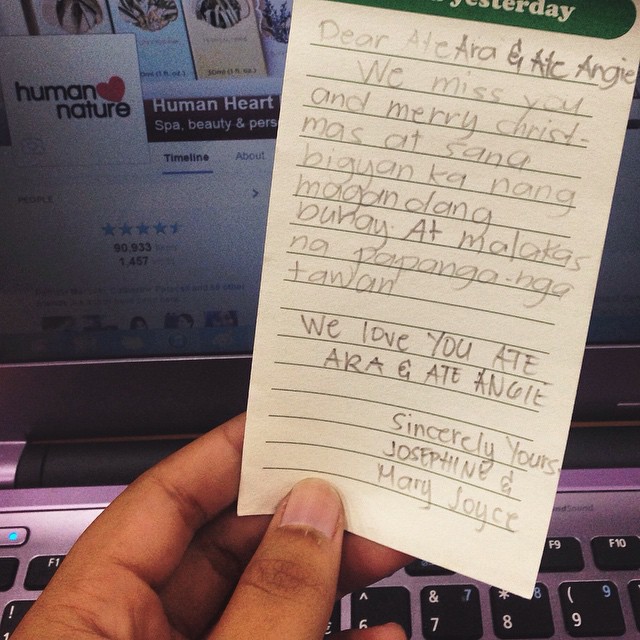 [LEFT & CENTER] Human Nature goes to Tambulilid! | [RIGHT] A heartfelt letter from the children of Tambulilid
In place of the torn down concrete and overgrown vegetation were rows of colorful houses, already inhabited by some of the residents. There were small vegetable patches where piles of rubbish once were. Children were busy playing in the Human Nature Children's Park and at the Sibol School – places which were filled with drift wood and metal scraps last May. A spacious and new multi-purpose hall stood beside some structures that were destroyed by Typhoon Yolanda – a reminder, perhaps, that the work was far from over.
During the program, Tito Boboy Igot, an Ormoc-based GK worker spoke on how the community never lost hope even as they struggled to recoup their losses. "We did not know where help would come from, but we knew God would not let us down," he shared. Igot added that Tambulilid was a relocation site for survivors of Typhoon Uring, a deadly typhoon that hit Leyte in the 1990s. "It is like we are brought together and made even stronger by storms." Tambulilid is one of the first GK sites in the Visayas.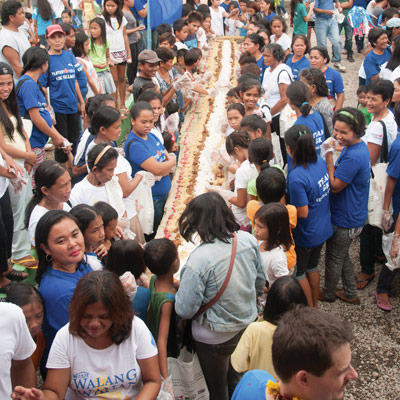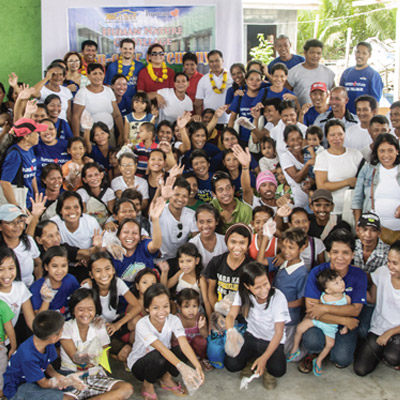 Tambulilid residents swell with joy at the Goodness Rising house turnover
As I was listening to Tito Boboy and the testimonials of Tambulilid residents; I reflected on what seemed impossible (nay, a little insane) in 2013:  for a young company like Gandang Kalikasan Inc. to raise 15 million pesos in funding to build 100 houses in Ormoc. Not only have GKI employees,  Human Nature advocates, and customers succeeded in raising enough funds to build 100 homes in Tambulilid; we have actually gone over the 100-home mark and have extended our reach to Cadiz Viejo in Negros.
But while ensuring that the goals of Goodness Rising are met is no mean feat, I am positive that our burden was the lightest. We owe the completion of Human Nature's first GK Village to our partners in Ormoc – the tireless GK workers and the residents who never lost hope. They are the true heroes.
Daghang salamat, Tambulilid.
Tish Martinez-Castillo works as Human Nature's Corporate Communications & PR Manager. Prior to joining Human Nature, she served as a writer & account manager for a good mix of clients, covering stories on education, property development, automotive and motorcycle manufacturing, and hospitality. She stands tall and proud at 4 foot 9.