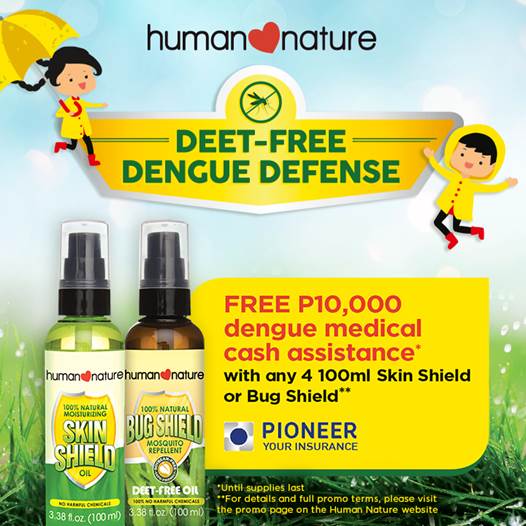 1. Is there a maximum limit in availing of the promo?
Answer: Customers may avail of the promo for as long as they satisfy the minimum purchase requirement of four (4) 100mL Skin Shield Oil. For instance, if their invoice reflects eight (8) 100mL Skin Shield Oil, they will get two (2) FREE Pioneer MediCash Dengue cards. Since they can only register one (1) MediCash Dengue per person, they can give the other card to a family member or friend.
2. I didn't receive any SMS confirmation. Who do I contact?
Answer: If the customer does not receive an SMS confirmation within two (2) working days of submission, please call (02) 750-5433 or text 0917-531-7213.
3. Can customers give the pre-paid MediCash card as a gift?
Answer: Definitely, customers can give it as a gift item. It is similar to a prepaid gift card.
4. Can we purchase MediCash Dengue Insurance at Human Nature branches?
Answer: No. Human Nature will give away one (1) FREE MediCash Dengue for every purchase of four (4) 100ml Skin Shield Oil for the first 1,000 transactions from May 18 to June 30, 2019 or until supplies last. It is not for sale at Human Nature stores or Human Nature website.
5. Where can I buy MediCash Dengue and how much is it?
The SRP of MediCash Dengue is P350 and it is available at Pioneer branches nationwide, select SM Business Services counters, HealthCube clinics, and through the Pioneer online shop.
6. I lost my MediCash Dengue card, can I register/replace it?
Answer: No, similar to prepaid load cards, MediCash cards are not replaceable in case of loss— regardless if the customer was able to register it or not. Each card has a systems-generated serial number and code, which allow a simplified process of registration, giving customers several options: via call, SMS, e-mail, Viber, and even online. As long as they can provide a valid serial number and code, the registration will be accepted regardless of the registration channel. By putting a serial number and code, we have "monetized" these cards which give them peso value once they are out in the field.
7. I am already registered under MediCash Dengue, but I lost my card, which includes the Claims Medical Report. How do I claim if I get Dengue?
Answer: You may visit Pioneer Medicash Health Insurance to download a soft copy ofthe CMR, call (02) 750-5433, or send an email to retail@pioneer.com.ph. Print a copy and ask your licensed physician to accomplish it. Submit along with the diagnostic results to Pioneer.
8. I have Dengue. Can I go to any hospital/clinic? Can a general physician accomplish the CMR form?
Answer: MediCash Dengue only requires diagnosis to be able to claim the P10,000, so you can go to any hospital or clinic. And yes, any licensed physician (definition in the CMR) can certify the diagnosis substantiated and confirmed by the results of a diagnostic test like the Elisa IgM or Polymerase chain reaction (also stated in the CMR).
9. Can Human Nature employees avail of the Skin Shield x Pioneer promo?
Answer: Yes. HN employees can avail of this exciting promo!
10. What Skin Shield products are included in the promo?
Answer: 100ml Skin Shield DEET-FREE Oil and 100ml Skin Shield DEET-Free Oil (G6PD-Friendly, soybean-free formulation) ONLY. 50ml Bug Shield Oil bottles, regardless of quantity, are not qualified.
11. Will 100ml Skin Shield bottles accumulated from different receipts be acknowledged for this promo?
Answer: No, only 100ml Skin Shield (at least 4 in quantity) bought in a SINGLE TRANSACTION will be qualified for the promo.
12. Can I return or exchange the product?
Answer: Products with valid defect or quality concerns will be accepted for return and will be subject for replacement only and not refund.
13. Does the registration close?
Answer: Yes. Registration is until September 30, 2019 only. You may register on or before the said date to activate your coverage.
14. How many MediCash Insurance stubs can I register with my name?
Answer: Only one (1) MediCash Insurance stub at a time can be registered per person.
15. What if I want to avail another Dengue medical cash assistance?
Answer: You can get another one, provided that 1) your current/latest Dengue Insurance has been terminated and 2) you are clinically cleared of Dengue within 15 days from the effective date.
16. How does the coverage terminate?
Answer: The coverage terminates when 1) the P10,000 has been claimed or B) the one (1) year coverage expires, whichever comes first.
*Offer is valid while supplies last.
**For details and full promo terms, please click here.