Prefer warm and sunny over cold and cozy? Escape the cold and soak up some sun by celebrating Christmas at the beach this 2019. 
Can't choose between the Philippines' 7,641 islands? We've narrowed down the search for you. 
Here are 5 extraordinary beach destinations that will surely capture your heart:
1. Puerto Galera, Mindoro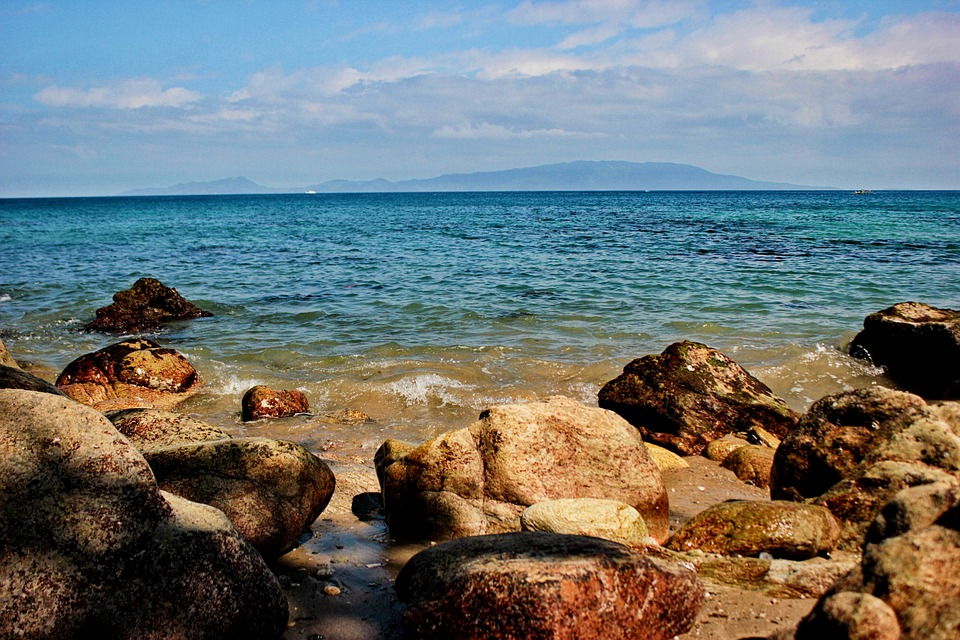 Image by ShairaArias from Pixabay
Relatively close to Manila, Puerto Galera draws a regular beach crowd looking for a quick escape from the city. While it's better known for its caves, canyons and wrecks, it's also peppered with bars and restaurants, ready to offer a busy nightlife.  
Teeming with character, this island appeals not only to divers and swimmers but also to seaside party-goers.
2. Apo Island, Negros Oriental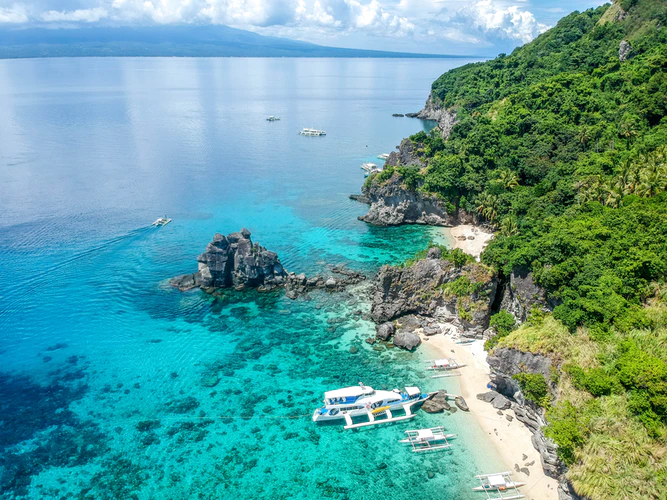 Photo by Cris Tagupa on Unsplash
Home of the endangered pawikans, Apo Island is known for its community-organized marine sanctuaries. At present, the island houses over 650 documented species of fish and is estimated to have over 400 species of corals.
To snorkel or dive in the marine sanctuary, visitors and tourists pay a fee to keep the sanctuary clean and in good condition.
3. El Nido, Palawan
Photo by Eibner Saliba on Unsplash
With its white-sand beaches, rich coral gardens, towering cliffs and mysterious caves, El Nido has become a popular frolicking ground for beach fanciers and water sports enthusiasts. 
Hailed as the best beach in Asia by Canadian-based travel agency Flight Network, Hidden Beach in Palawan is among the 13 places to see the bluest water in the world.
4. Moalboal, Cebu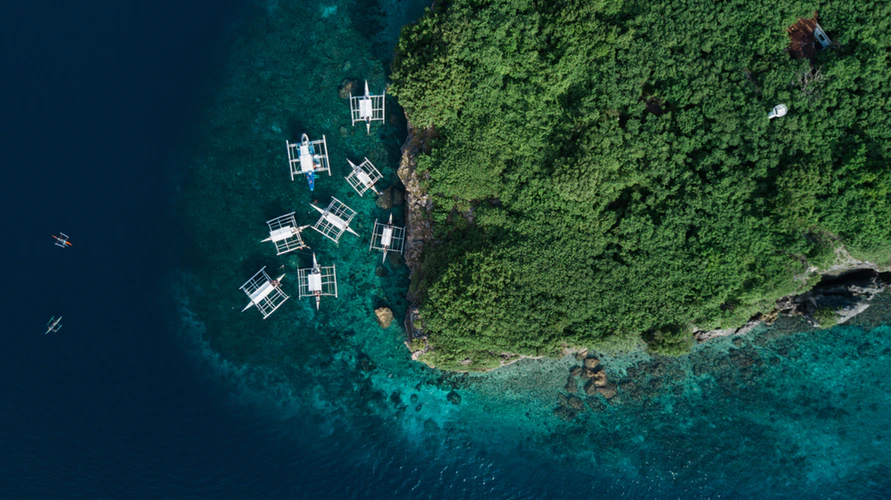 Photo by Ken Suarez on Unsplash
Popular with everyday water frolickers, Moalboal is famous for The Sardine Run, a one of a kind marine event that occurs when small fishes swarm together, swimming at a phenomenal speed in a desperate attempt to ward off hungry predators.
The best part? It's free! Located just off the shore, the sardines gather around Panagsama Beach, making it accessible to tourists. You don't need to rent a boat or book a tour, all you need is some snorkeling gear.
5. Boracay Island, Aklan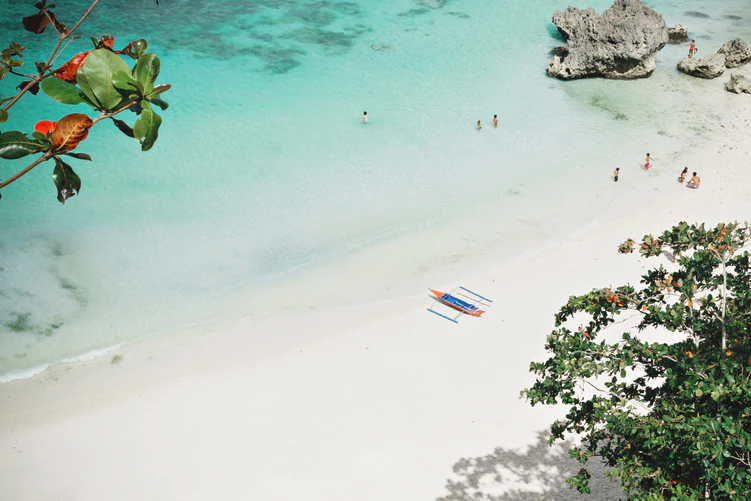 Photo by Hector Periquin on Unsplash
Holding its place among the world's best beaches, new and improved Boracay has regained its charm of natural beauty. Restored to its former glory, the island now bans beachfront parties, plastic bags and casinos. 
Water sports activities like scuba diving, jet skiing and kiteboarding have also been banned, giving divers and marine biologists adequate time to carry out a marine assessment. As a result, president of the island's diving association Michael Martillano says Boracay's water quality, corals and marine life have vastly improved.
Back to life after its 6-month rehabilitation, tourists can now enjoy a cleaner, quieter Boracay.
Excited to spend Christmas in the sand? Don't let the cold breeze fool you. While UVB rays are said to be stronger in the summer, UVA radiation doesn't let up in the colder, cloudier months.
So unless you're in a totally windowless room with completely no lights, you still need to wear sunscreen to protect yourself from the harmful effects of UV rays such as skin cancer, premature aging, eye damage and immune system suppression.
Screen your sunscreen
While it's important to shield yourself from harmful UV rays, it's equally important to choose the right sunscreen for your skin.
Many over-the-counter sunscreens contain carcinogens, hormone disruptors, nanoparticles, allergens, skin irritants and some other harsh preservatives that can be harmful not only to your skin but also to the seas.
S.O.S. (Save Our Seas), there's an ongoing #SEAmergency!
You're not the only one who needs protection. Philippine oceans have been in trouble for years.
Decades of neglect has led to ocean degradation, resulting in the decline of our country's marine biodiversity.
Apart from global warming, overfishing and coastal pollution, recent studies have found that popular sunscreen brands on the market actually contain oxybenzone and octinoxate, chemicals known to be toxic to corals, algae, fish and mammals.
Yes, sea creatures and coral reefs are suffering, and your favorite sunscreen may be one of the culprits. 
It's time for you to do your part
To help curb coral reef destruction, Hawaiian lawmakers have already passed a bill prohibiting the sale of sunscreens containing the coral-harming chemicals oxybenzone and octinoxate. 
And just like the waters surrounding Hawaii's islands, the Philippine seas are also rich in marine resources. Resources, which, once gone, can never be replaced once gone. 
Consider switching to natural
Stay protected against harmful UV rays by using a sunscreen that protects not only your skin but also the environment.

Save our seas while you save your skin using Human Nature SafeProtect SPF30 Sunscreen (P299.75), the #1 natural, reef-safe sunscreen in the Philippines.*


The first locally made, all-natural sunscreen in the Philippines, Human Nature SafeProtect SPF30 Sunscreen shields skin against aging & skin-damaging UVA rays that may cause skin cancer with the highest rated PA++++ protection, obstructs 97% of skin-burning UVB rays with broad spectrum SPF30 and safeguards our corals with all-natural, reef-friendly ingredients

For tiny tots, SafeProtect SPF30 for Babies and Kids (P299.75) is also available. Safe for babies 6 months and older, this kid-friendly sunscreen is specially formulated to protect young skin from 97% of skin-burning UVB rays and guards the skin against harmful UVA rays. Like the SafeProtect SPF30 Sunscreen for Adults, it cares for marine life with its 100% natural formulation. Plus, it comes in a mild sunshiny vanilla-orange scent kids will surely love.

Stay worry-free as you enjoy the sun, sand and the sea.

Protect the seas as you protect your skin this holiday season with Human Nature SafeProtect SPF30 Sunscreen and SafeProtect SPF30 Sunscreen for Babies & Kids available in all Human Nature stores. Find a Human Nature store near you via humanheartnature.com/branches or get it online at humanheartnature.com/buy.
*Based on the July 2019 Euromonitor International Report: Sun Care in the Philippines
Sources:
Tourism in the Philippines. Retrieved from www.wikipedia.org
Apo Island. Retrieved from www.wikipedia.org
Ellis-Petersen, Hannah. Party island of Boracay reopens minus drinking, smoking and raw sewage. Retrieved from www.theguardian.com
Winter Sun Safety: What to Know About Protecting Yourself During Colder Months. Retrieved from www.skincancer.org
Ban Toxic Sunscreens. Retrieved from www.bantoxicsunscreens.com
Bever, Lindsey. Hawaii just banned your favorite sunscreen to protect its coral reefs. Retrieved from www.washingtonpost.com
Romo, Vanessa. Hawaii Approves Bill Banning Sunscreen Believed To Kill Coral Reefs. Retrieved from www.npr.org
EWG's 2019 Guide to Sunscreens. Retrieved from www.ewg.org
Sunscreen. Retrieved from www.madesafe.org
Health Effects of UV Radiation. Retrieved from www.epa.gov
Mayuga, Jonathan. PHL oceans in trouble: Overfishing, pollution, climate change ail our seas. Retrieved from www.businessmirror.com.ph