Do you ever have days when you just sulk in front of the mirror because you feel that your skin has turned its back on you? Ha! As dramatic as it sounds, we feel you! Don't worry, we've all been there. It's totally normal and it doesn't mean you can't do anything about it! Trust us, there are natural, effective and pocket-friendly ways to help you overcome your dilemma.
Did you know? The country's humid weather and your choice of beauty products are key factors affecting your skin's health.
Scroll through these common skin issues we, Filipinos, face and learn which top-recommended Sunflower Beauty product can help make your day (and your skin!) brighter, literally!

Oh, these small and stubborn meanies are the main antagonists of a flawless glow! First of all, stop picking on your pimples! Second of all, it's not too late. Help lighten your pimple marks by making this intensively moisturizing, nutrient-rich beauty oil part of your skincare routine.
Our Top Pick: Sunflower Beauty Oil LUXE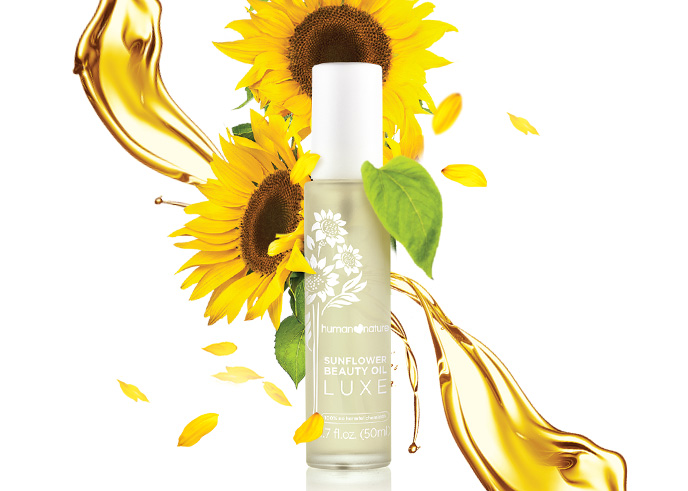 Shop Sunflower Beauty Oil LUXE here.
What to love: Say hello to unparalleled goodness from 2x more skin-calming and sensitivity-reducing Omega9 (oleic acid) vs. pricier argan oil! Our intensively nourishing beauty absorbs swiftly into the skin and seals in rich moisture and nutrients. Ps. Its mild, luxurious rose oil fragrance lingers subtly on skin too!
Beauty Tip: Don't rub it in! The proper way to apply your beauty oil is warming it between your hands and pressing it gently onto your skin to get optimal absorption.1 Avoid rubbing as it pulls your skin and prevents the product from being fully absorbed!

Here's the thing: The struggle is so real that oftentimes the ~:*pit-perfecting*:~ deodorants we choose let us down because they don't deodorize at all or worse, they cause more serious underarm problems! But wait, have you heard the good news? If you're dreaming of naturally soft and bright underarms, an underarm skin-soothing solution is now within reach!
Our Top Picks: Beauty +PLUS Deodorants
What to love: Our natural deo roll-ons not only help guard against odor-causing bacteria, they also help improve the appearance of underarm skin and calm it after shaving or waxing.
Not a fan of the roll-on deo format? Get the same goodness in our Powder Fresh scented Sunflower Beauty +PLUS Deodorant Stick that comes in a dry glide, no-wait silky-smooth application!
Beauty Tip: Struggling to make the switch? Let us guide you through your detox journey!
Trust the process and follow these 3 simple steps today:
Step 1 Start your day with a cooling morning shower.
Step 2 Skip using deodorants and other underarm products.
Step 3 Set aside scrubbing, plucking and shaving.

In case you missed it: Our brows and eyelashes need some TLC, too! Nobody likes brittle little facial hairs so we better include them in our skin care routine to keep them well-conditioned and thicker-looking everyday!
Our Top Pick: Sunflower Beauty Oil
What to love: This is where all our beauty miracles begin! From skin lightening properties to protective and moisturizing benefits,2 name it and our cult beauty classic does it all. Rich in skin (and hair!) nourishing Vitamins A, D and E, this holy grail oil has earned its spot as our No. 1 Multi-Awarded Beauty Oil.
Beauty Tip: Ensure morning moisturization, noontime nutrient absorption and nighttime nourishment by letting Sunflower Beauty Oil take part in your daily routine. Check out and checkout all 25 Sunflower Beauty miracles here.

Livelier-looking eyes? What a delight these are to see! Move over, dark circles and make way for brighter-looking eyes (even when you're pulling off an all-nighter!)
Our Top Pick: Sunflower Eye Cream
What to love: Isn't it eye-opening? We specially made an eye cream with all our classic beauty oil miracles in it. From diminishing dark circles to de-puffing tired eyes, the delightful blend of our ever-so-trusty Sunflower Beauty Oil, and jasmine and hawthorne flower essences definitely looks bright.
Beauty Tip: Lend a cooling sensation into your skincare routine by chilling your natural eye cream in the fridge 1-2 hours before using. Studies say that the cold helps to narrow blood vessels or as the experts say it, ~:*vasoconstrict3*:~ and could help with under eye puffiness. Let us know if it works for you!

Keep the memories, not the scars… or at least do something to help lighten them! Battle scars and lesions always tell a story but here's another great story: We know the key to lighten and soften them up!
Our Top Pick: Sunflower Beauty Oil Bloom
What to love: Imagine witnessing all the goodness you can get from our best selling miracle maker Sunflower Beauty Oil but this time around, wrapped in a delicate springtime fragrance of blooming flowers. Sounds good? It feels and smells even better! See for yourself, it's suitable for all skin types anyway. ;)
Beauty Tip: Make it a routine! Sometimes we find a few minor cuts and scars caused by everyday activities at random. Massage a few drops of Sunflower Beauty Oil Bloom to soothe them and help prevent them from darkening.

You already know this but let's hear it one more time: Not all silky-smooth-looking skin is healthy! Sometimes they have cuts, sometimes they burn and sometimes they're just not how they seem... but there's also a way to keep soft, youthful-looking skin part of your daily routine!
Our Top Pick: Sunflower Beauty Lotion
What to love: 3x more4 goodness from Sunflower Beauty Oil means 3x the power of our cult classic's miracles all in a lightweight, non-sticky and non-greasy formula! Moisturize daily and rediscover soft, luminous skin infused with nutrient richness from more earth-sourced ingredients! Pick the scent that matches you best: Sweet Bouquet, Green Tea Delight or both? :)
Beauty Tip: Make moisturization a must in your daily post-shower routine! Follow these
3-Steps to a Glorious Glow:
Step 1 Moisturize daily with Sunflower Beauty Lotion
Step 2 Rehydrate nightly with Sunflower Beauty Butter
Step 3 Exfoliate 2-3x weekly with Sunflower Beauty Scrub

From dry knees and elbows to calluses, corns and even cracked heels, you know what these call for: Pampering! Let gentle exfoliation meet intensive moisturization in your naturally callus-free journey. Book a me-time dedicated to this weekly for silky-soft, healthy-looking skin in no time!
Our Top Picks:
Sunflower Beauty Butter
What to love: With 5x more of our bestselling miracle maker vs. our regular body butters, this deep-nourishing, intensely hydrating and youth-boosting indulgence goes beyond just pampering! Envelope yourself in skin-elasticizing, free radical-fighting treat ribboned in a subtly fresh, mildly sweet fragrance!
Beauty Tip: Make intensive pampering high priority in your healthy skincare habit! Follow these
3-Steps to a Glorious Glow:
Step 1 Moisturize daily with Sunflower Beauty Lotion
Step 2 Seal in intensive nourishment nightly with Sunflower Beauty Butter
Step 3 Exfoliate 2-3x weekly with Sunflower Beauty Scrub
Sunflower Beauty Scrub
What to love: Take another pampering route: prep and polish with a quadrupled dose of rich moisturizing actives5 plus the dead skin busting powers of gentle bamboo scrubs. Reveal visibly glowing, nature-nourished skin free from impurities, free from plastic microbeads.
Beauty Tip: Make exfoliation an essential step in your weekly body care routine! Follow these
3-Steps to a Glorious Glow:
Step 1 Moisturize daily with Sunflower Beauty Lotion
Step 2 Rehydrate nightly with Sunflower Beauty Butter
Step 3 Exfoliate 2-3x weekly with Sunflower Beauty Scrub

If you find "kiss dry lips goodbye" a cliche, here's a new line to live by: Pucker up to naturally healthy, velvety smooth lips! Take your pick between these two lip-loving miracle makers or make them both part of your pout-perfecting routine!
Our Top Picks:
Sunflower Lip Miracle
What to love: Move over, flaky, chapped lips! Say beautiful things more sweetly with irresistibly soft, supple lips from 44x more6 Vitamin E in Sunflower Beauty Oil!. Plus, it comes in not just one, but two easy-to-love flavors to suit your taste: Mint and Peach.
Beauty Tip: Perfect that pout two ways:
• Overnight lip mask so you can awake to extra hydrated, healthy-looking lips
• Lipstick top coat for that added shine without the dryness
Sunflower Lip Butter
What to love: Nourishment? Check. Intensive hydration? Double check. Lip-smacking flavors? Of course we got it! Thanks to 9x more7 of our holy grail beauty oil and jojoba oil's natural healing properties, you may now up your lip game and welcome buttery soft, richly moisturized lips! Choose from two cooling, sweet flavors, Green Apple Mint and Honey Mint.
Beauty Tip: Hydrate your lips vs. heat and humidity by making our natural lip butter take part in your lip care routine! It's easy: You just have to glide it on your lips a few times after exfoliation with our natural lip scrub!
Looking for more non-drying nourishment that suits your skin's needs? Visit our website and browse through our collection of genuinely natural products made with love for your skin!
#ShopGoodness now! Human Nature products are available in Human Nature branches nationwide, at our Human Nature website, Human Nature dealers, Human Nature retail partners like Robinsons Supermarket, The Marketplace, and Shopwise, and from Lazada (COD Available)
Share your thoughts on social media! Don't forget to follow us on Facebook and Instagram @humanheartnature and use the hashtag #HumanNatureGoodness
Sources:
1Here's How You Should Actually Use A Face Oil. Retrieved from www.bustle.com
2Should you add sunflower oil to your beauty routine?. Retrieved from www.projectvanity.com
3The Truth About Refrigerating Beauty Products, According to Dermatologists. Retrieved from www.allure.com
4vs. Human Nature Healthy Lotions
5vs. other Human Nature Body Scrubs6vs. Vitamin E found in cocoa butter in our regular lip balms