One of Human Nature's values is
bayanihan
, a community effort to help those who are most in need.
Goodness Rising
began as a campaign to rebuild homes for Typhoon Yolanda (Haiyan) survivors in Ormoc, and has become our annual commitment to help rebuild the lives of those affected by war, natural disasters and poverty. Our current goal is to build 50 homes for displaced refugees from the 2017 battle between the Philippine government and armed rebels in Marawi City, Lanao del Sur. Over 200,000 thousand residents were displaced and 1,000 were killed in the armed conflict.
If you'd like to participate
in supporting our newest Goodness Rising initiative, here's how:
1. Buy a bottle of hope:
Ever since the beginning, 100% of the profits of our
Bug Shield insect repellent line
has gone to fund development programs for farming communities, the building of homes for underserved communities, and scholarships of brilliant entrepreneurial students from the bottom of the pyramid. This season, all profits will go to the building of 50 homes for families displaced from Marawi.
Shop now!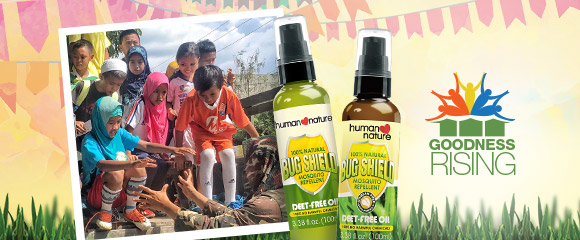 2.
Organize your own fundraisers:
garage sales, movie nights, village bazaars, poetry readings, music gigs, and parties for a cause are always popular events! Set a
target amount
to raise and encourage your friends and family to bring as many people as they can. People are always excited to attend events where
100% of profits
go to a good cause, so always remember to inform your guests of the success of their contribution after each event. 3.
Follow us
on
Facebook
,
Twitter
, and
Instagram
and use the hashtag
#GoodnessRising
to boost awareness for the campaign.
---
COMPLETED GOODNESS RISING PROJECTS
A Village of Peace in Rajah Buayan, Maguindanao (September 2016)
Human Nature advocates joined forces to raise funds to build
50 Gawad Kalinga homes in Rajah Buayan
, a poverty-stricken municipality in Maguindanao that is constantly plagued by natural disasters, and is next door neighbor to war-torn Mamasapano. Many of the community's children grew up with violence as a daily reality.
100% of the profits of every Human Nature Bug Shield sold helped fund the homes.
This is our first look at the site of the Village of Peace:
UPDATE (December 2017):
Each home costs P150,000 to build - we raised P7.5 million in total!
---
Entrepreneurial Scholarships for Bright and Deserving Kids (May 2016)
In 2014, we helped build houses for the victims of Typhoon Yolanda in Leyte and Negros Occidental so that they can have happy homes as they move on from the tragedy. This year, we at Human Nature are excited to raise funds so that we may send bright and deserving scholars to the School of Experiential and Entrepreneurial Development (SEED)
UPDATE (December 2016):
We've hit our SEED goal 100%! Thank you to all who helped sponsor our SEED scholars.
---
Human Nature Village Turnover, GK Tambulilid, Ormoc (January 2015)
With the scale of Yolanda's devastation, the Human Nature family chose to course our relief efforts through
Gawad Kalinga (GK)
. In December 2013, we aimed to raise enough funds for 10 GK homes every month – and guess what? With the collective efforts of Human Nature employees, staff, advocates, family and friends, we reached our goal of raising funds for
100 homes
for Yolanda survivors in just 6 months!
Boboy Igot: Building Communities on Love
While it may be easier to give up in the face of hopelessness, those who seek a reason to live will find it. Such is the fate of Ricardo Igot, more fondly known as Kuya Boboy, of Human Nature-Gawad Kalinga Village in Leyte. When Typhoon Yolanda hit the Philippines in 2013, he and his fellow residents watched in horror seeing their town devastated by the storm. But instead of declaring defeat, Kuya Boboy mustered all his courage to start all over again, and along with his community they began picking up what was left of their houses and began building new homes and renewing their hopes. Kuya Boboy continues to serve in his GK community as an area coordinator. He ensures the welfare of the 96 communities he is in charge of, and he reaches out to informal settlers to build new communities.
To date, we have raised funds for 100 houses in GK Tambulilid, Ormoc, and 20 houses GK Cadiz Viejo, Negros Occidental.
Read more about his story
and be inspired by how a tragedy can awaken the spirit of bayanihan.